Commentary
Ranking the best ... to No. 1
Updated:
July 26, 2012, 12:00 AM ET
By
ESPN.com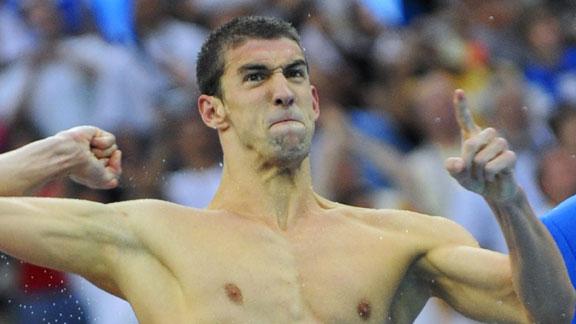 Greatest Summer Olympian, Part II
Julie Foudy polls the 2012 Olympic athletes: Who is the greatest summer Olympian of all time?
Greatest Summer Olympian, Part II
Who is the greatest U.S. Summer Olympian of all time? The answer might not be as easy as it seems. But with the London Games almost upon us, we asked anyway.
A panel of 35 ESPN experts ranked 62 athletes using a 0-to-10 scale, and we finalized our Top 30 list. On Wednesday, we break down the top names, Nos. 10-1.
Go to #SummerGreats to get involved in the discussion or just follow along.
Michael Phelps

Swim eight events, win all of them. OK, fine. Everyone knew eight gold medals was impossible -- so many things can go wrong in an Olympic swim meet -- yet everyone was equally sure Phelps could do it. Under enormous pressure brought on by his once-in-a-generation talent, Phelps easily could have buckled at the 2008 Beijing Olympics. But Phelps never blinked in his quest to top Mark Spitz, and his voyage became a nightly TV soap opera for Americans. And Phelps, a monumental athlete, was up to the task.

Jesse Owens

Here was a hero, an athlete so great even the German propagandists made him the star of their films about the 1936 Berlin Olympics, in which Owens took gold in the 100 meters, 200 meters, 400 relay and long jump. Owens was an athlete so far ahead of his time that his long jump record from 1936 stood for nearly a quarter-century. To this day, he remains a barrier-breaking standard bearer for what the Games can show the world.

Carl Lewis

It is possible for a man to live up to great expectations and still be underappreciated. Lewis is such a man. He matched Jesse Owens in 1984, which was no surprise. He was King Carl, and the whole world expected him to win the 100, 200, long jump and 400 relay. What was surprising was his staying power. He burst onto the scene after making the Olympic team in 1980 and refused to go away until 1996, when he won his fourth gold in the long jump, his ninth gold overall. The King had given all he had, which was a lot.

Mark Spitz

The brash Californian predicted he would win six swimming gold medals in Mexico City. But he won just two relay golds in 1968. However, Spitz rebounded in Munich with a mustache for the ages and a performance to match: seven events, seven gold medals. His career medal total of nine golds is tied for second on the all-time list; seven golds in one Games has been exceeded by only one man, some guy named Michael Phelps.

Michael Johnson

Things human beings weren't supposed to be able to do: win the 200 and 400 in the same Olympics and hold world records in those events simultaneously; run fast with a low knee lift and an upper-body position that resembled someone in the Milwaukee Brewers' sausage race. Johnson did all these things on his way to four gold medals, three in the 1996 Games, becoming the dominant sprinter of the 1990s and setting a 400 world mark (43.18 seconds) in 1999 that no one has approached.

Wilma Rudolph

Want a revelation? Hunt around the Web for old clips of Rudolph at the 1960 Olympics. What you'll see, especially in her smashing 200 victory, is the same feeling inspired by Usain Bolt in 2008 -- a runner pushing the boundaries of possibility. Rudolph, who overcame complications from polio, did that her whole life, winning 100, 200 and 4x100 relay golds in Rome, then insisting on an integrated victory ceremony when she came home to Tennessee. Revelatory.

Jim Thorpe

The Games' decathlon turns 100 this year, and with it the Olympic legend of Thorpe. The American won gold in the since-discontinued pentathlon and the decathlon at the 1912 Stockholm Games, setting records that held up for decades. His victory also spawned a story that resonated: When told by Sweden's King Gustav V, "You are the greatest athlete in the world," Thorpe supposedly replied, "Thanks, King."

Greg Louganis

The DiMaggio of diving, Louganis' athletic yet seemingly effortless style on the platform and springboard netted him five medals from 1976 to '88, four of them gold. He likely would have earned another two titles in Moscow had the U.S. competed. The obstacles he overcame to achieve that success, including an abusive childhood and HIV diagnosis before the 1988 Games, make his triumphs even more laudable.

Jackie Joyner-Kersee

Joyner-Kersee might be the best female athlete ever for her work on UCLA's hoops team, as well as in track. But she's best known for the Games. She won silver in the heptathlon at the 1984 L.A. Olympics, then gold in the same event in the next two Olympics. The 1988 Seoul Games marked the pinnacle of her career; she won one of her many duels against East Germany's Heike Drechsler to win the long jump, then set a world heptathlon record that stands to this day.

Natalie Coughlin

With a medal in the 4x100-meter freestyle relay in London, the 29-year-old Coughlin can tie Jenny Thompson and Dara Torres for most medals by a female U.S. Olympian with 12. But Coughlin's numbers are already more significant. She has medaled in every Olympic event she has entered, her back-to-back 100 backstroke golds are unprecedented and she has five individual medals.
Text provided by ESPN The Magazine senior writer Luke Cyphers.
SPONSORED HEADLINES
MORE OLYMPICS HEADLINES
MOST SENT STORIES ON ESPN.COM
Summer Greats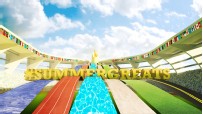 Follow the Olympics on ESPN:
Twitter / Facebook
We're ranking the top Summer Olympians of all time. Follow the discussion at
#SummerGreats
.
ATHLETE RANKINGS