Roger Federer clinches medal
Updated:
August 3, 2012, 7:23 PM ET
ESPN.com news services
WIMBLEDON, England -- The cry came from the shadows of the Centre Court stands when Roger Federer fell behind in his Olympic semifinal.
"Not enough, Roger!" a British spectator shouted.
Ford: Federer Survives Onslaught

Roger Federer and Juan Martin del Potro fought and fought and fought all the way into the record books. But only the Swiss has a chance for gold, writes Bonnie D. Ford. Story
And so Federer gave the crowd more -- in the end, more tennis than anyone anticipated. He won the final set of an Olympic marathon 19-17 to achieve another milestone victory on his favorite stage.
Federer clinched the first singles medal of his career Friday, rallying past Juan Martin del Potro of Argentina 3-6, 7-6 (5), 19-17. At 4 hours, 26 minutes, it was the longest three-set men's match of the Open era.
Federer converted only two of 13 break-point chances, the second coming in the next-to-last game, and had several nervous moments. But he held serve 12 times in the final set to stay in the match.
"I was very tense at certain times," Federer said. "I was seeing myself as a loser many times during the match."
With the comeback victory, four-time Olympian Federer is assured of at least a silver. On Sunday he'll play in the final against No. 3 Andy Murray of Britain, a rematch of when they met on the same court in the Wimbledon final a month ago. That dropped Murray's record in Grand Slam finals to 0-4.
"I'll be desperate to win on Sunday," he said.
Murray held all 12 of his service games and broke once in each set. When he ripped his final shot at No. 2 Novak Djokovic's feet for a winner, the partisan Centre Court crowd responded with a roar.
"I hope it's a great match," Murray said, "because the way the matches went today, I think the tournament deserves a great final. I hope we can provide that."
Djokovic will play del Potro on Sunday for the bronze. Djokovic won the bronze in 2008.
In 2008, Federer and Swiss teammate Stanislas Wawrinka won the gold in doubles. But Federer had been 0 for 3 in Olympic singles, the biggest blemish on a resume that includes a record 17 Grand Slam titles.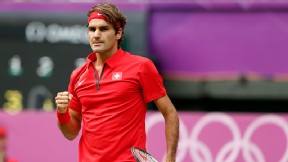 Stefan Wermuth/ReutersRoger Federer clinched the first singles medal of his career Friday, winning an Olympic marathon.
For duration, Federer's latest victory didn't rival John Isner's 70-68 final-set win at Wimbledon in 2010, or even Jo-Wilfried Tsonga's 25-23 win in the third set at the Olympics this week.
But the match offered epic drama magnified by the setting and the stakes for Federer. He improved to 12-0 this summer at the All England Club, including a record-tying seventh Wimbledon title a month ago.
"I definitely got a sense that it was something special," Federer said.
There were no match points until the final game. After a couple of wobbly moments by Federer, including a double-fault, he sealed the victory when del Potro dumped a backhand in the net.
Federer lifted his arms in jubilation, then leaned wearily on the net awaiting the big Argentine's handshake. They then shared a warm embrace.
"I felt for him in a big way," Federer said, "because I've been there as well."
Del Potro said: "It's not an easy situation. ... Someone always has to win these matches, and today it was his turn."
Del Potro had the edge for most of the first two sets, reaching the net more often and winning the majority of the baseline rallies, starting with a 23-shot exchange in the opening game. The 6-foot-6 Del Potro showed little apparent effort as he snapped explosive forehands that had Federer scrambling and lunging.
The near-capacity crowd on sunny Centre Court was clearly in Federer's corner. Fans clapped and chanted "Ro-ger!" during a changeover, and later "Let's go, Roger!" More than once a Swiss cowbell clanged.
Small clusters of Argentine fans broke into song, and the match -- like the entire tournament -- took on an atmosphere more festive than during Wimbledon.
Federer's comeback came slowly. He was on the verge of digging a deeper hole midway through the second set, when he faced a break point and needed 16 points to hold for a 3-2 lead. He played another patchy game at 4-all, when he misplayed an overhead, blew an easy volley, squandered a 40-love lead and faced another break point.
He managed to hold again, and never trailed in the tiebreaker. Then the match proceeded on even terms for the next couple of hours.
In the 15th game of the final set, del Potro twice won rallies after clipping the net cord with shots, the second time to erase a break point. Federer's bad luck had him screaming in frustration.
But for the most part, he managed to keep any annoyance in check. In the 31st game of the final set, when he mis-hit back-to-back forehands -- the second sailed long -- he gave his wife a wry grin.
Federer broke for the first time in the 19th game of the final set when del Potro double-faulted twice. That gave Federer a chance to serve for the victory at 10-9, but he was broken at love.
He waited 16 Games for another chance, while repeatedly holding easily. Del Potro made three unforced errors in the 35th game to lose serve for only the second time, and eight points later the marathon reached the finish line.
Information from The Associated Press was used in this report.