IOC orders Belarus to return gold
Updated:
August 13, 2012, 9:40 PM ET
Associated Press
LONDON -- Just hours after the close of the Olympics, a female shot putter from Belarus was stripped of her gold Monday in the first case of an athlete losing a medal for doping at the London Games.
With the disqualification of Nadzeya Ostapchuk, the gold medal was awarded to Valerie Adams of New Zealand -- who winds up as Olympic champion for the second time in a row.
[+] Enlarge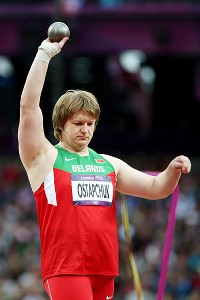 Icon SMIThe IOC says Belarus shot putter Nadzeya Ostapchuk tested positive for the steroid metenolone.
The International Olympic Committee said Ostapchuk, a former world champion, tested positive for steroids both before and after winning the shot put last week for her first Olympic gold.
After an IOC hearing, she was formally expelled from the Games and had her victory and medal removed from the records. She was the eighth athlete, and first medalist, caught during the IOC's London drug-testing program.
"Catching cheats like this sends a message to all those who dope that we will catch them," IOC spokesman Mark Adams said.
Track and field's governing body, the IAAF, will consider further action against Ostapchuk, who could face a two-year ban from the sport.
Adams was bumped up from Olympic silver to gold, with Evgeniia Kolodko of Russia upgraded to silver and fourth-place finisher Gong Lijiao of China moved up to bronze.
Adams now has a second gold to go with her victory in Beijing four years ago.
"What's happened has happened and what's my feeling towards her? None at all. I don't want to waste any energy on her," Adams said. "What I want to do is enjoy the moment and savor the moment. It's a pity it came out a week later (than the event), but as I said she's caught now. It was her moment but that's the only moment she'll be able to live because now it's all taken away from her.
"I don't want to waste any more energy thinking about how I feel about her because I feel nothing towards her except that I'm overwhelmed that I've won the gold medal and very humbled by the people who have stood by me after the 6th of August."
Adams' New Zealand teammates were ecstatic when they learned she would get the gold after all.
"Everyone cried -- it was pretty emotional," said Annalie Longo, a member of the women's football team, as she left the athletes village Monday. "We're just so happy, she worked so hard and she totally deserved the gold medal."
She expressed regret that Adams had not been able to receive the gold medal at the victory ceremony.
"We feel cheated in a way, not being able to play the anthem and having taken the moment off her," Longo said.
The IOC took more than 5,000 urine and blood samples in London, including no-notice controls conducted outside competition. Until the shot put case, the Games were set to end with medal standings in all 302 events unaltered by doping scandals.
The 31-year-old Ostapchuk, world champion in 2005, recorded the biggest shot put mark in a decade in the lead up to the Olympics. She won the gold with a mark of 21.36 meters.
The IOC said she tested positive for the steroid metenolone on Aug. 5, a day before her competition, and immediately after she won the event. The "A" and the backup "B" samples from both tests came back positive.
Ostapchuk told media in Belarus that she had done nothing wrong.
"I do not understand where it could come from," she told internet news agency Noviny.by. "I'm looking like an idiot to take this in heading for the Games and knowing that it is so easy to be tested. Nonsense. I'm being tested every month, every week.
"I hope for the better. The most important for me is to clear my reputation. I've been in the sports for so many years and have never faced any claims. And now at the major event and after the gold medal ... I do not understand it."
A hearing was held Sunday, a few hours before the closing ceremony, attended by three Belarus team officials. They told the IOC that Ostapchuk had been tested in Belarus on July 25, July 26 and Aug. 1, and the results were negative. The athlete arrived in London on Aug. 4 and went straight to the athletes village.
"They had no explanation as to why such a substance would have been found in the sample of the athlete," the IOC said.
After seeing the test results, the Belarus team did not contest that the steroids were found in her system.
The Belarus Olympic Committee and national anti-doping agency will investigate and "take the appropriate measures," the IOC said.
IAAF scientific expert Jordi Segura said metenolone could be taken either orally or by injection, and the substance can be eliminated from the system within four to five days, the IOC said.
It's the second Olympic doping scandal here for Belarus. The team had earlier sent home hammer thrower Ivan Tsikhan after retests of his samples from the 2004 Athens Olympics, where he won silver, came back positive.
Besides Ostapchuk, only one athlete tested positive for a banned substance after competing in London. U.S. judo fighter Nick Delpopolo was cited for traces of marijuana in his urine sample.
"This is the eighth athlete to have been caught by our extensive in-Games testing but many more were kept away from the Games by the pre-Games program," Adams said. "And keeping samples for eight years means that we can continue to test long after the competition is over."
Three Beijing events were tainted by drug scandals during the 2008 Games, and two more medals were changed months later when a new test for the blood-booster CERA was introduced. The signature men's 1,500-meter gold medal was stripped retroactively from Rashid Ramzi of Bahrain.

Copyright 2012 by The Associated Press
SPONSORED HEADLINES
MORE OLYMPICS HEADLINES
MOST SENT STORIES ON ESPN.COM