Prosecutor challenges Pistorius
Updated:
April 11, 2014, 11:32 AM ET
Associated Press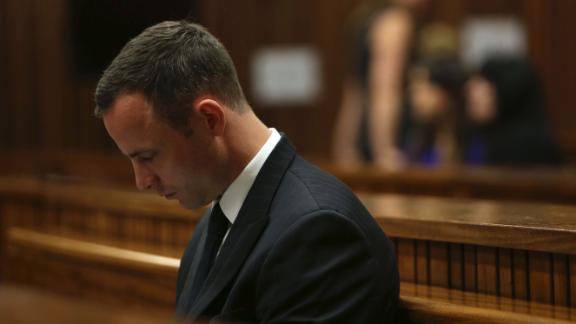 Pistorius' Mistakes In Testimony
ESPN legal analyst Lester Munson discusses how emotional Oscar Pistorius was while being cross-examined by Gerrie Nel and the mistakes he made in his testimony.
Pistorius' Mistakes In Testimony
PRETORIA, South Africa -- Oscar Pistorius was accused by a prosecutor Friday of shooting his girlfriend through a toilet door as the couple talked and argued in the early hours of Valentine's Day last year. The dramatic courtroom exchange ended the world-famous athlete's first week of testifying at his murder trial.
Pistorius denied the charge as prosecutor Gerrie Nel pushed the Paralympic champion on his version of the events in the seconds before he killed Reeva Steenkamp by firing four times through the stall door in his bathroom with a 9 mm pistol on Feb. 14, 2013.
Follow the Pistorius Trial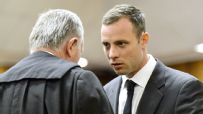 ESPN3.com and WatchESPN have complete coverage of the Oscar Pistorius murder trial from South Africa. The trial is scheduled to be live from about midnight-9 a.m. ET daily, with analysis and trial highlights at 9 a.m. ET and 3 p.m. ET. Watch

"She was standing behind the toilet door talking to you when you shot her," Nel told Pistorius, saying the couple's arguing was the only "reasonable explanation" for why she was standing behind the cubicle door and facing it.
"That's not true," Pistorius replied.
Pistorius says he shouted at what he thought was an intruder in his house and also at Steenkamp to call the police. Nel said that if that were the case, she would not have stood up against the door. She would have retreated away from it. And she would have responded to Pistorius, the chief prosecutor said.
"I don't think anybody could say where she would have stood," Pistorius replied.
The double-amputee Olympian is charged with premeditated murder for Steenkamp's shooting death. He claims he shot the model and rising reality TV star by mistake, thinking she was an intruder about to come out of the toilet stall and attack him.
Nel led Pistorius through his own account of what happened in those moments before he shot Steenkamp. He said he heard a noise in the bathroom and moved down a passage on his stumps toward the bathroom while screaming to Steenkamp -- who he claims he had believed was in the bedroom -- to get down and call the police. Pistorius says he then heard what sounded like the toilet door slamming; then kept quiet as he reached the bathroom entrance; then heard a noise in the toilet that he perceived to be the sound of wood on wood, which he said made him think someone was opening the toilet door -- which he said fit badly in the frame -- to attack him. And then, Pistorius said, he opened fire.
At each stage, Nel argued that the account was improbable, questioning why Pistorius did not establish where Steenkamp was and make sure she was OK, and why he would approach the alleged danger zone if he felt vulnerable on his stumps.
"If you spoke to Reeva, the two of you could have taken lots of other steps," Nel said.
Pistorius said he thought the perceived threat could strike at any moment.
"There was no time," he insisted.
Nel also highlighted what he said was an inconsistency in Pistorius' testimony, noting that the runner had said Steenkamp didn't scream when he shot that night but also saying he could hear very little because his ears were "ringing" from the first gunshot.
"You knew that Reeva was behind the door and you shot at her knowing that she was behind that door," Nel said.
"That's not true, my lady," Pistorius said, addressing judge Thozokile Masipa.

Copyright 2014 by The Associated Press
SPONSORED HEADLINES
ESPN TOP HEADLINES
MOST SENT STORIES ON ESPN.COM
Zephyr Men's USA Hockey Uppercut Red/Navy Flex Hat Shop »