100m, 200m , 4x100m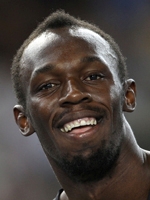 Usain Bolt
Date of birth

1986-08-21
Birthplace

Trelawny
Height

196 cm
Weight

86.0 kg
World record

7 (100m, 200m, 4x100m)
Olympic Games (3 medals - 3 gold)
100m: 1st (2008)
200m: 1st (2008)
4x100m: 1st (2008)
World Championships (7 medals - 5 gold - 2 silver)
100m: 1st (2009)
200m: 1st (2009, 2011), 2nd (2007)
4x100m: 1st (2009, 2011), 2nd (2007)
A Bolt from the blue
Usain Blot was the outright star of the Beijing 2008 Games setting world records for the 100m, 200m and 4x100m relay while storming to three gold medals and establishing for himself an exalted place in athletics history.
Quite a feat if you consider he even outshone pool king Michael Phelps.
The world awaits with baited breath to see if he can do it again at London 2012 and all the signs are there that he may just do so.
A year after those Chinese Games the affable Jamaican won three sprint golds again and also set new world marks in the 100m (9.58sec) and 200m (19.19sec).
He'll be 25-years-old at London, where his main rival could well be his junior compatriot Yohan Blake, the 22-year-old 100m world champion and the setter of the 2nd best time ever over 200m at 19.26sec.
The two share the same coach Glenn Mills, who watched as Bolt false started in the 100m world championships final, leaving Bolt however to win the 200m and 4x100m relay.
Bolt says stress got the better of him, which if true is strange as he generally appears to be relaxed, even clowning around for the cameras before or even during races.
His obvious nickname is "Lightning Bolt", a fitting moniker considering his time of 9.76secs on May 3, 2008 in Kingston, the second fastest time ever, was recorded in only his third 100m race.
Potential for four gold medals in London
His coach Mills tried in vain to convince his protégé to take up the 400m due to his fragile physique but Bolt was having none of it saying one lap of the track was too tough and his instincts were right as his surge to stardom has proved.
Mills would have taken notice of Bolt's electric speed when he ran 10.03 in the summer of 2007 at the Greek island of Crete. But his skepticism was partly due to Bolt's weakened state at the 2004 Athens Games and his failure to finish the 200m at the 2005 world championships in Helsinki.
Injuries restricted Bolt's rise but signs of his unquestionable talents first appeared in 2002 when he became 200m junior world champion at 15 years and 332 days with a chrono of 19.93secs.
With his size, Bolt is not the quickest out of the blocks, but he makes up for it with an explosive finish.
At the London Games all eyes will be immediately trained on the dancehall (Jamaican pop music) loving Bolt from the very outset. His own eyes will doubtless be trained on Blake. But Bolt may even take part in the 4x400m relay and attempt a fourth gold medal.
Copyright 2014 Associated Press. All rights reserved. This material may not be published, broadcast, rewritten, or redistributed.