Anze Kopitar getting blood tests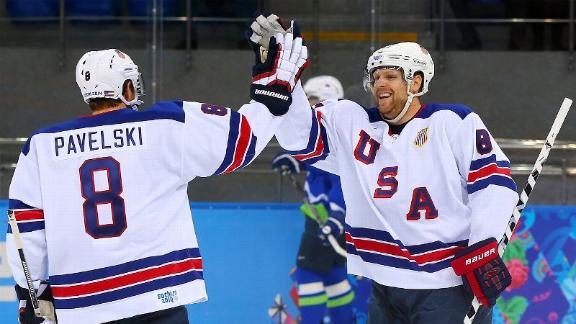 Kessel's Hat Trick Sparks United States
Barry Melrose breaks down the United States' 5-1 win over Slovenia, led by Phil Kessel, who became the first U.S. player to tally an Olympic hat trick in more than a decade.
Kessel's Hat Trick Sparks United States
NEXT VIDEO
SOCHI, Russia -- Los Angeles Kings forward Anze Kopitar, the lone NHL player on the Slovenian national team, was sent to the medical center in the Olympic compound for blood tests after he fell ill and had to leave Sunday's preliminary round game against the United States.
"He just doesn't feel well because he had something wrong with his stomach. He didn't feel well and he was without the power so we didn't want to risk it. If you can't play 100 percent it's better not to, but hopefully he's going to be better," said Matjaz Kopitar, who is both the national team coach and Anze's father.
The Slovenians are in their first-ever Olympics and upset Slovakia on Saturday before losing 5-1 to the United States Sunday. They will play a qualification game on Tuesday.
Whether Kopitar, who did not play in the third period and was on the ice for only 11:31 in the first two periods, is ready to go for the surprising Slovenians isn't yet known.
"We'll see. They're going to go with the doctors now to the hospital and they're going to check his blood to see what is going on. Hopefully he's going to be ready for Game 4 which is very important for us," Kopitar's father said. "If we want to continue in the tournament we need to win that one. We need every single player because we don't have depth."
Kopitar has a goal and an assist in the tournament.
Hockey writer for ESPN.com
10 years at Toronto Sun, Windsor Star and National Post
Wrote best-selling true crime book "Deadly Innocence"
MORE FROM ESPN LOS ANGELES

Check out the new ESPN Los Angeles, the place for your local Los Angeles sports coverage.
MOST SENT STORIES ON ESPN.COM