Commentary
Slopestyle designer defends course
Anders Forsell has listened to the riders and made adjustments, improvements
SOCHI, Russia -- So far this week, Anders Forsell has been the most talked about, yet anonymous, person at the Olympics. He's not an athlete, coach or member of the media. He's the man overseeing design, construction and maintenance of the slopestyle course used by the snowboarders and freeskiers here in Sochi. And, over the past week, his course has taken a beating -- in the media, that is.
"I try not to read much," Forsell said Saturday morning before men's snowboard slopestyle semifinals. "I am focused on the course, but I have people who check the media and I get reports. I'm just focused on making this course as good as possible."
In 2012, Forsell, the FIS technical adviser for slopestyle and the owner of Snowpark Consulting out of Östersund, Sweden, was selected to design the first slopestyle course in Olympic history. Because Snowpark Consulting is a relatively boutique company known for building FIS World Cup courses, the choice to hire Forsell was a controversial one in the snowsports community. The halfpipes and courses at most major events such as the X Games are built by Snow Park Technologies out of Verdi, Nev., a company widely known to be the gold standard in halfpipe and course building and a group many expected to be selected to build the course here in Sochi.
[+] Enlarge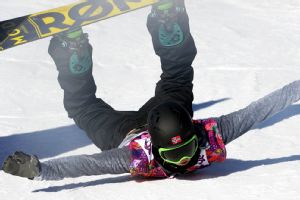 Rex Features/AP ImagesNo, he didn't fall on the slopestyle course. Instead, Staale Sandbech celebrates by flopping after winning the silver medal.
But, according to a majority of the riders, after a bumpy start, Forsell and his group have created a big, challenging course that allows them to throw the level of tricks they came to Sochi to perform. They are excited to ride. "I love this course from top to bottom," said Canadian Max Parrot, who finished fifth Saturday. "This is an extreme sport, and I think a lot of the injuries are happening because it's the Olympics. Everyone wants gold, and the riders are pushing their limits too hard."
Leading up to the Games, Forsell designed the course (his design was released to the public in August 2013), and, here in Sochi, he has the support of three international shapers and two snowcat drivers. The rest of his crew of builders and shapers is Russian. The crew began the course build on Jan. 9 but was met with six days of downpour late in the month, day and night, which delayed the completion of the course and caused event organizers to cancel the first test this past Sunday. The test event scheduled for last February was canceled because of bad weather, as well.
"We went straight into training Tuesday on an untested course," Forsell said. "Because it had been raining so much, we oversized everything. We didn't know what the weather would be like this week, so we went big on all features. If it starts melting here, it's unbelievable how much it melts. The ground never freezes, so it's melting from underneath. On the first day of practice, the riders thought there was too much drop down from the takeoff, so we cut the top deck of the takeoffs down 40 to 50 centimeters. I've seen some newspapers say it was six feet. It's not true."
Forsell and his crew also added snow to the knuckles of each landing, raising them about one meter each. "It's warm and sunny during the day, so we are working on the jumps every night, adding snow and bringing the landings up to make them better and better every day."
Forsell said learning about some of the comments in the media has been tough, especially when he hears the course blamed for injuries. "It went out in the media that our changes caused Torstein Horgmo's crash," he said. "He crashed on the stair set on the top of the course, and we changed the jumps. That's two different features."
Forsell says his crew also waxed and grinded the rails, as requested by the snowboarders and the skiers. He holds meetings after each practice and qualifying session to get feedback from the athletes, something typical at a slopestyle contest. "They've been listening to us, which has been nice," said Sebastien Toutant, who finished ninth Saturday. "Normally at a World Cup, you want to change something and they just don't care. But we ride the course and they know if they want a good, safe show, they need to listen to us. And they did."
Added Forsell: "Having to make adjustments on the course is pretty normal for a nontested course, but it seems like now the riders are happy," he said. "It's always a tough process. It's a lot of pressure to come in and build the first Olympic course, but we are doing our best to make everyone happy. It's very important to listen to the riders. It's their course. They ride it and need to have as good conditions as possible. If they are happy, I am happy and we are going to have a good show. That's why we are here."
ESPN The Magazine senior writer
Alyssa Roenigk is a senior writer for ESPN The Magazine and ESPN.com whose assignments covering action sports, Olympics and football have taken her to six continents and caused her to commit countless acts of recklessness. In 2012, she joined the X Games TV broadcast team and ordered additional pages for her passport. Follow her on Twitter at @espn_alyssa.
MOST SENT STORIES ON ESPN.COM