Fog postpones snowboardcross race
Updated:
February 17, 2014, 2:32 PM ET
ESPN.com news services
KRASNAYA POLYANA, Russia -- The Olympic men's snowboardcross has been pushed back to Tuesday because of fog.
Officials postponed the race early Monday afternoon when a heavy fog blanketing Rosa Khutor Extreme Park failed to lift.
[+] Enlarge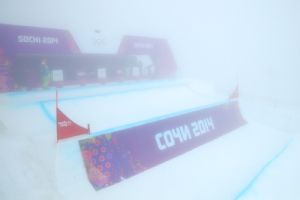 Cameron Spencer/Getty ImagesAthletes were unable to compete in snowboardcross Monday due to foggy conditions.
The decision came after officials scrubbed the seeding runs originally set for 10 a.m. local time. The expected 1:30 p.m. start of the elimination rounds came and went with visibility still low.
Tuesday's race will be under a modified format. There will be no qualifying and instead the racers will be bracketed based on their world ranking.
There will be seven heats of five riders each and one heat of four. The top three in each will advance to the quarterfinal rounds. Nate Holland and Trevor Jacob of U.S. will ride in the same opening heat.
"This fog, it's super dense up there," said Holland, a seven-time X Games winner in search of his first Olympic medal. "It's the Olympics. We want to have the best rider win and not have anything screwy."
The delay was the first at the Extreme Park, which had been the home to sunny skies, comfortable temperatures and slushy snow during the first week-plus of the Games.
"I called it as soon as I got here, that there would be bad weather on the day I race," Australian snowboardcross racer Jarryd Hughes said. "It can't stay sunny the whole time for that long."
The postponement is the second up in the Caucasus Mountains. Officials pushed back the men's 15-kilometer mass-start biathlon race from Sunday to Monday and then again from Monday to Tuesday because of fog.
"Well, I am going to sleep again," double Olympic champion Martin Fourcade tweeted in French after the race was postponed. "We'll see each other tomorrow!"
In biathlon, fog is an even bigger problem because it limits the visibility on the shooting range.
"You have to be able to hit the targets," said Jerry Kokesh, the editor of the International Biathlon Union's official website, adding that the course becomes more dangerous as well. "Uphills are not a problem, but downhills are. ... That can be a serious safety concern."
While some venues at the Extreme Park have been panned, the snowboardcross course has been praised by both the men's and women's riders. Women's Olympic champion Eva Samkova of the Czech Republic called conditions perfect during her winning run on Sunday and Holland was anxious to fire down it on Monday but praised the caution used by officials.
"We're going to be going big off those jumps," Holland said. "It's nice to be able to see where you're going."
Men's aerials, scheduled for Monday night at the park, are expected to go off as scheduled.
Tuesday's action will see some tweaks, too, as the start times for the women's giant slalom have been pushed forward by 90 minutes, with the first run set for 9:30 a.m. Rain and snow is forecast to begin falling on Tuesday morning and continue through the afternoon.
Information from The Associated Press was used in this report.
SPONSORED HEADLINES
MORE OLYMPICS HEADLINES
MOST SENT STORIES ON ESPN.COM
2014 SOCHI OLYMPICS: DAY 11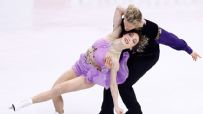 A recap of our top stories and videos from Monday, Feb. 17 at the 2014 Winter Olympics in Sochi:
NEWS & ANALYSIS
VIDEO
SOCHI 411
Zephyr Men's USA Hockey Uppercut Navy/Red Flex Hat Shop »