Previous on List | All 28 North American Big-Game Animals | Next on List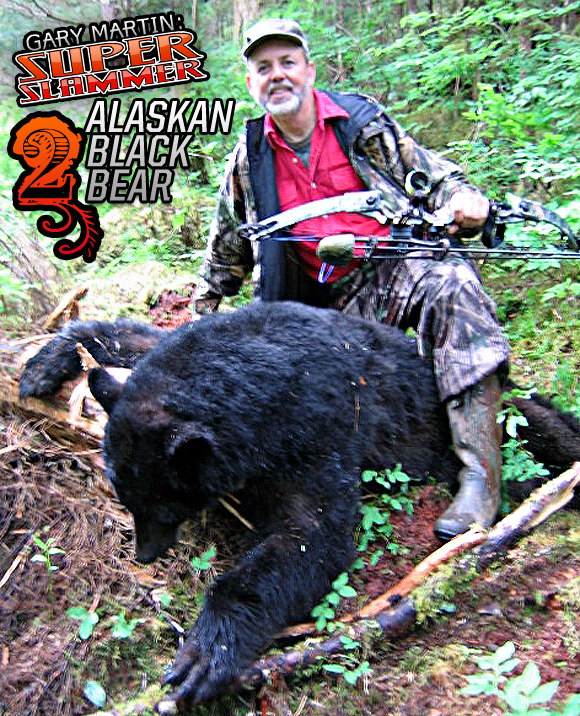 Black Bear
ANIMAL: Black Bear
WHEN: June 1, 2007
LOCATION: Prince of Wales Island, Southeastern Alaska
METHOD: Ambushed at bait
MEASUREMENTS, SCORE: 18 3/16-inch skull. P&Y minimum is 18 inches.
OUTFITTER: Self guided with friends Dyrk Eddie, Tom Hoffmann, Mike Rice and Matt Liljenquist among others.
SPECIAL CHALLENGES, DANGERS: Martin went to Alaska with friends on a Do-It-Yourself hunt on public land in Alaska. The hunters spent several days baiting and checking bait stations.
While eating fresh halibut crab and shrimp the hunters caught every day, they saw eight to 10 good-sized bears, and Martin ended up shooting one on the fifth day of the hunt.
On his return, Martin was discussing hunting techniques with an outfitter friend.
"I was so excited and shaking so bad I couldn't make a good shot," he told guide Chris Switzer.
Switzer gave Martin advice that stuck with him: "Train yourself to get excited after you kill the animal, not before," said Switzer, who runs Bear Valley Outfitters in Manitoba.
Ever since then on dangerous-game hunts, Martin has been all business before the shot, and ecstatic after it.
Previous on List | All 28 North American Big-Game Animals | Next on List