May, 21, 2013
May 21
8:35
AM ET
By
Matt Glantz
and
Allen Bari, Special to ESPN.com
Editor's note: Matt Glantz will be one of the drafters in ESPN.com's Fantasy Poker draft that will be held later this week. To assist in his preparation, he consulted with his friend Allen Bari with a hope of creating a cheat sheet on which he can rely. The percentages and opinions are based purely on their experiences playing with these individuals. While they'll admit they haven't included everyone, they feel that this is a strong list of players who will compete daily for WSOP gold this summer.
Phil Ivey
Matt Glantz (MG): Ivey is without a doubt the most overrated poker player in the world. That being said, he is also clearly the best of the best in poker. He plays all the mixed games, and while his fundamentals are slightly lacking, his sick sixth sense and red-eyed stare is like no other player out there. (I'll give him a 35 percent chance to win a bracelet.)
Allen Bari (AB): For whatever reason, Ivey dominates poker tournaments. I have come to the conclusion that it is because he finds a secret way for everyone to play as badly as possible against him. His image at the table is his biggest advantage. Overall, he plays all the games well but does have significant fundamental flaws that he overcomes using all of the above. (I'll give him a 38 percent chance to win a bracelet.)
Daniel Negreanu
MG: Nobody tries harder than this guy. He's been around forever and is considered "old school," but he has been able to adapt to the changes in the game. Negreanu went from 0 to 60 in three years flat in terms of no-limit fundamentals and, like Ivey, he plays all the mixed games. After his WSOP Asia Pacific effort, he has a substantial lead for the WSOP Player of the Year and total focus on that goal will be his strength. (37 percent)
AB: Negreanu has been on a heater lately and although I think he is even more overrated than Ivey, he plays no-limit well and has an amazing ability to read others and to get other players to do whatever he wants. It's almost a shame that he struggles at most of the other mixed games and doesn't realize it. (26 percent)
[+] Enlarge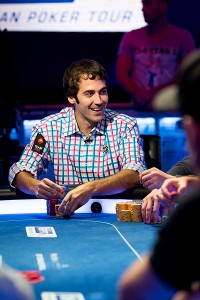 Neil Stoddart/PokerStarsJason Mercier has 31 career cashes at the WSOP.
Jason Mercier
MG: The guy wins tournaments. He wins tournaments like it's his job. It is his job. Mercier plays all the mixed games and has strong fundamentals in each discipline. (34 percent)
AB: Hands down, the best pot-limit Omaha tournament player, and he has proven it with his two bracelet victories in the discipline. He is also an extremely fundamentally sound player in all other forms of poker. Mercier has spent an immense amount of hours grinding high-stakes mixed cash games both online and live and is due for a win in another form of poker beside pot-limit Omaha and no-limit hold 'em. (32 percent)
Barry Greenstein
MG: His nice demeanor at the table is very deceiving for younger players new to the game as Barry will run over his opponents if he feels he has the opportunity. He has a tremendous amount of experience in all the mixed games and a poker instinct rare for guys his age. (17 percent)
AB: Nicest guy at the tables, but he seems as though he's lost a bit of the edge that he had in the past. However, his experience and overall skill and knowledge at the mixed games makes him a favorite over any mixed-game field at the WSOP. That and the fact that his image is usually crazy at the tables, while his style isn't, gives him a good edge. (20 percent)
Eugene Katchalov
MG: Katchalov travels the world nonstop for tournaments all year round and the WSOP is probably a nice change of pace for him to be in one place for six weeks straight. He plays all the games well and has a shot to reach the final table in every single tournament he enters this Series. (26 percent)
AB: For a long period of time, Katchalov has accomplished much in all forms of poker He shows an immense amount of patience at the tables and has been on a recent health kick that should give him increased stamina during the long days this summer. He also speaks Russian so he'll be able to schmooze with the Russians at his tables during the high stakes mixed game events. There is an advantage there. (23 percent)
Michael Mizrachi
MG: Mizrachi displays a lack of fundamentals in all games, but has all the intangibles that make for a great tournament player. He has an understanding of his opponents' mindset better than anyone else in poker, and that has made him one of the most successful tournament players in poker history. He has won the Players Championship twice at the WSOP and is an unstoppable force when rushing at the poker table. (19 percent)
AB: If you watch any video of him playing poker lately, you'd think he was in the middle of a "lose all your chips as fast as possible" competition. He should be thankful for the fact that he has won anything in poker, let alone two $50,000 buy-in Players Championships. If there were no luck in poker I would give him a 0 percent chance of winning a bracelet, but since he somehow manages to win here and there, I will give him a 6 percent chance. (6 percent)
[+] Enlarge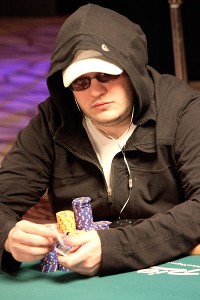 BLUFF Shawn Buchanan may be on top of the "Best without a bracelet" list.
Shawn Buchanan
MG: You hardly know Bucky is even at the table when playing poker with him. Usually hidden behind a hoodie and dark sunglasses, he's quiet as a mouse. He plays all the mixed games and is always paying attention and calculating his next move. That combination is what makes Bucky a great bet to final table any event. (32 percent)
AB: He is by far the most underrated poker player out there that nobody really knows about. He is one of the best mixed game players I have ever played with, and has some of the best patience I have ever seen. He never lets anything at the table bother him or affect his game. (34 percent)
Erik Seidel
MG: Always the most mild-mannered guy at the table and is quite the no-limit beast for an older guy. He plays all the mixed games and has a way of getting players to react to him in the way he wants. (17 percent)
AB: He has applied many things to no-limit that I personally think are innovative and perfect for today's young aggressive style that has become the norm. He seems to have less experience in the mixed games than the other old-time pros but seems pretty proficient nonetheless. (24 percent)
John Juanda
MG: Very deliberate in his actions, Juanda is one of the slowest players at the WSOP. He takes his time and yours making all decisions and plans hands out well in advance. He plays most of the mixed games well. (14 percent)
AB: Juanda plays above average at no-limit and most of the other games from my experience. One of his biggest advantages is the fact that most people dislike him within minutes of playing with him which, if he takes advantage of, can benefit him. (18 percent)
Marvin Rettenmaier
MG: Crushing no-limit tournaments in Europe and on the World Poker Tour should give him confidence to do the same in the big bet events at the WSOP. (10 percent)
AB: Rettenmaier has done well in no-limit events as of late, but he has little experience in the mixed games, so he has little shot to win a bracelet. If he somehow learned how to play mixed games in the next few weeks, I would imagine he would have a little bit better of a shot. (8 percent)
Phil Hellmuth
MG: Hellmuth has a total lack of fundamentals, but his unmatched determination combined with an incredible understanding of his opponents' thoughts make him the player that I think is most likely to win a bracelet in 2013. He amazing success is attributable to skills that are very hard to quantify. (39 percent)
AB: Hellmuth is a complete anomaly that exists in poker. I don't care what anyone says, limping the button with 12 blinds with any hand, or any of the other plays he makes, is completely and utterly awful. However, he finds other ways to compensate for the fact that he chooses to do the exact opposite of everyone that has poker fundamentals. He also seems to play the mixed games overall well from my experience and finds really good spots to pull off good bluffs. (28 percent)
Scott Seiver
MG: Seiver is a beast at big bet games and reckless in mixed games. He's very smart and always a threat to play for stacks. He has a lot of determination at the table and makes for a good pick. (24 percent)
AB: Seiver has curly hair, a beard and a good poker mind. Whether he chooses to apply that poker mind on any given day is the question. When he's on his A game, he is a big favorite over any field in any game. (25 percent)
Bertrand Grospellier
MG: Competitive drive combined with super high intelligence make "ElkY" a threat in any game. Not known for his mixed game prowess, he can find a way to win in any format. He's always friendly at the table and that makes his deception all that much easier for him to pull off. He is an artist. (16 percent)
AB: Grospellier seems to play pretty standard from my experience with him, which might not be enough these days to overcome the advanced aggressive play out there. He has a lack of knowledge in mixed games, even though he somehow won a $10,000 stud event while playing it for the first time ever. He's smart and has a good poker mind, which gives him a decent chance to win a bracelet. (14 percent)
Daniel Alaei
MG: Alaei tries so hard to win at everything he does. He's always willing to gamble with small edges and he's become a true force at the table. Most players find him difficult to play against, and for good reason. (23 percent)
AB: Alaei has one of the best images at the poker table I have seen. He also has a great poker mind and is very good at applying it to any game he plays. (29 percent)
Scott Clements
MG: A pot-limit Omaha beast, Clements is great at all the mixed games. He plays a more conservative style than most players on this list and has found much success in the past. Easy guy to root for. (18 percent)
AB: Clements is a tough player with a good knowledge of all mixed games and a constant desire to learn more from other good players. Dresses well and is well-liked at the poker table. (25 percent)
Dan Kelly
MG: He's an online machine. DJK was crushing mixed games online before any other young kids even knew what mixed games were. He is like a younger, more scientific version of Shaun Deeb. (35 percent)
AB: Plays all the mixed games well when he wants, but similar to a lot of other top players, he doesn't always seem to be there. However, his experience and overall skill edge over the soft mixed-game fields make him a big favorite. Not to mention he is a beast at no-limit as well. (30 percent)
John Racener
MG: Most people know John for his second-place finish in the main event a few years back, but not many realize he is a great all-around mixed-game player, which gives him a great shot to make a few final tables this summer. I would like to have a piece of this guy for the series. (33 percent)
AB: A very underrated mixed-game player. I have a lot of experience talking and playing with him, and he is a huge favorite over these fields. That and his patience in all forms of poker, no matter how few chips he has (as shown in his main event final-table appearance), make him a good pick this summer. (25 percent)
Chris Klodnicki
MG: As I like to affectionately call him "my monkey," this kid has won me more money in the last two years with swaps and pieces than I care to admit. It is disgusting. He is truly one of the best no-limit minds in the world today and not so bad at mixed games either. (33 percent)
AB: Runs like Mercier, plays almost as good as him, and looks good while doing it too. As long as the Open Face Chinese action isn't too crazy this summer, I expect him to finally win a bracelet. He has logged a lot of hours playing mixed cash games since Black Friday and has crushed no-limit since he started playing full time. He also talks poker with one of the greatest minds out there. (30 percent)
Alexander Kostritsyn
MG: Does anyone know if he is going to show up this year? He's a great all-around player and is super tough in all the mixed games. If he plays a full schedule … (30 percent)
AB: Doubt he will be around, let alone playing too many tournaments. Has a great poker mind, and has done well playing online cash. (15 percent)
[+] Enlarge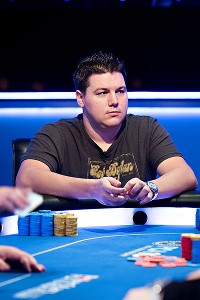 Neil Stoddart/PokerStars Can Shaun Deeb avoid the temptation of Open Face Chinese games to win a WSOP bracelet?
Shaun Deeb
MG: Of all the great young poker players, Shaun is the best. His table demeanor is his biggest asset. He plays tournaments well, cash games great and big-bet games at the highest level. He's competitive with the elite in mixed games and I love his chances this summer. (37 percent)
AB: He is one of the greatest poker minds out there. Too bad his trigger finger can't help itself. He finds a way to spaz off in every tournament, even though lately he has found a way to control himself. Open Face Chinese action will determine his schedule this summer, but if he plays he has a good shot to win any tournament he buys into. (30 percent)
Isaac Haxton
MG: Such a poker savant. If game theory wasn't invented yet, this guy would have taken care of it. Fortunately, there is much variance in poker, which gives everyone else a chance. It's also fortunate that he doesn't venture into mixed games. He has the highest chance of winning a bracelet for anyone not playing mixed games. (17 percent)
AB: A great poker player who has had a small amount of experience in mixed games. Hangs out with a bunch of other smart poker players in their mother's basement somewhere in Europe, which allows them to constantly throw poker ideas off each other. Only thing holding him back from winning a bracelet is his lack of hours in mixed games. (15 percent)
Phil Galfond
MG: One of the greatest minds in poker who holds the unique ability to teach poker well. He's tops in the big-bet games and decent in mixed games. He's a threat in every event he plays. (27 percent)
AB: One of the most well-respected poker players and for good reason. Galfond has crushed online cash games since the day he created a screen name. He has a great demeanor at the poker tables and has a huge edge over most fields this summer. (20 percent)
Nick Schulman
MG: Always a tough competitor, Schulman plays all the games super well. He excels at both cash and tournaments. He's like a junior Ivey. (33 percent)
AB: Nick has played poker for a long time and has been crushing since the start. He's logged many hours in mixed games and has consistently done well. He already owns two bracelets in 2-7 single draw. (20 percent)
David Sands
MG: Sands is the most confident no-limit player you will find in any tournament. He's very tough to play against, takes his time with every decision and plans well ahead. He falls into the elite group of highest chance to win a bracelet without mixed-game experience. (17 percent)
AB: A great no-limit player, but has minimal experience in any other form of poker. The fact that he probably won't even buy into anything but no-limit and pot-limit Omaha make him a dog to make any real noise. (6 percent)
Jeffrey Lisandro
MG: Super tough in all forms of stud and is very good in the other mixed games. He's not too much of a threat in no-limit hold 'em, but is great in pot-limit Omaha. (15 percent)
AB: Above average in mixed games, although he has leaks in his fundamentals. I'm not sure how much he will be playing this summer. (15 percent)
Sorel Mizzi
MG: Mizzi is always looking to get better. He takes the game seriously and is always improving. He's tough in all the mixed games but no-limit is his real bread and butter. (21 percent)
AB: He's a relentless poker player who has been on a mini-heater lately due to his third-place finish in the 100,000 event in Monte Carlo. He has a limited, but fair amount of experience playing online mixed cash and various tournaments throughout the years, but has shown the ability to catch on to the strategy of any form of a poker tournament. (20 percent)
David "Bakes" Baker
MG: Very good at the mixed games and always seems to make it to the final table in those events. He's skilled at all games. (23 percent)
AB: If there were only mixed-game tournaments at the WSOP, he would probably win all the money. However, through reading updates of recent no-limit events, it appears as though the constant three and four-betting has started to confuse him and he seems to find any opportunity to get massive amounts of chips in the middle with mediocre hands. Regardless, he is a big favorite over any non-NL field. (30 percent)
David "ODB" Baker
MG: David is basically a west coast version of myself, just slightly better in each game. He is likely to make at least two final tables and they could come in any game. (32 percent)
AB: One of the most patient, talented poker players who has been around as long as he has. He is a beast at all mixed games and is also a favorite in any no-limit field. He's coming off a big summer at last year's WSOP which will be almost impossible to repeat, but I would bet on him to be able to repeat it. (30 percent)
John Monnette
MG: If all the tournaments were mixed games, John would be my pick. Unfortunately for John, there are many no-limit and pot-limit Omaha events, which are not his forte. Still love his chances. (28 percent)
AB: Far and away one of the best mixed cash players to frequent the high stakes scene. If there were zero no-limit tournaments this summer, I would take him without thinking twice to be the No. 1 pick; however, the fact that his no-limit game is weak and that he is most likely going to be logging in a lot of cash game hours make him not as easy of a pick as most would think. He is also the most likely candidate of being banned from the Rio for ripping too many decks. (25 percent)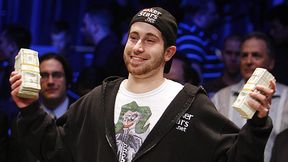 AP Photo/Isaac BrekkenJonathan Duhamel has $11.5 million in career tournament earnings.
Jonathan Duhamel
MG: Former main event champion and for good reason. One of the most skilled no-limit players on the circuit, his fundamentals are outstanding and he takes advantage of all opportunities presented to him at the table. High as I will go for a non-mixed games player. (17 percent)
AB: His ability to crush no-limit tournaments since he broke through the scene after winning the main event does not make up for the fact that he has no shot in any mixed-game field. He has an amazing poker mind, but just has no need to log in the hours playing mixed cash. (8 percent)
Matt Matros
MG: Limit hold 'em is Matt's game and he's not too bad at no-limit either. He's one of the nicest guys in poker and a true pleasure to be with at the table. He's won a bracelet in each of the past three years, but even I can't make him 100 percent to win.(21 percent)
AB: One of the overall smartest poker players out there, especially away from the table. He is relentless and constantly aware of everything going on at the tables. His feat of winning a bracelet three years in a row is amazing and a statistical anomaly, especially when he rarely plays mixed games. He's a massive favorite in the many soft no-limit/limit hold 'em fields this summer. (12 percent)
Brian Hastings
MG: Plays all the games and is very tough in no-limit and pot-limit Omaha. In mixed games, he is on another planet. All around super nice kid. (19 percent)
AB: Hastings is a really good no-limit and pot-limit Omaha player. I'm unsure if his cash-game abilities transfer that well to tournaments. Very good at mixed games … for the prize pool. (11 percent)
Vanessa Selbst
MG: One of the most feared women in all of poker. Just kidding. One of the most feared players in all of poker. Nobody wants to be on her right in a no-limit tournament. Now that she knows all the mixed games fairly well, she is a great threat to win another bracelet. (23 percent)
AB: One of the greatest poker players in the world, male or female. I have said this before: I have never seen anyone fight for every pot they enter as she does. She has found and will find a way to win in any form of poker tournament. I just hope she doesn't find a way to punt it off in no-limit. (24 percent)
[+] Enlarge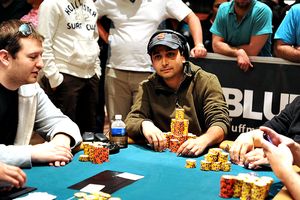 WSOP Allen Bari turned to the culinary world in 2013, but will still make an appearance at the Series this summer.
Matt Glantz
AB: As long as they replace all the bracelets this summer with bars of chocolate, he will fight until the bitter end. He has more hours of experience playing mixed game cash than anyone else out there. He looks old but plays like a young kid for the most part, and that allows him to accumulate chips in all forms of poker. Also, he hasn't won a bracelet, so he's hungry. Both literally and figuratively. (30 percent)
Allen Bari
MG: Bari is only planning on being in Vegas for two weeks this summer, so while I won't say he has no shot to do any damage, it's going to be hard. He plays all the mixed games very well, but no-limit might have passed him by. (4 percent)
May, 14, 2013
May 14
9:58
AM ET
The main event at the EPT Grand Final struggled in attendance, but the final table made poker enthusiasts around the world forget about the 20 percent year-over-year decline in participation. A star-studded final few tables ultimately resulted in a battle between eight faces of the game: Daniel Negreanu, Jason Mercier, Steve O'Dwyer, Johnny Lodden, Jake Cody, Noah Schwartz, Grant Levy and Andrew Pantling. Each had his eye on the $1.6 million top prize, and it seemed fitting that the man who has dominated the European felt since Black Friday reigned supreme. O'Dwyer picked up the victory and the largest score of his career to move into fifth on the 2013 money list.
[+] Enlarge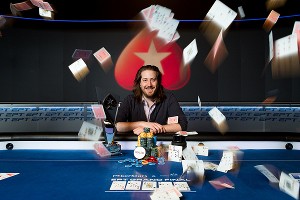 Neil Stoddart/PokerStars Steve O'Dwyer won the 2013 EPT Grand Final in Monte Carlo.
"People are saying this was the toughest final table of all time, so for me to be able to say that I won is unbelievable. I am in shock," O'Dwyer told PokerStars. "At the start of the final, I knew I needed to get lucky to win because these guys are so good. It's very satisfying to finally have that title."
O'Dwyer wasn't just deservingly talking up his win; every player at that final table has at least $1.8 million in lifetime career tournament earnings. Freddy Deeb (ninth), John Juanda (11th), Victor Ramdin (13th), Andrew Lichtenberger (14th), Kevin Iacofano (17th), Mickey Petersen (18th), Paul Volpe (20th), Luke Schwartz (22nd), Noah Boeken (26th), Oleksii Kovalchuk (28th) and Ville Wahlbeck (29th) also made deep runs out of the 531 entries.
Making his fourth appearance at an EPT final table and second over the past two months, O'Dwyer entered action on the final day with a slight lead over Pantling. Cody, Negreanu and Lodden were essentially knotted up at third through fifth while Schwartz, Mercier and Levy all were "short stacks" with less than 36 big blinds. Each player had plenty of time to maneuver, but the action started quickly as Pantling eliminated Levy within the first hour of play. Pantling took out his second competitor at the final table shortly after, knocking out Mercier who three-bet all-in with Q-10 and was called by Pantling's A-Q. The seventh-place result, worth $179,642, was Mercier's largest score since his win in the $100,000 buy-in High Roller at the Five Diamond in December of 2011.
Negreanu, fresh off his WSOP Asia Pacific main event victory, had a rough time moving in the right direction at the start of the day, but regained the momentum as he eliminated both Schwartz and Cody by picking up aces at the perfect time. Negreanu opened, Schwartz three-bet all-in with K-10, Cody four-bet all-in with J-J and Negreanu happily called and watched the board run clean. Moments later, in perhaps the largest pot of the tournament to date, Negreanu dominated Lodden with Q-Q to 9-9 and was set to compete with Pantling for the chip lead. This time the cards wouldn't oblige. A nine on the turn gave Lodden the win and put Negreanu on the short stack. Now sitting with a comfortable stack, Lodden risked a coin flip and finished off Negreanu with A-Q to Negreanu's 4-4. Negreanu's $420,912 gives the Canadian pro his third consecutive year of at least $1.5 million in tournament earnings.
Pantling had control of the match with three remaining and as witnessed on the live stream of the final table, was able to make tremendous reads at key times. However, his reads couldn't overcome O'Dwyer's domination of Lodden. O'Dwyer first doubled through Lodden after a bold four-bet all-in that resulted in a race with (Q-10 over 6-6), then knocked him out by inducing an all-in on the turn with ace-high to O'Dwyer's top pair. Lodden's payday of $612,355 was the highest of his career.
As heads-up play began, Pantling had a 24 big-blind edge over O'Dwyer and maintained that lead as the two swapped small pots for the last hour before the dinner break. When they returned, Pantling came out firing. As it turned out, it wasn't in his best interest. O'Dwyer earned nearly a 3-1 edge after Pantling got creative at the wrong time with 6-3, then found himself in a crazy spot with 10-8 to earn the title. On the final hand, O'Dwyer opened with the 10c-8h and Pantling called. The flop was Js-8s-8d giving O'Dwyer trips to Pantling's flush draw. Pantling checked, O'Dwyer bet and Pantling called. The turn 4s gave Pantling the flush and once again he checked. O'Dywer then bet, Pantling raised and O'Dwyer moved all-in. Pantling called in a heartbeat with excitement, but the eight on the river crushed his best intentions and gave O'Dwyer quads for the victory.
"Thank god I played it bad and shoved the turn, because he would have probably check folded the river," O'Dywer said to ESPN.com via Twitter. O'Dwyer's sights are now set on the Spring Championship of Online Poker.
Here are the results of the 10,000 euro buy-in EPT Grand Final main event in Monte Carlo:
1. Steve O'Dwyer (1.2 million euros)
2. Andrew Pantling (842,000)
3. Johnny Lodden (467,000)
4. Daniel Negreanu (321,000)
5. Jake Cody (251,000)
6. Noah Schwartz (189,000)
7. Jason Mercier (137,000)
8. Grant Levy (103,000)

Small blinds: Steven "Zugwat" Silverman, Tony Gregg and Fadi Jamar chopped the 121-entry 25,000 euro high-roller event at the EPT Grand Final. Silverman earned the extra 15,000 euros as he emerged with the victory. Vanessa Selbst, Body Levis, Chris Moore, Igor Kurganov and Victor Sbrissa, fourth through eighth, also made the final table and earned at least 116,100 euros. … The PokerStars Spring Championship of Online Poker began over the weekend. Early champions include Benny Spindler ($2,100 no-limit hold 'em), Paul Volpe ($2,100 badugi) and Ana Marquez ($1,000 no-limit hold 'em rebuy). … Nancy Birnbaum became the second woman in WSOP Circuit history to win three rings. … On May 17, the WPT will present "Tiger's Poker Night," an exclusive event hosted by Phil Hellmuth and Tiger Woods. Proceeds go toward the Tiger Woods Foundation. … Amir Babakhani won the 735-entry PartyPoker WPT Canadian Spring Championship for $442,248. His previous best tournament cash was worth $8,810. The WPT now heads to Vegas for the WPT World Championship and Super High Roller. … Phil Ivey filed a lawsuit against Crockfords for them withholding his $12.1 million in winnings from a Punto Banco session. Crockfords responded by saying the cards were flawed. … Rex Clinkscales won the WSOP Circuit Philadelphia main event for $121,097.
May, 8, 2013
May 8
9:08
AM ET
The Nuts is a monthly feature that takes a look at the best poker players in the world. This feature aims to produce a list of the best players at the moment. Our panel of 10 is composed of ESPN.com's poker contributors (Bernard Lee and myself), ESPNDeportes.com poker editor Nahuel Ponce, Bluff magazine editor-in-chief Lance Bradley, senior writer Tim Fiorvanti and information manager Kevin Mathers, WSOP.com managing editor Jessica Welman, PokerNews editor-in-chief Donnie Peters, World Poker Tour's Eric Ramsey and Pocketfives' Dan Cypra.
From Melbourne to Florida to the virtual felt, April offered the pros plenty of opportunities for big money left and right and three new faces are part of the top 10 in this month's rankings.
The April highlight for many has been the debut of the WSOP Asia Pacific (APAC) and the additional five bracelets up for grabs in 2013. When the jewelry is up for grabs, the biggest names in the world are sure to attend and the Crown Casino played host to one of the most talked about events of the year. Phil Ivey's reign at No. 1 was in question after months of mediocre online results and a disappointing live tournament run. Doubt had settled into the minds of the panel and it was clear that it was time for the world's best player to make something -- anything -- happen. Ivey came through with a win in the mixed game event at APAC, albeit over a small field of only 81. Feel that his win isn't impressive enough? Take a look at the names that entered that event. Forget the buy-in and prize pool, to beat that field is a great accomplishment and, with his ninth WSOP bracelet, Ivey retained the top spot.
At the final table of Ivey's victory was Daniel Negreanu, whose quest for a fifth bracelet was halted with a fourth-place finish. Just a few days later, Negreanu was over the disappointment as he rebounded to defeat the strong field of 405 in the APAC main event. The victory resonated with the panel as Negreanu, who hasn't been ranked since last May, returns at No. 3. Negreanu spoke on the latest Poker Edge about his plans for the summer and, as the current leader in the WSOP Player of the Year race, he is poised to be as active as ever in Las Vegas.
Jim Collopy, Bryan Piccioli and Aaron Lim earned the three other bracelets from Melbourne and out of that group, Lim's efforts resonated most with the panelists, earning him a spot on the bubble. The Australian has been on an absolute tear as of late with three six-figure scores over the past two months. APAC's non-bracelet High Roller 50,000 Australian Dollar (US$51,000) buy-in event attracted 44 entries and featured a final table filled with star power. Philipp Gruissem defeated Joseph Cheong heads-up for the win and the US$863,386 pay day, but it was Cheong who kept the momentum for the rest of the month, ultimately leading him to his debut on this list at No. 10. Cheong left APAC for Manila and captured the Manila Millions title for $1.3 million, enough to move him over the $8 million mark in tournament earnings for his career.
Marvin Rettenmaier held strong at No. 2 with his ninth-place finish in the pot-limit Omaha event while last month's No. 3, Sam Trickett, dropped to sixth. Besides Negreanu, Phil Hellmuth was the biggest mover this month as he jumped from eighth to fourth with only one cash at APAC. Unlike Dan Shak, who fell out of the rankings after just one month and a fifth-place finish in the pot-limit Omaha event at APAC, Paul Volpe stayed in fifth place with two strong efforts on the WPT and a deep run in an EPT Berlin side event.
The star of the WPT this season, Matt Salsberg, makes his debut this month at No. 7. Salsberg has three final tables, one win and six top-13 finishes during Season XI and has officially transitioned from being considered a celebrity on the felt (for his work on Showtime's "Weeds") to simply another player on a course to poker stardom. Tied with Salsberg at No. 7 is Scott Seiver, who made two final tables at EPT Berlin (third and eighth). Seiver has nine cashes so far in 2013, with his smallest result a $15,110 score.
Some of the other big winners in April include WSOP Circuit champions Kevin Saul (Foxwoods), John Bowman (Cherokee) and Blair Hinkle (Council Bluffs), last year's October Niner Jeremy Ausmus who won the Venetian Deep Stack Extravaganza II for $121,853, WPT champions Kevin Eyster, Chanracy Khun and Michael Linster, and Daniel-Gai Pidun who defeated a field of 912 players at EPT Berlin. Eyster also recently won $333,680 and his third FTOPS title win a win in the $2,100 High Roller event. He defeated Sami "LarsLuzak" Kelopuro heads-up.
Did we leave out your favorite player? Who should be ranked higher? Who should be completely off the list? Leave us your thoughts in the comments below. Here's a look at March's top 10:
On the bubble
Talk about a big bubble. The panel had a tough time determining the final few spots and as result, this month's bubble is filled with some of 2013's best. Antonio Esfandiari bubbled the WSOP APAC main event final table as well as these rankings. The game's all-time earnings leader (thanks to One Drop), has $353,901 in earnings so far this year. … Dan Shak's tenure in the top 10 lasted only one month and even with his APAC final table, he fell out of favor with the panel. Shak, still considered an amateur, also took some time away from the felt over the past month. "Too much work and beautiful weather equals don't want to be indoors," said Shak on Twitter. He'll be playing a pretty full WSOP schedule, where he cashed seven times in 2012. … Michael Mizrachi hasn't cashed in a tournament since February and his win at WSOP Africa, but his record over the past nine years is enough to constantly keep him in this conversation. With the WSOP ahead, Mizrachi's name is sure to reappear on many ballots next month. #&133; Jason Mercier found the winner's circle in the first week of May in the 2,000 euro Chinese Poker side-event at the EPT Grand Final. Will it be enough to push him out of this group next month? It seems unlikely, but possible. … Not only did David Sands finished second in the WPT Seminole High Roller and 20th in the WPT Jacksonville main event, but he also got married. He continues to sit on the bubble despite $1.5 million in earnings this year and will have his eyes on earning a SCOOP title in a few weeks. … Viktor Blom's $2 million upswing over the past 30 days has helped his cause, but the true cash game specialist hasn't entered the top 10 yet. His swings are substantial and that may continually limit his potential. … Alexander Kostritsyn, Phil Galfond and Tom Dwan also received support after their strong online cash game efforts so far this year. … Tobias Reinkemeier, Aaron Lim, EPT Berlin Highroller champion Griffin Benger, Mike Watson, Dan Smith, Gruissem and Jonathan Duhamel also received consideration this month.
Final thoughts
Bradley:Nobody has had a more mercurial relationship with The Nuts than Daniel Negreanu. He's been as high as No. 2 and some months he's been nowhere near the voting, never mind the top 10. That said, his performance at WSOP APAC has once again put the poker world's spotlight squarely on him. It's interesting to me that the WSOP APAC and WSOP Europe main event champions, Negreanu and Hellmuth, are both on this list but reigning WSOP main event champ Greg Merson, who also won the $10,000 six-max event last summer, isn't on the list - those are two of the toughest no-limit hold 'em events to win.
Feldman: This month was tough on me as a member of the panel. There have been so many outstanding efforts as of late that giving everyone the credit that they deserve is a challenge. The one player that sparks the most debate in my mind is Vanessa Selbst and there is zero doubt that she's among the top 10 in the world. That said, she's been quiet for a few months and watching players like Shak, Lim, Mizrachi, Esfandiari, Mike Watson and basically anyone else mentioned above on the bubble miss is frustrating. At what point do we say, hey, it's been three months with no scores, time to move on? I guess it's a good debate and considering this list is entirely subjective, the exercise is pretty much that.
Salsberg's debut at No. 7 is pretty debatable and I'm struggling to figure out how Joseph Cheong, who has been quietly crushing the tournament arena for years now, falls behind the WPT wiz. Additionally, if we think about the necessity of being a well-rounded player, Salsberg hasn't proved it yet. I do believe he's excelling as a tournament player, but I would've preferred to see him come in at 10, rather than tied with one of the game's annually dominant players in Scott Seiver and ahead of Selbst and Cheong.
The next set of rankings is sure to be an interesting one. May's schedule includes the WPT Championship and High Roller, the start of the WSOP, the EPT Grand Final, the Circuit National Championship and the Spring Championship of Online Poker. Plus, now we get to see the true potential of Nevada's online poker market. It's going to be a very busy month for the industry and for the top 10, it's time to produce.
May, 1, 2013
May 1
9:35
AM ET
It's been just over two years since the poker world was rocked by "Black Friday" on April 15, 2011. After the Department of Justice indicted 11 key players in relation to the three major online poker sites, the online poker industry in the United States went essentially dormant. Some professional players chose to relocate overseas to poker friendly countries such as Canada, Mexico and European nations. Others decided to play exclusively live poker. Some even took a well-deserved break.
The tides began to change on Tuesday as online poker officially returned to the United States … well, at least Nevada. At 9:00 a.m. PT, UltimatePoker.com made history by becoming the first Nevada based online poker company to launch a legal real-money online poker site.
"We are proud to be the first company to deliver legal and secure real-money online gaming to poker players," said Ultimate Poker Chairman Tom Breitling. "We have worked closely with state gaming regulators to demonstrate our unique and compelling poker platform that, above all, players know they can trust. Ultimate Poker is dedicated to being the players' choice for online poker."
"This day has been a long time coming. Online poker in the United States is finally here and totally legit," remarked brand ambassador Antonio Esfandiari.
With this launch, there is finally a glimmer of hope for the U.S. poker player.
"Before Black Friday, 90 percent of my time was spent playing online poker, that's where I made my living," said 2012 October Niner Jeremy Ausmus. "And ever since Black Friday, I became a live grinder … so, I'm pretty excited about it. It's an exciting development and a step in the right direction. … If the games are available, I will stay home more and will enjoy the convenience and efficiency of online poker."
Availability is the key question thus far. As the legal online poker market develops, building a substantial player pool is essential.
"I'm cautiously optimistic, but excited after not being able to play online poker for two years," said Eric Baldwin. "I will definitely be playing at some point, if nothing else to have fun and experience playing online poker again. On days where there is not a great live option in Las Vegas, it will be nice change of pace to be able to play online at home."
As the games launched, the early offerings at Ultimate Poker showed limited stakes, a concern for many.
"Based on the population of Nevada, which is about three million residents, this number is just a drop in the bucket compared to the entire world. I'm concerned that the games will not be big enough for it to be a viable option for professional poker players to make a living," described Baldwin.
"I think it is a step in the right direction and, if the stakes are high enough, it could interest me," 2011 WSOP Player of the Year and bracelet winner, Ben Lamb. "With such a small player field in Nevada, it will be many years before we see the fields like we did before Black Friday."
There's no question that the player pool is the issue, but in the next few months, that may not be such a problem. Anyone within the state's borders can play and with the WSOP coming later this month, the field sizes could dramatically increase during that time.
As a non-Nevada resident myself, I'm looking forward to being able to play this summer during the WSOP. Other players are excited about this launch as well.
Recent WSOP Circuit Council Bluffs main event champion, Blair "blur5f6" Hinkle, a resident of Kansas City, Missouri, was the only player ever to win over $1 million in a single event on Full Tilt. He's excited about the recent developments and plans to give the Nevada sites a try in a few weeks.
"I am going to be mostly focusing on my WSOP events, but it will be cool because on my days off, I may test out the site," said Hinkle. "It will be a nice option to have on your days off if you feel like still playing poker. It will be nice and convenient. Overall, this is great news for the poker community."
There is now some hope that this development will lead New Jersey and Delaware to expedite the release of their offerings which are expected later this year. Additionally, other states may follow, eventually leading to a national regulation of online poker.
For now, U.S. poker players, you can begin to come out of hibernation. Welcome back.
April, 5, 2013
Apr 5
12:35
PM ET
The Nuts is a monthly feature that takes a look at the best poker players in the world. This feature aims to produce a list of the best players at the moment. Our panel of 10 is composed of ESPN.com's poker contributors (Bernard Lee and me), ESPNDeportes.com poker editor Nahuel Ponce, Bluff magazine editor-in-chief Lance Bradley, senior writer Tim Fiorvanti and information manager Kevin Mathers, WSOP.com managing editor Jessica Welman, PokerNews editor-in-chief Donnie Peters, World Poker Tour's Eric Ramsey and Pocketfives' Dan Cypra.
WSOP season has officially started. As WSOP-APAC debuts in Melbourne to award the first five bracelets of the year, we're poised to see major changes in these rankings. No one single tournament series can change the perception of who the best are in the game than the WSOP and with additional opportunities for players to shine, the volatility on this list is ready to pick up over the next few months. There's no doubt there are great times ahead in the poker world, now a full two years removed from its darkest day, and as we continue to turn the page from Black Friday, it's also time to mark the end of an era here in these rankings.
Jason Mercier was one of the original faces in "The Nuts" rankings back in December 2009. Originally ranked seventh, Mercier's run to the 2009 Player of the Year award was followed by millions in earnings, both live and online, in every type of game imaginable. Up until 2012, Mercier had made at least seven figures in each of his four years as a pro and when Phil Ivey stepped away from the game, he was the one to emerge as the No. 1 player in these rankings.
The joke of #whenwillitend transitioned from positive to negative in 2012 as Mercier struggled on the felt and openly admitted to a losing year. Down on his luck at the felt, his stock in these rankings fell. From the top spot as recently as May of last year to ninth last month, Mercier would need to come up big in March to stay in the top 10. Despite making some money in the Premier League and running deep at EPT London, one of the true faces of the game is now on the outside looking in. Mercier was the only player since the debut of this list to be present each and every month.
The newly-signed Ultimate Poker ambassador Antonio Esfandiari also fell out of the rankings this month, making way for two of the game's hottest tournament players in Paul Volpe and Dan Shak. Volpe's emergence into the widespread poker conscious began at the WSOP main event, but in reality, those that followed the online space closely knew that his 20th-place run was no fluke. Playing as "paulgees81," Volpe amassed millions in earnings and right at the time of Black Friday, he was ranked as the No. 1 online poker player in the world.
Regardless of where he's played recently, he's found success. Since his main event run, Volpe made back-to-back WPT final tables (finishing second and third), won hundreds of thousands online and is No. 1 in the GPI's Player of the Year race. Volpe debuts in these rankings at No. 5.
Shak, making his debut a No. 6, stands out on this list. The rest of the top 10 are all professional poker players, but Shak, while playing for years and probably convincing many that he's a pro, remains a commodities trader. Shak's 2013 includes an eighth-place finish in the Super High Roller at PCA ($228,960), twin fourth-place finishes in the Aussie Millions majors ($422,279 and $250,201), a runner-up in the 10,000-pound eight-game event at EPT London and just last week, a victory in the Premier League worth $528,000, as Shak defeated No. 3 Sam Trickett for the title.
Shak's win stands out as one of the most impressive in March given the incredible field that participates in the Premier League, but there were many other strong performers during the month. WeiKai Chang earned his first WPT title at Bay 101 (defeating a final table that included Volpe and Erik Seidel), Ruben Visser won the EPT main event (Steve O'Dwyer fifth, Chris Moorman eighth), Talal Shakerchi won the EPT London High Roller (Faraz Jaka runner-up, Volpe fourth) and Rocco Palumbo won the WPT Venice main event (Mike Sexton third, Matt Salsberg seventh).
Trickett's jump from nine to three was the biggest move among the top 10 this month. Phil Ivey retained the top spot despite a tough month online, and as Vanessa Selbst dropped two spots to No. 4, Marvin Rettenmaier's three cashes have him at No. 2. The bottom four, Scott Seiver, Phil Hellmuth, Michael Mizrachi and Dan Smith, had limited success, and with WSOP-APAC, WPT Barcelona, Jacksonville, Seminole and Montreal, LAPT Brazil (featuring Ronaldo's debut), IPT San Remo, WSOPC Foxwoods and Harrah's Chester and EPT Berlin, they'll need to find the money in order to stay in the top 10.
Did we leave out your favorite player? Who should be ranked higher? Who should be completely off the list? Leave us your thoughts in the comments below. Here's a look at March's top 10:
On the bubble
This month's bubble boy was discussed at length above. Jason Mercier fell to the bubble, just edging out Antonio Esfandiari for that spot. Both are definitely among the best in the game, but the past month hasn't featured substantial scores. The bubble debate should truly begin with Matt Salsberg and Tobias Reinkemeier. Salsberg finished seventh at the most recent WPT event in Venice, placing him in a tie with Volpe for the Season XI Player of the Year award. Reinkemeier finished sixth in the Premier League for $162,000 and putting his 2013 tournament earnings at $1.6 million. … As impressive as both have been on the tournament felt, one player has equaled their efforts in the online cash games. Viktor Blom is back to his winning ways, up nearly $3 million over the past 30 days. The challenge with Blom's inclusion in this list is that his bankroll fluctuates substantially month-to-month and although he's up huge as of the time of this article's posting, by tomorrow, he could be in the red given the nosebleed stakes he's playing. … Bertrand Grospellier, Chris Moorman (winner of a recent FTOPS event), Mike Watson (who added another $151,160 to his bankroll in March), Tom Marchese, Nacho Barbero and Steve O'Dwyer also received consideration this month.
Final thoughts
Bradley: It's a really small sample size that we're dealing with, but Dan Shak plays extremely well in high roller events. When your day job requires managing financial transactions bigger than most tournament prize pools, it makes sense that he appears to be under less stress at the felt. That alleviation of pressure might give him an advantage in these situations over his opponents who are most likely backed and have extra pressure on their shoulders. As he plays more, we'll see if he's able to keep this run up and gain further in the rankings.
Hellmuth is typically a WSOP performer who managed to space out some impressive performances through tough fields to keep his spot on this list. The next two weeks for him are huge as he'll try to be the first member of the tri-continent bracelet club and after that, he'll have his sights on Vegas. It'll be interesting to see how many people on this list travel to APAC for shots at bracelets versus those that decide to stay at home and play weaker fields in the WPTs at home.
Feldman: My real question this month is if Mercier was able to make the EPT London final table, how high would that have moved him up and how long would it have kept him in the rankings. There really is no doubt that Mercier has all the ability in the world and I have a hard time believing he won't be part of the top 10 for the majority of the rest of the year. When it comes to the WSOP and putting in the grind, few people can put in the effort that Mercier can.
The one part of this month's rankings that caught my eye was the fact that four players received No. 1 votes. This never happened before. Usually it's either unanimous or maybe a vote here and there gets thrown to a second player, but having some of the most dedicated minds of the industry splitting their votes in this manner is intriguing. I still voted Ivey as No. 1 this month, but I'm not sure what I'll do next month. You can't doubt his ability, but this list should be a "what have you done for me lately" list and the answer to that question in Ivey's case is not too much.
I like the inclusion of Volpe and Shak, but they might be a little too high. I feel that we often debut players on this list in that range while I believe they should probably be at 9 or 10 and earn their way up. In any case, we can't doubt their results and congrats to both on earning their way in.
Lance's thoughts on staying at home is spot on. The prize pools may be smaller, but if the best in the best are competing in Australia, this might be the window that others have been waiting for. One consistent in poker strategy has always been game selection …
COLUMNISTS
Bernard Lee
Masek's unique path to success
You may not have heard a lot about Alex Masek, but the six-time WSOP Circuit champion is the player that everyone is chasing this spring
Andrew Feldman