February, 28, 2014
Feb 28
11:13
AM ET
Editor's note: After an update from the Garden City Group, the number of reimbursed players that was originally reported as 30,000 has since been updated to approximately 27,500. Likewise, payouts have been reduced from $82 million to $76 million.
So who's going to Sizzler?
After 1,050 days, more agonizing to some than others, more than 27,500 American poker players are finally seeing their Full Tilt Poker money in their bank accounts. The Department of Justice made
Black Friday
a day of infamy in the poker industry, but on
this
Friday, we're one step closer to the end of a dark chapter in the history of the game.
The Garden City Group, hired by the Department of Justice to manage remission payments to those who had money on FTP, made $76 million in payments early Friday morning. Players who received their money today were those who did not contest the account balances declared by the Garden City Group as part of the petitions for remission. Players who were designated as affiliates for the site or who disputed their balances will continue to wait for remission until their cases are resolved. Additionally, those who didn't provide correct bank account information during the remission process will wait until checks are sent out in March.
The balances among today's recipients varied greatly, from a couple of dollars to tens of thousands, but for two of the online game's most visible players, Mike Sowers and Blair Hinkle, the return of this money should be a significant boost to their bank accounts. Sowers, who earned
more than $500,000 by winning
one of Full Tilt's largest tournaments just weeks before Black Friday, shared his relief on Twitter and thanked PokerStars,
whose settlement with the Department of Justice
paved the way for the Full Tilt Poker money to be returned.
No more sweats. Ty @PokerStars

— mike sowers (@sowerss) February 28, 2014
Hinkle has spoken often about his frozen million, which primarily came from his chop in the FTOPS XIX Main Event, and he is
thrilled to see his money once again
.
"I'm just glad that everyone is finally getting paid out," said Hinkle to ESPN on the
Poker Edge
. "It's finally all over."
John Pappas, executive director of the poker players alliance, estimates at least another $50-60 million remains in accounts designated for reimbursements.
Today's rejoicing is in stark contrast to the despair that set in for most American online poker players in September 2011, when the government
labeled Full Tilt a Ponzi scheme
. Some professional online grinders left the game for good due to the inability to pursue their passion. Others relocated abroad to continue their playing careers, while some entrepreneurs sought the seized funds, buying them up for a reduced rate from distraught players who believed they'd never see their money again.
"My thoughts on [April 15, 2011] were never that I wasn't going to get my money," Josh Brikis said. "It grew [to that fear] over time ... Like everyone else I just wish that day never happened and I could just sit in my house and not leave my son to go play online poker. And today ... well now I wish I bought all the FTP money everyone was selling."
Brikis woke up this morning with a sense of relief and five figures added to his bank account.
"I'm happy to have my money returned," he said. "I'm also very happy for friends with tons more."
Once Full Tilt repayments are complete, only balances on Absolute Poker, the third site seized, will remain outstanding, with little progress on that front. PokerStars repaid its American players shortly after Black Friday.
With this influx in the poker economy, will there be greater attendance in upcoming tournaments, especially the WSOP? Will players return to the online scene in greater numbers in the three regulated and legalized states (New Jersey, Nevada, Delaware)? Can the return of this money engage those who want to play again to lobby their state legislatures to approve a regulated online game? Will brick-and-mortar casinos see a boost in their offerings?
The return of this $76 million won't do much for the general American economy, but for the poker economy, this could be the beginning of a new chapter in one of the country's greatest hobbies.
February, 25, 2014
Feb 25
1:07
PM ET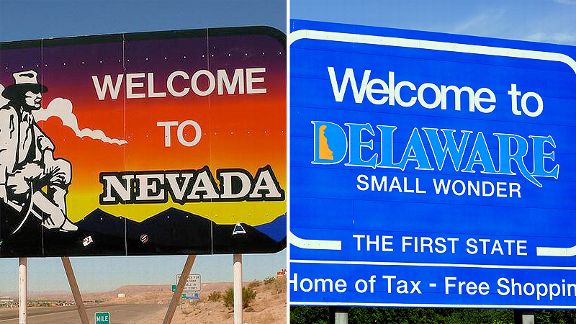 ThinkstockNevada and Delaware will offer a co-mingled online poker player pool in the near future.
Gov. Brian Sandoval of Nevada and Gov. Jack Markell of Delaware signed an agreement Tuesday that would allow poker players from both states to participate in a combined player pool -- potentially the first step in recreating a true American online poker market.
The legislation allows the two states, which currently offer limited potential player pools, the ability to create a larger marketplace and add to the player liquidity that online poker sites rely on for continued success.
"This multi-state Internet agreement is the first ever of its kind," Sandoval said during Tuesday's news conference. "I consider this a landmark intersection in the road of gaming history. ... [Nevada is] proud to have the first state as our first partner."
Markell stressed three key points to this agreement:
It authorizes online poker operators in Delaware and Nevada to open up their games to players in both states. Revenue will be distributed evenly based on the location of the player that generated the rake.
Players from Delaware will be subject to its state laws and regulations and players from Nevada will be subject to Nevada laws and regulations.
It has created a structure that makes it easy to add additional states.
Both governors said they want additional states to participate. New Jersey is the only state which offers legal online poker not included in this agreement.
Sandoval stated that he has had conversations with New Jersey officials.
"We hope additional states do participate," Markell said. "We all benefit if more states participate."
States that join the partnership will be able to select which games they will offer. Delaware currently offers casino games and online poker, while Nevada offers only online poker.
While the agreement has been signed, questions remain about what the actual providers and procedures will look like. Both Delaware and Nevada have three legalized online poker sites currently running, but there is no overlap. In Delaware, Delaware Park holds the biggest share of the market, followed by Dover Downs and Harrington and combined the trio only brought in $88,390.48 in revenue in January. In Nevada, WSOP.com leads the market over Ultimate Poker and the recently launched Real Gaming, but even with their larger potential player base, according to Howard Stutz of the Las Vegas Review Journal, are estimated to bring in only $200,000 to $500,000 in revenue per month.
"We are very pleased with agreement between Delaware and Nevada," said Seth Palansky, vice president of corporate communications for Caesars Interactive Entertainment. "It's another case of forward thinking and an endorsement of the importance of pooled liquidity especially for lesser populated States. As Nevada set the blueprint for regulation, they now are setting the blueprint for inter-state collaboration."
At the time of the signing, Palansky was unaware of the next steps for each of the currently licensed and regulated online sites in each state.
"It is terrific progress and hopefully can serve as a model for future Internet poker partnerships as more states regulate the industry," said John Pappas, executive director of the Poker Players Alliance.
Both governors reiterated that there should be no further regulations or necessary legislation and that the agreement has the "green light" once the technology is in place.
February, 14, 2014
Feb 14
4:25
PM ET
The Nuts is a recurring feature that takes a look at the best poker players in the world. This feature aims to produce a list of the best players at the moment. Our panel of 10 is composed of ESPN.com's poker contributors (Bernard Lee and myself); Bluff magazine editor-in-chief Lance Bradley, senior writer Tim Fiorvanti and information manager Kevin Mathers; WSOP.com managing editor Jessica Welman; PokerNews editor-in-chief Donnie Peters; World Poker Tour's Eric Ramsey; PokerStrategy's Barry Carter; and PocketFives' Dan Cypra.
With the conclusion of the Aussie Millions, 14 players have already earned at least $1 million from the tournament felt this year. Daniel Negreanu isn't at the top of that list (he's seventh), but he is at the top of these rankings, holding off Phil Ivey and Vanessa Selbst. It was far from unanimous, but Negreanu's $1.7 million in earnings and deep runs in the High Roller events at both the PokerStars Caribbean Adventure and Aussie Millions were enough to retain his place. He may be confident about his game, but his ranking will continue to be in jeopardy with Ivey, Selbst and Mike McDonald thriving.
That's right, I said Phil Ivey. After months of wondering if one of the all-time greats would return to the tournament felt, he made an appearance at the Aussie Millions and cashed in for AU$4 million with a victory in the AU$250,000 Challenge. That wasn't it. Ivey also found success in the Aussie Millions cash game. Ivey was No. 2 in the last set of rankings and despite the massive score, he fell to third because Selbst's consistency is simply too much to deny.
While Ivey makes his living with an occasional poker appearance, Selbst is always on the trail and had one of the most memorable PCA's we've ever seen. She finished third in both the $100,000 event (Fabian Quoss first) and $25,000 event (Jacob Schindler first), and finished 42nd in the main event for a total of $1.3 million. The only player who found more success than any of the aforementioned trio is Mike McDonald, who makes his return on this list at No. 4.
Taylor Caby tells the tale of McDonald best:
The crazy thing about @MikeMcDonald89's recent run is that it makes the rest of his poker career seem somewhat ordinary...which is insane.

— Taylor Caby (@taylorcaby) February 10, 2014
McDonald, with $10 million in career life tournament earnings, has thrived in the poker world for nearly a decade. His online roots (as "Timex") made him a legend among the young stars of the game, and his knack for competing at the game's highest level is simply enviable. McDonald opened 2014 with four final tables and over $4 million in earnings. What sets him apart from Ivey, Selbst and Negreanu, is that one of his three seven-figure cashes came in the PCA main event, displaying his ability to navigate not only the elite, but the masses as well.
Despite two more final tables for $381,024, Scott Seiver dropped one spot this month to No. 5. Seiver has made six final tables since October, each bringing in at least $100,000. After a quiet PCA, Seiver finished fifth in the AU$25,000 event and seventh in the main event (won by Ami Barer) at the Aussie Millions. He currently has $9.5 million in live tournament earnings in his career. The 2013 GPI Player of the Year Ole Schemion continued his success in January with two seventh-place finishes in the $100,000 and $25,000 buy-in at PCA. He has four tournament victories and 10 final tables since last May.
The final four players all maintained a place on this list since the last rankings, but didn't gain enough support to boost their placement. Philipp Gruissem, Marvin Rettenmaier, Nicklas Heinecker and Mike Watson spent the first six weeks of the year looking for the next game with Rettenmaier being the biggest winner of the bunch for nearly $200,000. Phil Hellmuth and Noah Schwartz fell out of the top 10.
As the industry looks ahead, a quiet final few weeks in February lead into a busy March that includes the L.A. Poker Classic, Bay 101, WPT Venice, EPT Vienna and a number of WSOP Circuit, Deepstacks, UIKPT and Heartland Poker Tour stops.
Did we leave out your favorite player? Who should be ranked higher? Who should be completely off the list? Leave us your thoughts in the comments below. Here's a look at February's top 10:
On the bubble
The number of big buy-in events during the first two months reinforced perceptions (and rankings) of a number of the game's elite. Even with his runner-up finish in the Aussie Millions main event, Sorel Mizzi couldn't crack the top 10. Mizzi has found great success in the event, finishing in the top 16 four times since 2009. He also won the $25,000 event at the Bellagio in January. After Mizzi came 2012 WSOP main event champion Greg Merson who finished second in the $25,000 buy-in and 98th in the main event at PCA. Merson doesn't play many tournaments, but the high rollers have recently piqued his interest. After spending a good amount of time playing in the Macau cash games last year, it'll be interesting to see Merson's tournament schedule moving forward. A third familiar face, Antonio Esfandiari, follow that duo on the bubble. Esfandiari finished fourth in the $100,000 event at PCA and also cashed in the main event. … Fabian Quoss has over $2.3 million in earnings this year, most of which came from the largest win of his career ($1.6 million) in the $100,000 PCA event. Quoss is another talented German who thrives on the High Roller action and has accumulated $5.7 million in tournament earnings since 2009. … Former No. 1 Jason Mercier has four cashes on the year, including a third-place finish in the AU$25,000. … Ben Tollerene, Sam Trickett, Joe Kuether, Dominik Panka, David Peters, Yevgeniy Timoshenko (winner of the AU$100,000 event), Isaac Haxton, Steve O'Dwyer and Victor Blom also received consideration this month.
Final thoughts
Bradley:
This might be the competitive we've ever seen the top of this list. I Imagine most voters struggled more with whom to put No. 1 than ever before. If you had $10,000 to invest in one player in one tournament, you couldn't go wrong with any of the top three players. If you wanted to invest in McDonald, you'd probably need to come up with more than $10,000. The Canadian pro traveled all the way to Melbourne to play two super high roller events -- skipping the $25,000 and the $10,000 main event in the process. All he did was cash in both events. If he keeps putting up results like that he's likely to make it even harder on panelists, forcing them to consider him for the top spot.
Feldman:
Usually I have a pretty good feel about who is going to take the top spot before the votes come in. However this month, I didn't know if it would be Negreanu, Ivey or Selbst. Each of them has a tremendous track record and recent success to place them up, and I could make an argument for each and every one. To put things simply, If any of those three, or even McDonald, were to grace the top spot, I don't think the panel would have come to the wrong conclusion. That said, no matter who earned the top spot, there would definitely be a strong debate and conversation. Don't forget to add your take below.
As a whole, the group was on the same page for the top five players. After that, the rankings became a little murky. I could really put in a pretty strong argument for Fabian Quoss and Ben Tollerene and I'm surprised neither of them made it. Mizzi too. I do believe the panelists put a ton of weight on the super high roller events and in reality, that's important because that's where the best in the world compete. If you beat the field of elite players, you deserve consideration here.
Heinecker is going to prove to be a difficult player to keep on the list with his recent opt-out of his performance tracking. Many high stakes cash game players are doing similar things and it makes it very tough to gauge long-term winners and losers online as a result.
Finally, I'd like to welcome PokerStrategy's Barry Carter to the panel, replacing former ESPN Deportes editor Nahuel Ponce. He brings a great perspective to the game and to these players that will definitely make this initiative even better.
February, 10, 2014
Feb 10
3:12
PM ET
The Aussie Millions has always been known for its offering of eye-popping high-roller events, but even with that precedent established, the prize pools during their 2014 festival were simply staggering. From the AU$10,000 main event to the LK Boutique $250,000 Challenge, the Crown Casino offered a great venue and year-over-year growth in each of their four biggest events. So much for a struggling poker economy.
The first of the four majors was the AU$25,000 events which fielded 65 entries, up from 30 a year ago. After the eliminations of Dan Shak, Marvin Rettenmaier and Tobias Reinkemeier in sixth through eighth, respectively, a five-way chop resulted in payouts of at least $241,785 for each of Max Altergott, Dan Smith, Jason Mercier, Marin Jacobson and Scott Seiver. Altergott came away with the title and his third victory over the past nine months.
[+] Enlarge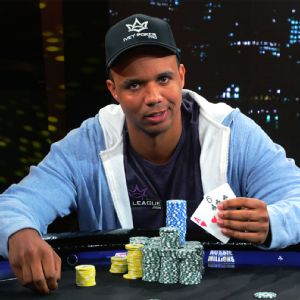 Thomas Keeling/BLUFF Phil Ivey won the AU$250,000 buy-in event at the Aussie Millions for the second time in three years.
The Aussie Millions main event, now part of the PokerStars-owned Asia Pacific Poker Tour, boasted a 6 percent increase of attendance and featured one of the most star-studded final tables we've seen in a major. If there's ever a final table that can single-handedly take care of the skill-versus-luck argument, this might be it. Fresh off a 19th-place finish in the High Roller event at the PokerStars Caribbean Adventure, Canadian Ami Barer continued his run and earned the AU$1.6 million first-place prize as he held off Sorel Mizzi, Jake Balsiger, Darren Rabinowitz, Vincent Rubaines, Andrew Phaedonos, Seiver and Eoghan O'Dea.
Mizzi's track record in this event is incredible with two second-place finishes and a third-place, a ninth-place and a 16th-place finish since 2009. He is currently third on the Canadian all-time money list. Balsiger, third-place finisher in the 2012 WSOP main event, earned his second-largest live score in this event and can keep his Twitter profile description as "I make a living by almost but not quite winning poker tournaments." Seiver (seventh), has a streak of six consecutive cashes worth at least $100,000.
As the main event wound down, the AU$100,000 Challenge shocked everyone with 76 entries (39 unique players), up from 22 last year. The tournament also offered a unique twist in the form of a 30-second "shot clock." Tournament players love to take their time making decisions and one of the most deliberate players in the poker world is Yevgeniy Timoshenko, who tweeted, "Register AM 100K. Find out it has a shot clock. While I'm in the tank on whether to unregister or not tourney starts and it's too late."
Timoshenko didn't unregister and went on to win the event for his first title since 2011 and an AU$2 million top prize. Mike McDonald, Erik Seidel, Doug Polk, Patrik Antonius, Daniel Negreanu, David Steike and Martin Jacobson also cashed for at least AU$350,000. While Negreanu's sixth-place AU$550,000 payday might seem nice, he entered the event five times.
"This event caters to a specific type of player," said Negreanu to BLUFF. "People with way too much money and lots of gamble."
Negreanu also said that entering these tournaments is a business decision and it's 100 percent of his own money.
The biggest buy-in on the schedule concluded on Monday with one of the world's best finding his way back to the winner's circle. Phil Ivey hasn't been around the tournament felt much over the past year (only five cashes in 2013), but he's often found and thrived at the Aussie Millions. Ivey won the AU$250,000 LK Boutique Challenge, topping the 46-entry field for AU$4 million. Many players, Issac Haxton (second), McDonald (third) and Negreanu (fourth) fired multiple bullets while Ivey made it through with a single entry. He battled back from a 4:1 heads-up deficit against Haxton to record the biggest single tournament cash of his career.
I just won 4 million smackers! Where's the bar?! @Samtrickett1 pic.twitter.com/XBLDuEt0Ur

— Phil Ivey (@philivey) February 10, 2014
(Ivey's tweet references Sam Trickett, who won this event a year ago but didn't participate in 2014.)
As for Ivey, he lost his place as the No. 1 player in
ESPN's poker rankings
, but his efforts in Melbourne may bring him closer to overtaking Negreanu once again. Ivey, along with many of the other high rollers, now heads to South Africa for the World Poker Tour's Alpha8 stop, which features another six-figure buy-in.
Small blinds:
Mike McDonald has three cashes worth at least $1 million in 2014. It's February. … It's important to note that while the Aussie Millions thrived, the World Poker Tour stop in Florida managed to put up a seven-figure prize pool at the same time. The WPT's Lucky Hearts, a $3,500 buy-in, managed 415 entries, up from 369 last year. … For all the talk about the poker economy struggling, the turnouts have been strong through the first five weeks of the year. … PartyPoker made a few adjustments to their Sunday major in New Jersey and gets a site-best 378 players to easily top their guarantee. … Anthony Merulla defeated David Paredes to win the Borgata Winter Poker Open main event title and $842,379. Paredes was unable
to put one of these moments
together this time around. … Former NFL defensive end Jevon Kearse is planning to participate in the PPC's Puerto Plata Poker Open. … 2005 WSOP champion Joe Hachem says
poker is dying
and two former champs destroyed the game's legacy. Agree? The game's longest ambassador, Mike Sexton, shared his thoughts on Hachem's opinion on the latest
Poker Edge
.
January, 28, 2014
Jan 28
3:06
PM ET
The poker industry started off 2014 as expected with a well-attended PokerStars Caribbean Adventure, but as soon as players returned stateside or began to make their trek to the Aussie Millions, perhaps through EPT Deauville, things got a little more intriguing.
The Borgata's Winter Poker Open is one of the best domestic stops during the first few months of the year. They have the volume, offer the guarantees and provide a great venue that, despite all odds, brings players to Atlantic City in the middle of the winter.
The masses showed up for the first event, a $560 re-entry event with a $2 million guaranteed prize pool. A total of 4,812 entries was enough to overcome the guarantee, but when the field was down to the final 27 players, play was halted due to the discovery of counterfeit tournament chips. As the New Jersey Division of Gaming Enforcement began its investigation, the tournament was cancelled leaving the final 27 without resolution.
While the remaining players wait to see what will happen to the $1 million-plus prize money that has yet to be handed out, a breakthrough in the investigation came with a
clogged pipe
at Harrah's and the arrest of Christian Lusardi, who allegedly flushed the remaining counterfeit chips down a toilet. Lunardi did make the money in the event.
The 53-event tournament series continued with no additional controversy and led into a main event that far exceeded expectations. The $3,500 World Poker Tour main event attracted a field of 1,229, up from 1,042 a year ago, and will award a top prize of $842,379.
So … Why?
The most logical place to turn is the return of the online poker market in New Jersey. Party Poker, partnered with the Borgata in the online space, is leading the state in signups and clearly has taken major strides to get poker back on the map through strong promotions and
new partnerships
. According to a Jeffrey Haas, Director of Poker for the Bwin.Party Group, there were 21 satellite winners who earned their seats online across PartyPoker's .com and .NJ sites. Many others tried to qualify, "resulting in an increased profile" for the event. Additionally, five seats were awarded via the daily fantasy sports site DraftKings and another from ClubWPT.com.
Online poker brings interest back into the game and this is a great sign of what's next in the state. With two more majors planned for 2014, the WSOP Circuit championship and WPT Championship, there will be a focus on Jersey like never before and if it succeeds in generating significant revenue from online play, expect more states to follow suit.
Choice may be another simple explanation and that players simply wanted to go to the Borgata for this televised event instead of going overseas. While we can't speculate on turnout for the Aussie Millions, which begins tomorrow in Melbourne, it's noteworthy that EPT Deauville saw a decrease of 111 players in their main event (671 in 2014).
$82 million coming soon
On Jan. 24, the Garden City Group, the claims administrator for the forfeited Full Tilt Poker funds, announced that $82 million will be returned to approximately 30,000 American poker players in the next 2-3 weeks. According to the GCG, the players that will receive this money were those that confirmed their FTP account balances as part of the claims submission process. According to a representative from the GCG, the number of total claimants "well-exceeds" 100,000.
The question now turns to where this influx of money will go. In the scheme of the American economy, $82 million isn't substantial, but in terms of the poker economy, that's a pretty big number. Plus, as more claims are approved, more money is on the way. Will some players head back to the circuit and grind again? Perhaps. Will some players take the money and put it towards a non-poker lifestyle? Absolutely. After nearly three years, it'll be interesting to see if this money entices the return of those who left the field, or if this "refund" is simply going to serve as the money for a trip to the mall or a vacation. Life changes pretty dramatically in three years and the 25-year-old online poker pro may have found a new profession and lifestyle by now. If all money is returned by the end of March, as they initially stated on its website, the upcoming WSOP could be the biggest one we've seen in years.
One player anxiously looking forward to his FTP money is
Blair Hinkle
, who has seven figures stuck online. His reaction to this news?
Take a look
.
Small blinds:
The recently launched Ivey League is a new poker training site featuring Phil Ivey and a number of established pros. Subscriptions begin at $9 a month, but if you want to learn from Ivey,
it will cost you
as part of the "Master's Tier." … In one of the bigger buy-in side events at the Borgata, Matt Affleck defeated Josh Brikis to win the $1,000 six-handed event for $88,643. … On the Heartland Poker Tour, Exequiel Fernando defeated a final table that included JC Tran (eighth) to win $179,020. … Want overlays? Head to
New Jersey
, according to Bluff. … According to a Dutch court ruling, poker is a
game of skill
. … Here's a good story on Jamie Kerstetter and how poker
brought her back to New Jersey
. … Celebs love charity poker events,
especially at Sundance
. … There's talk of a $50 million winner-take-all event in April. I'll believe it when I see it. Here's
PokerNews' take
.