November, 11, 2014
Nov 11
8:14
PM ET
A new world champion will be crowned tonight and coverage begins on ESPN at 9 p.m. ET.

If you want to be 30 minutes ahead of the action on TV and find out what's going on in Las Vegas at the very moment, the live blog below is for you.


November, 11, 2014
Nov 11
5:28
PM ET
The November Nine returned to the felt on Monday for a grueling 12-hour session that resulted in three players advancing to the final day instead of two. At 4:15 a.m. PT, Jorryt van Hoof, Martin Jacobson and Felix Stephensen left the Penn & Teller Theater with friends by their side, knowing that they had reached the end of the journey.
One of these players will win $10 million on Tuesday night, or more likely, early Wednesday morning. The runner-up will take home $5.1 million and all three are guaranteed at least $3.8 million for their efforts that began four months ago with a $10,000 buy-in. The three are all incredible players with friends who have worked with them for months, preparing them for this very moment.
Here are the three the world will be watching Tuesday night and how they could get the job done.
Jorryt van Hoof:
The first day of the final table was a dream for Van Hoof as he owned the chip lead for almost the entire session. The 31-year-old Dutch poker superstar known as "The Cleaner" had complete control over the table and was the first player to eclipse the 100 million chip mark late in the night. He gave a bit back, but still owns the top stack with 89.6 million in chips. Van Hoof is a cash game specialist with a strong focus in pot-limit Omaha. According to the Hendon Mob, in his previous five heads-up matches, Van Hoof has won three.
[+] Enlarge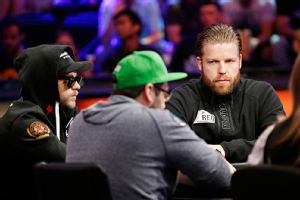 AP Photo/John LocherJorryt van Hoof (right) is the chip leader among the final three at the World Series of Poker. Play resumes Tuesday night.
"I was quite happy with my play," Van Hoff
said at the conclusion of Monday's action
. "It was an extremely fun day. It's hard to describe in words, it's so unique. I just tried to play one hand at a time and optimize from there."
How he can win:
"He got a tough draw," Christian Harder said. "In my opinion the best three players are left. I think Van Hoof has been playing so well, he just needs to come in and keep up the pressure, but not go overboard. His opponents have nothing to lose now, so they might be more willing to get it in lighter. He needs to just recognize that when he's applying pressure."
Martin Jacobson:
Well, as predicted, the pressure
definitely did not get to him
. Jacobson, 27, played an incredibly patient game for the entire night and managed to take an eighth-place stack and turn it into second with incredible timing that those who watched will try to emulate every time they play.
[+] Enlarge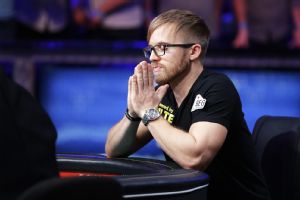 AP Photo/John LocherMartin Jacobson looks to become Sweden's first WSOP main event champion.
Jacobson is the only tournament professional left, a major advantage at this juncture of the event. Even more than that, he cut his chops through sit-and-gos, understanding all the underlying calculations that go into play with each and every decision. As if that wasn't bad enough for his opponents, he also has a team in his corner that has drilled him incessantly on heads-up play. The one knock on Jacobson coming in was that he couldn't close the deal and earn that elusive major title. Now, he has another chance to quiet the critics and become Sweden's first world champ.
"They're very strong players. Both of them. It should be a fun battle," Jacobson said. "Patience is key in tournament poker. You need to know how to pick your spots and I think it's something I've got a lot better at over the years.
"Experience is a key part," he continued. "I'm very happy in how I stayed patient and positive even when I was short. It was fun."
How he can win:
"The plan is to get heads-up," said 2013 WSOP champion Ryan Riess. "He is the most experienced player of the three and will certainly be the favorite. The pay jumps are massive and he will be able to use his aggressiveness and experience in big spots to put pressure on the others."
"He's stoic, nothing can phase him tonight," said Ankush Mandavia, one of Jacobson's friends who has helped him for the past few months. "He's due."
Felix Stephensen:
Everyone knew that Stephensen was preparing as much as he could for the final table, but not many knew that one of the game's best players, Scott Seiver, would be right on his rail during final-table action. Stephensen entered play in second and held steady for the most part. He's a pot-limit Omaha expert playing in his
only WSOP event of the year
and is aiming to become the first Norwegian world champion. His previous best tournament finish was a ninth-place result last month at EPT London.
[+] Enlarge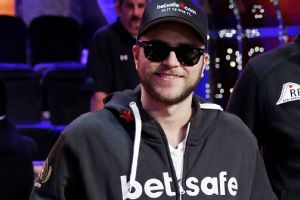 AP Photo/John LocherNorway's Felix Stephensen enters the final night third in chips.
He's calm at the table, almost statuesque with his hoodie and sunglasses preventing the release of any tells. He didn't show much emotion until late in the night when
he won a key pot against Jacobson
, but once he had the chips, his rail kept him motivated and focused.
"I'm just happy to still be alive. I feel great," Stephensen said. "It's tough to pinpoint one thing [that I have to do], but I'll try to play pretty good, get pretty lucky and hopefully things will fall into place."
How he can win:
"He will need to take risks," Daniel Negreanu said. "Push the envelope a little and play bigger pots"
The three resume play at 8:30 p.m. ET, with coverage starting at 9 p.m. ET on ESPN. Poker will have a new world champion in a matter of hours and all three of these players are ready to etch their names into the history books and capture the most desired bracelet in the game.
November, 10, 2014
Nov 10
7:05
PM ET
LAS VEGAS -- After four months of waiting, the final table has arrived. Who will win the $10 million and the most coveted bracelet in the game? Watch the action unfold on ESPN2 on Monday night starting at 8 p.m. ET and follow along right here until the final few remain.

Remember that the blog below is covering the action live from Las Vegas. TV coverage will be on a 30-minute delay.



November, 10, 2014
Nov 10
2:32
PM ET
By
Ryan Feldman, ESPN Stats & Info
| ESPN.com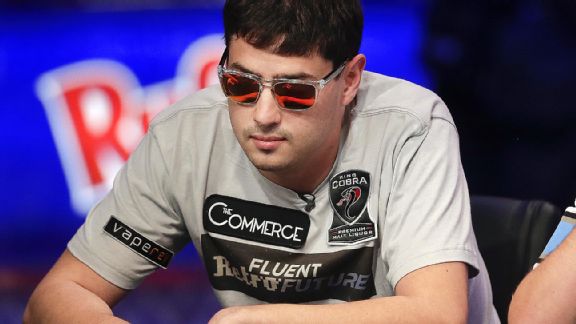 AP Photo/Julie JacobsonMark Newhouse defied the odds to reach consecutive WSOP main event final tables.
Tonight at 8 ET, the World Series of Poker main event final table is live on ESPN2. It will conclude Tuesday night with the heads-up match at 9 ET live on ESPN and award $10 million to the winner.
One of the November Nine -- Mark Newhouse -- achieved an unbelievable feat by reaching back-to-back WSOP main event final tables. He finished ninth last year.
The odds of reaching consecutive final tables in 2013 and 2014 are 1 in 524,079.
The field in 2013 was 6,352. There were 6,683 entries this year. Based on those odds (assuming all players have an equal chance), Newhouse had a higher probability of winning the Powerball by investing $1,000 or being struck by lightning at some point over the past two years.
How incredible would it be for Newhouse to win the bracelet? The odds of finishing in the top nine last year and first place this year are 1 in 4,716,713.
Newhouse is the first player to reach back-to-back main event final tables since Dan Harrington in 2003 and 2004. But those fields were much smaller -- 839 in 2003 and 2,576 in 2004.
Newhouse is the first player to do so in the WSOP "modern era" (since the main event field first exceeded 1,000 in 2004). Harrington and Newhouse are the only ones to reach consecutive main event final tables in the past 25 years.
Comparing the odds
How impressive is Newhouse's back-to-back final tables? Here's how his 1 in 524,079 odds compare to other rare feats:
• The odds of winning the Powerball by investing $1,000 on 500 number combinations are 1 in 350,447. The WSOP main event costs $10,000, so this would be much cheaper. (Each ticket is $2, and there are 175,223,510 combinations.)
• The odds of being struck by lightning in any two-year period are 1 in 480,000, according to the National Weather Service.
Other legendary WSOP feats
Newhouse's accomplishment could be considered the greatest feat in the WSOP main event, based on the size of the fields. Here are some other legendary accomplishments in the WSOP main event:
• Stu Ungar won back-to-back main events in 1980 and 1981 and added another victory in 1997. The field sizes then were 73 in 1980, 75 in 1981 and 312 in 1997. Based on those fields, the odds of winning back-to-back titles in 1980 and 1981 were 1 in 5,475. The odds of finishing in first place in all three of those years were 1 in 1,708,200.
• Johnny Chan had back-to-back first-place finishes in 1987 and 1988 and almost completed the three-peat when he finished in second in 1989. There were 152 entrants in 1987, 167 in 1988 and 178 in 1989. The odds of winning consecutive titles in 1987 and 1988 were 1 in 25,384. The odds of winning those two tournaments and then finishing in the top two in 1989 were 1 in 2,259,176.
• Dan Harrington won the WSOP main event in 1995 and added back-to-back final tables in 2003 and 2004. He went through larger fields than Ungar and Chan. There were 273 players in 1995, 839 in 2003 and 2,576 in 2004. The odds of reaching back-to-back final tables in 2003 and 2004 were 1 in 26,682, while the odds of that feat combined with winning the 1995 title were an astronomical 1 in 7,284,260.
November, 9, 2014
Nov 9
9:55
PM ET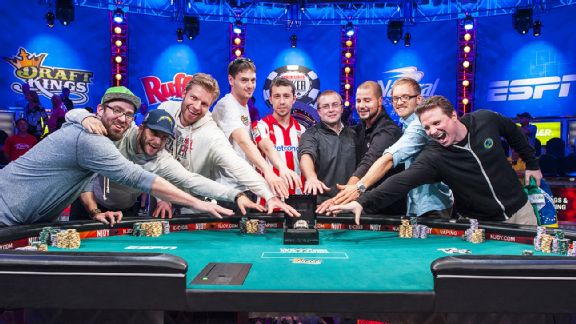 Joe Giron/WSOPThe November Nine return to action on Monday night in Las Vegas.
LAS VEGAS -- Ten million dollars. You can probably hear Dr. Evil saying it right now.
One of the nine players remaining in the World Series of Poker main event is going to have the good kind of financial problems in just a few days. The November Nine have waited nearly four months to take their shot and on Monday night, the planning and practicing will conclude and the lights in the Penn and Teller Theater will shine down on the group of next poker superstars. One of them will walk away with $10 million.
It's a once-in-a-lifetime experience. Unless your name is Mark Newhouse.
For the second year in a row, Newhouse will take his seat on the stage, achieving a remarkable feat that many never believed would (A) ever happen and (B) ever happen in back-to-back years. The situation this time around is far different from the professional poker player who emerged onto the scene in 2006.
As the short stack in 2013, many expected Newhouse to fall first. He did. It was devastating to someone who needed to ladder up and earn some extra cash. It was devastating for someone who felt that he would finally leave the daily grind with a higher finish. Most of all, it was devastating for a player who waited all that time to simply finish ninth. He called it the worst place to finish emotionally. Again that's ninth out of 6,352.
Newhouse has already outlasted 6,674 players this year and spent his hiatus thinking about anything but poker. This past week he was in Hawaii trying to stay away from it all. He brings in a third-place stack and the one thing nobody else has, or probably ever will have: experience at the WSOP main event final table.
"Newhouse's experience, I think, will help him come tomorrow," said 2013 WSOP champion Ryan Riess, who played against Newhouse a year ago. "He has a stack, he has shown to be fearless, and he has been here before."
Another world champion agreed.
"I think he will be the most comfortable and one of, if not, the most confident," 2012 champ Greg Merson said. "I'd be more than happy to welcome him into the fraternity."
On Sunday, Newhouse looked as relaxed as he could be. Even meetings and instructions from the production crew were a repeat for him. He sat and listened while the others learned.
Can the comfort level and experience be enough to overcome seven other players with lifelong passions for the game and one unpredictable foosball champion?
Here are the eight other players, in order of chip count, who are looking to become the next world champion:
Jorryt van Hoof: The Dutch poker superstar may not have any sponsors, but he will have the chip lead going into the night. He's an expert in both no-limit and pot-limit Omaha and has been working with Jared Tendler on building a stronger mindset over the past few years. His passion for the game may be unrivaled by anyone else at this final table and it's unlikely that anyone has put in more time to prepare for Monday's events.
Felix Stephensen: The former soccer player is a pot-Omaha expert like van Hoof, but decided to only play one WSOP event this summer. You already know how that ended. He's an online champion with tens of thousands of hands under his belt and can completely change the face of the game in Norway if he's able to come through.
Andoni Larrabe: If staying out of the media spotlight was the game plan for Larrabe during the hiatus, he achieved it with flying colors. The youngest player at the final table has two cashes on the Estrellas Poker Tour since making the final table. He has live and online titles, and is looking to continue the trend of sub-25 poker champions. He'll be wearing the Athletic Bilbao jersey on Monday night, trying to recreate the jersey magic that landed Riess in the winner's circle. He said on Sunday that with his friends and family in town, he's finally feeling the excitement.
Dan Sindelar: The World Series of Poker is the place where players try to make their mark. For Sindelar, his journey since 2008 has left him with many cashes, but until this event, no final tables. The Vegas local left the University of Nebraska to pursue the game and is a few eliminations away from getting all he's ever wanted.
William Pappaconstantinou: Meet the ultimate wild card of this final table. Instead of preparing, the foosball world champion played … foosball. He's an amateur who plays for the fun of the game and enjoys dealing at a local casino for the same reasons. He's a main event first timer by sheer surprise. His outgoing personality will shine on TV and serve as a reminder that in poker, anyone can win.
Will Tonking: The New Jersey native left college with a degree in economics and a passion for counting chips. Tonking won't be rattled under the lights after going through one of the most stressful moments imaginable, but he will take all his cash game experience and try to turn his seventh-place stack into a WSOP bracelet.
Martin Jacobson: The problem with calling Jacobson or Bruno Politano the short stacks is that they aren't really that short at all. Jacobson has experience in high-pressure situations and may surprise many with early aggressive play that could bring his stack back to the middle of the pack. He had two live cashes during the hiatus and is the leader in tournament earnings ($5.5 million) out of this group.
Bruno Politano: Who's ready for a party? Politano's rail will be the craziest we've ever seen as the entire country is behind their newest celebrity. Politano has a film crew covering his every move here in Vegas, a mere symbol of how infatuated his country has come with this opportunity. Poker is booming in Brazil and a win for Politano would somehow make the game even bigger. Always with a smile on his face, Politano is guaranteed to have a blast regardless of the outcome over the next few days.
The nine players were all together on Sunday night in the Palazzo Suites at the Rio. As they watched the final two hours of the WSOP main event coverage, they shared a few laughs, a few jabs at each other and some shocked faces as hands were revealed. As the bubble burst every single one of them had a smile on his face.
The hiatus is officially over. Now it's time to go back to work.
Coverage of Monday's action will begin "live" on ESPN2 at 8 p.m. ET ("live" due to the 30-minute delay necessarily put in place to preserve the integrity of the game). Play will continue until only two remain and coverage of heads-up play will begin at 9 p.m. ET on Tuesday on ESPN.