Forrest tops Hellmuth in Event 7
It doesn't happen often, but the poker world was infatuated with razz on Sunday night. The final table of Event 7 featured all-time bracelet leader Phil Hellmuth, six-time champion Ted Forrest, $50,000 HORSE champion David Bach, two-time winners Brandon Cantu and Brock Parker, poker icon Greg Pappas and the truly talented Kevin Iacofano and Yuebin Guo. Simply put, this was as strong of a final table as you're going to get in a $1,500 event, and as the action played out, all signs pointed to Hellmuth putting on a new hat with No. 14 inscribed on the side.
[+] Enlarge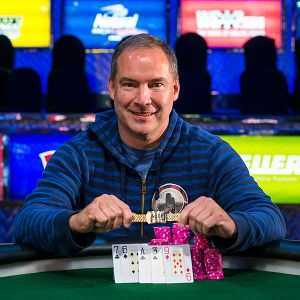 WSOPTed Forrest has six bracelet victories out of 26 career WSOP cashes.
Hellmuth and Pappas were locked up on top after the elimination of Bach in fourth, but Forrest has never been a player who gives up. Just ask Andy Beal. Forrest won a few pots off of Pappas to give him some breathing room before Hellmuth eliminated him in third. Pappas earned $48,275 from his third WSOP final table appearance.
The 2:1 heads-up chip lead for Hellmuth disappeared quickly as signs of frustration began to show. Forrest extended his edge to 2:1 before Hellmuth rebounded and the back-and-forth play continued for a few hours. With the big bet increasing substantially in Level 27, the winner of any hand that made it to seventh street could dictate our champion. Forrest was the victor in two encounters of that sort and picked up the win shortly after.
"Of all the tournament's I've played, this one was the toughest when we gone down to heads-up," said Forrest. "I've never gone back and forth this many times against anyone. Phil is a great player obviously, and to win in this way really makes it even more satisfying. I don't know what I can say other than this is what we play for, for this moment."
Forrest's six bracelet places him into a five-way tie for ninth all-time with Daniel Negreanu, Jay Heimowitz, T.J. Cloutier and Layne Flack. His previous final table appearance came in 2011.
As for Hellmuth, he came into the WSOP after a month of preparing using various methods that, according to all-time bracelet leader, gave him a focus he didn't have in 2013. This was his 49th career WSOP final table and 10th runner-up finish.
Congrats to my old friend Ted Forrest on winning #WSOPRazz tourn. If I had to lose to someone, I'm glad it was Teddy....2nd place for me

- phil_hellmuth (@phil_hellmuth) June 2, 2014
Below are the complete results of Event 7 at the 2014 World Series of Poker:
Event 7: Razz
Buy-in: $1,500
Entries: 352
Prize pool: $475,200
Players in the money: 40
1. Ted Forrest ($121,196)
2. Phil Hellmuth ($74,848)
3. Gregory Pappas ($48,275)
4. David Bach ($34,979)
5. Brock Parker ($25,717)
6. Brandon Cantu ($19,183)
7. Yuebin Guo ($14,517)
8. Kevin Iacofano ($11,143)
9. Scott Adaska ($8,677)
10. Bradford Albrinck ($8,677)
11. Frank Henderson ($6,852)
12. Huck Seed ($6,852)
13. Jordan Siegel ($5,483)
14. Amir Namatinia ($5,483)
15. Bill Chen ($4,447)
16. Todd Dakake ($4,447)
17. Rebecca Kerl ($3,659)
18. John Roveto ($3,659)
19. Matt Waxman ($3,659)
20. Jason Corlew ($3,659)
21. Ben Yu ($3,659)
22. Jared Koppel ($3,659)
23. Richard Bruning ($3,659)
24. Ayelet Kotonas ($3,659)
25. Alex Dovzhenko ($3,069)
26. Gino Levrini ($3,069)
27. Eric Pratt ($3,069)
28. Kyle Miaso ($3,069)
29. Craig Chait ($3,069)
30. James Obst ($3,069)
31. Chris Parsons ($3,069)
32. Fabio De Francesco ($3,069)
33. Joseph Loguidice ($2,575)
34. Avinash Kataria ($2,575)
35. Naoya Kihara ($2,575)
36. Barbara Lewis ($2,575)
37. Patsy Altomari ($2,575)
38. Aaron Duczak ($2,575)
39. Berry Johnston ($2,575)
40. Phil Laak ($2,575)
ESPN.com
Andrew Feldman is ESPN.com's Poker Editor. He is the host of the Poker Edge Podcast and co-host of ESPN Inside Deal. Andrew has covered the poker industry for ESPN since 2004.
SPONSORED HEADLINES
MORE POKER HEADLINES
MOST SENT STORIES ON ESPN.COM