Brian Yoon wins eight-max title
Californian wins second bracelet in two years
As the 2013 main event was about to start, the final table of the "Little One for One Drop" was concluding at the Rio. At that time, Brian Yoon was making his first career WSOP final table appearance. He'd outlasted the masses in that field of 4,756 to reach that point and would ultimately capture the bracelet and one of the largest single-event prizes of the summer. While his win was significant, the monstrosity that is the main event overshadowed it and despite the accomplishment, Yoon didn't get his time in the spotlight.
[+] Enlarge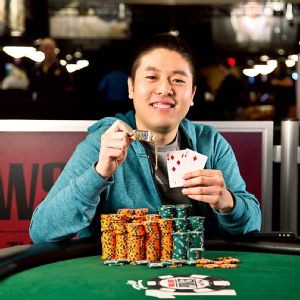 Courtesy of WSOPBrian Yoon has seven WSOP cashes and two wins.
Fast forward to the 2014 Millionaire Maker and with five tables left, Yoon is among the leaders. Out of the 7,977 players in that event Yoon finished 30th, reinforcing the perception of his mass-field no-limit ability. The field in Event 35, an eight-handed no-limit event, was far from huge (550), but the $5,000 buy-in brought the best in the world to the felt. Up against a final table that included Josh Arieh, Dan Smith, Mustapha Kanit and Tony Cousineau, Yoon played to the of his ability once again and won his second bracelet. This win, worth $633,341, brought his career WSOP earnings to $1.4 million and ensured that nobody would miss out on his successes again.
"Winning one [bracelet] is so tough to do, especially these days with fields so big," said Yoon to the WSOP. "Winning a second one is unreal. I just can't describe it honestly."
Yoon, 24, defeated Arieh after a back-and-forth heads-up match that culminated with a Yoon-flopped flush against Arieh's flopped ace-high flush draw. Yoon held and celebrated, while Arieh walked away from the felt ever-so-close to his third WSOP bracelet. Arieh, who had recently taken some time away from the game, has made two final tables this WSOP. He also believed the runner-up pay day was $60,000 less which upon learning that fact, according to his Twitter feed, cheered him up quickly.
Then there's Cousineau. The eighth-place finish for Tony was his 63rd career WSOP cash and eighth final table. He continues to own the unfortunate honor of having the most WSOP cashes without a bracelet.
Other notable finishers include Sam Trickett (11th), Sam Stein (14th) and Jeff Madsen (20th).
Below are the complete results of Event 35 at the 2014 World Series of Poker:
Event 35: Eight-handed no-limit hold 'em
Buy-in: $5,000
Entries: 550
Prize pool: $2,585,000
Players in the money: 56
1. Brian Yoon ($633,341)
2. Josh Arieh ($391,575)
3. Josh Bergman ($246,169)
4. Ardit Kurshumi ($176,684)
5. Mustapha Kanit ($128,862)
6. Dan Smith ($95,515)
7. Timo Pfutzenreuter ($71,940)
8. Tony Cousineau ($55,034)
9. Nick Grippo ($42,755)
10. Justin Kindred ($42,755)
11. Sam Trickett ($33,734)
12. David Peters ($33,734)
13. Justin Conley ($27,013)
14. Sam Stein ($27,013)
15. James Taylor ($21,946)
16. Sylvain Loosli ($21,946)
17. Michael Rocco ($18,095)
18. Matt Davenport ($18,095)
19. Erwann Pecheux ($18,095)
20. Jeff Madsen ($18,095)
21. Ravi Raghavan ($18,095)
22. Eric Froehlich ($18,095)
23. Olivier Busquet ($18,095)
24. Ludovic Riehl ($18,095)
25. Giuseppe Pantaleo ($15,148)
26. Nick Schulman ($15,148)
27. David Fhima ($15,148)
28. Dan O'Brien ($15,148)
29. Kirill Rabtsov ($15,148)
30. Kyle Bowker ($15,148)
31. Aaron Massey ($15,148)
32. Michael Ferrell ($15,148)
33. Jim Collopy ($12,847)
34. Jose Garcia ($12,847)
35. Nick Rampone ($12,847)
36. Scott Baumstein ($12,847)
37. Jonathan Duhamel ($12,847)
38. Eric Baldwin ($12,847)
39. Tomer Lidor ($12,847)
40. Yuri Dzivielevski ($12,847)
41. Joey Weissman ($11,141)
42. Brock Parker ($11,141)
43. Steven Silverman ($11,141)
44. Michael Mizrachi ($11,141)
45. Ankush Mandavia ($11,141)
46. Christopher Tryba ($11,141)
47. Steven Kerr ($11,141)
48. Darryl Ronconi ($11,141)
49. Bastian Fischer ($9,642)
50. Brandon Meyers ($9,642)
51. Fred Kulikowski ($9,642)
52. Zo Karim ($9,642)
53. Kristina Holst ($9,642)
54. Anton Smirnov ($9,642)
55. Gennady Kalin ($9,642)
56. Brent Wheeler ($9,642)

ESPN.com
Andrew Feldman is ESPN.com's Poker Editor. He is the host of the Poker Edge Podcast and co-host of ESPN Inside Deal. Andrew has covered the poker industry for ESPN since 2004.
MOST SENT STORIES ON ESPN.COM