Two weeks, two bracelets for Danzer
German professional holds commanding lead in 2014 WSOP Player of the Year race
From most sides covering the WSOP, the story of the event thus far has been the ability of bracelet owners to return to the winner's circle. Prior to the conclusion of Event 38, there had been 13 winners in 2014 who had won before. These winners were cementing their legacies with a complementary dominating performance and were reinforcing the skill-over-luck argument.
[+] Enlarge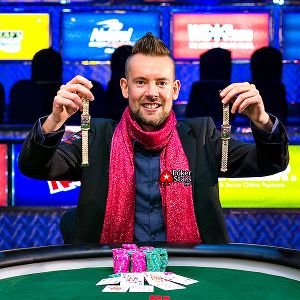 WSOPGeorge Danzer won his second WSOP bracelet of 2014 in Event 38.
George Danzer wasn't one of those players when the WSOP began, but his victory in Event 18 changed that. Danzer also added three more cashes and highlighted the growing storyline about the WSOP Player of the Year race. Lance Bradley noted earlier this week that early leaders in the race don't always end up at the top, and perhaps Danzer received that message loud and clear. The German professional poker player won the $10,000 buy-in seven-card stud high-low eight-or-better event to win his second bracelet of the Series and now owns a huge lead in the campaign. He is the story of the summer and we're only halfway through.
A key to Danzer's success, both online and live, is his insatiable hunger for the game. That said, he doesn't plan on increasing his WSOP schedule as a result of his early lead.
"I've had a very busy schedule so far, with one tournament every single day," Danzer said to the WSOP. "I'm already busy enough, playing in the events I schedule for myself. So, I'm not going to overload myself too much. I'm going to grind that way I intended, just as I did before."
The support of seven-card stud may not be growing, but the 134 players who entered this event shared a passion for this variation. The final table included five-time bracelet winner Jeffrey Lisandro, two-time champion John Monnette and single bracelet holders Brian Hastings, David Singer and Event 30 champion Calvin Anderson. It also featured runner-up in the 2010 main event, John Racener, and 15-time WSOP casher Chris George. Each of the final eight own a lengthy history with stud, and for Danzer, he knew he'd need to play his best to get through.
"These championship-level events always draw the best players," he said. "It was never easy. It's just a different stud variation, but the players are the same. I'd say this is just as satisfying to win as my other one."
Anderson's quest for a double-bracelet in the same variation was halted in third at the hands of Racener. Danzer never trailed during heads-up and eliminated Racener holding kings against Racener's queens.
Welllll I got 2nd place in the 10k stud8 event. Congrats to @trickyscarfy on the win. Such a class act and nice kid. Thanks everyone

- John Racener (@racener) June 20, 2014
Other notable finishers include ESPN poker broadcaster Norman Chad (10th), Ted Forrest (11th), Todd Brunson (13th) and Matt Glantz (15th). Chad has four career WSOP cashes and one final table appearance.
Below are the complete results of Event 38 at the 2014 World Series of Poker:
Event 38: Seven-card stud high-low eight-or-better
Buy-in: $10,000
Entries: 134
Prize pool: $1,259,600
Players in the money: 16
1. George Danzer ($352,696)
2. John Racener ($217,935)
3. Calvin Anderson ($136,490)
4. Brian Hastings ($98,828)
5. Jeff Lisandro ($77,238)
6. Chris George ($61,594)
7. David Singer ($50,018)
8. John Monnette ($41,277)
9. Richard Sklar ($34,550)
10. Norman Chad ($34,550)
11. Ted Forrest ($29,399)
12. Alexander Jung ($29,399)
13. Todd Brunson ($25,569)
14. Steve Zolotow ($25,569)
15. Matt Glantz ($22,244)
16. Tom Koral ($22,244)
ESPN.com
Andrew Feldman is ESPN.com's Poker Editor. He is the host of the Poker Edge Podcast and co-host of ESPN Inside Deal. Andrew has covered the poker industry for ESPN since 2004.
SPONSORED HEADLINES
MORE POKER HEADLINES
MOST SENT STORIES ON ESPN.COM
EDITORS' PICKS
Foosball champion landed a main event seat by surprise.
Andrew Feldman »

Side Action Championships: Trivia Challenge
Watch »

Felix Stephensen is ready to become the next world champion.
Bernard Lee »