Phil Ivey wins 10th bracelet
With 10 WSOP victories, Ivey is now tied with Doyle Brunson and Johnny Chan for second all-time.
As expected, Phil Ivey has been one of the most active players this Series, and entering Event 50, all he had to show for his tremendous amount of buy-ins were a few small cashes. Then, also as expected, the world's best came through in one of the most challenging events on the schedule. Ivey won the $1,500 eight-game mixed event to earn $167,332 and move into a tie with Doyle Brunson and Johnny Chan for second-place on the all-time bracelet list.
[+] Enlarge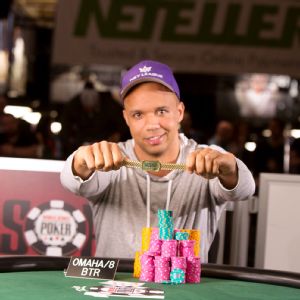 WSOPPhil Ivey moved into a tie for second on the all-time bracelet list after his victory in Event 50
"It's number 10. That's a good number," said Ivey to the WSOP. "It's the World Series of Poker and I always like to come out and support this. The World Series is the only tournament that has all the group of games. It's really important to have stud and pot-limit Omaha and eight-or-better. Because they have it, that's one of the reasons I come out and support it. It's true to poker."
Ivey controlled most of the final table that featured 2014 Seniors event champion Dan Heimiller, Aaron Steury and Stephen Chidwick. With all eyes on Ivey, Heimiller nearly made a legendary comeback. Down to just over one big bet, Heimiller doubled up repeatedly and turned a chip and a chair into the chip lead. However, his quest to become the second double-bracelet winner of the 2014 WSOP ended in third at the hands of the eventual champion.
Heimiller's elimination led to a interesting moment in the tournament. Bruce Yamron isn't the most well-known player to the general public, but to Ivey, this heads-up match was something special. The two have known each other since Ivey's days of learning the game in Atlantic City, and as both battled for the bracelet, there was a camaraderie that showed an enjoyment of the true challenge with so much on the line.
Yamron entered heads-up with a slight lead, but as soon as the game turned to stud, Ivey found his stride. At that point in the tournament, winning one pot in a limit game dramatically sways the chip counts, and Ivey was able to capitalize on numerous hands that made it a few streets in. Ivey continued his run during the next rotation of Omaha eight-or-better and eliminated Yamron holding Ac-Ks-9c-8s to Yamron's Ah-Js-8s-7h on a board of As-7c-5c-Kd-Qd.
Of course with Ivey, it's common that the side action overshadows the actual tournament payday. Ivey and Daniel Negreanu had bets with many in the poker world who believed that neither of them would win a bracelet.
"Me and Daniel made these bets," said Ivey. "I said either me or him were going to win [a bracelet] and we took even money. Me and him were both very deep in this tournament. This was a great opportunity. The tournaments are dying down. There's not too many left. I knew I had to get this one, or else it was going to be pretty tough from here."
Negreanu, who spoke about the bets on a recent Poker Edge, finished ninth.
The talk of Ivey's legacy grows with every achievement, but his respect to those who have always thrived and his goals to become the greatest of all time has kept fueling his passion over the years.
"Doyle is one of my poker idols," he said. "When I first came to Las Vegas, him and Chip [Reese], we were all playing poker, so it's very meaningful to tie him. ... Do I think I can catch Phil Hellmuth? Sure, I think I can catch him."
The bracelet race will always be a storyline to watch, but if a determined Ivey is part of it, amazing things are poised to happen.
Other notable finishers included David Baker (20th), Brandon Cantu (29th) and Greg Raymer (40th).
Below are the complete results of Event 50 at the 2014 World Series of Poker:
Event 50: Eight-game mix
Buy-in: $1,500
Entries: 485
Prize pool: $654,750
Players in the money: 49
1. Phil Ivey ($167,332)
2. Bruce Yamron ($103,375)
3. Dan Heimiller ($66,246)
4. Aaron Steury ($44,286)
5. Stephen Chidwick ($30,426)
6. Yuebin Guo ($21,592)
7. Christoph Haller ($15,720)
8. Alex Rocha ($11,750)
9. Daniel Negreanu ($9,014)
10. Abdel Hamid ($9,014)
11. Amnon Filippi ($9,014)
12. Yehuda Buchalter ($7,092)
13. Christian Pereira ($7,092)
14. Devin Looney ($7,092)
15. Kiyokazu Nishikawa ($5,721)
16. Andrei Kaigorodtcev ($5,721)
17. Leonard Talerico ($5,721)
18. Howard Smith ($5,721)
19. Thomas Butzhammer ($5,721)
20. David Baker ($5,721)
21. Zachary Milchman ($5,721)
22. Brian Saltus ($4,723)
23. Matthew Smith ($4,723)
24. Barry Hutter ($4,723)
25. Dmitri Motorov ($4,723)
26. Martin Staszko ($4,723)
27. Allen Chang ($4,723)
28. Richard Bai ($4,723)
29. Brandon Cantu ($3,995)
30. Daniel Ospina ($3,995)
31. Joseph Stiers ($3,995)
32. Denis Ethier ($3,995)
33. Christopher McHugh ($3,995)
34. Bill Chen ($3,995)
35. Trevor Jay Martin ($3,995)
36. Michael Gambony ($3,497)
37. Jacobo Fernandez ($3,497)
38. Ross Schultz ($3,497)
39. Demetrios Arvanetes ($3,497)
40. Greg Raymer ($3,497)
41. Peter Johansson ($3,497)
42. John Cernuto ($3,497)
43. Andrew Barber ($3,063)
44. Salim Hanna ($3,063)
45. Alex Luneau ($3,063)
46. Gabriel Nassif ($3,063)
47. Max Pescatori ($3,063)
48. Pearce Arnold ($3,063)
49. Matthew Schultz ($3,063)
ESPN.com
Andrew Feldman is ESPN.com's Poker Editor. He is the host of the Poker Edge Podcast and co-host of ESPN Inside Deal. Andrew has covered the poker industry for ESPN since 2004.
SPONSORED HEADLINES
MORE POKER HEADLINES
MOST SENT STORIES ON ESPN.COM