Commentary
The 2011 November Nine
Updated:
August 3, 2011, 1:43 PM ET
By
Gary Wise
| ESPN.com
When the World Series of Poker main event started two weeks ago, there were 6,865 players with hopes and dreams, each bringing the question of whether he or she might be poker's next world champion. Through eight grueling days of poker, most players received answers they wouldn't like via their respective eliminations. For the eliminated, there would only be next year.
Nine players remain, and this year you know them better than ever before. They've graced ESPN, ESPN2 and ESPN3 for six days, and as we've watched their tournament stories unfold. They've shown us who they are as players; we've become increasingly more aware of who they are as people. One of those people is going to be poker's world champion and will find himself $8.7 million richer.
These nine men of assorted ages, nationalities and backgrounds have taken equally divergent paths to this promised land. They've answered most of the questions we started with, surveying or participating in the elimination of 6,856 of their fellow poker enthusiasts. Now, we're left with only one question: Who will be poker's world champion? We'll have four months to ponder that question as we get to know them all a little better.
Here is your 2011 November Nine:
[+] Enlarge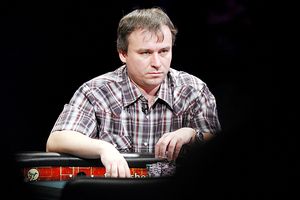 AP Photo/Isaac BrekkenMartin Staszko is the chip leader of the 2011 November Nine.
Martin Staszko (40.1 million in chips) -- A professional poker player for about a year, the 35-year-old Staszko has enjoyed his trial by fire in Las Vegas. "I mostly play online more than live," Staszko said. "I played in four EPT events, some smaller tournaments. That's all the experience I have with live play. Those tournaments prepared me. I've been in Vegas from June 2; I played 15 tournaments. That's more than I'd played in my entire life, so I got some big experience here."
That experience is paying off. Staszko enters the final table as our chip leader after a dominant run with 10 players left. He's the first player from the Czech Republic to make the November Nine and may be our favorite heading in. "I think it will be big for our country to make the November Nine," he said. "We already have the EPT and other tournaments, but I do think more players would be inspired to play."
Eoghan O'Dea (33.9 million) -- In addition to having one of the big stacks, Ireland's O'Dea brings a couple of advantages into the November Nine. The 26-year-old pro is one of the few remaining players who has made a major tournament score before this one (he's won more than $250,000 from a single tournament twice), and he comes from a poker family that includes father Donnacha, a bracelet winner who has cashed in the main event six times.
"I think most of the players have done very well in big tournaments," Eoghan (pronounced Owen) said. "There's no bad players left, so I don't know if I have an upper hand. Obviously, my dad had a great influence. Helped me out, allowed me to ask a few questions. He taught me how to play. We've been texting a lot during the tournament."
While the money associated with the world championship obviously looms large, O'Dea has had instilled in him a greater appreciation for what the title could mean. "You dream to win the WSOP main event," he said. "It's the best in poker and that would be pretty amazing for me, to win it. [Achieving that dream] is a pretty big factor apart from the money."
[+] Enlarge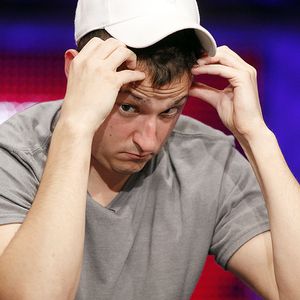 AP Photo/Isaac BrekkenMatt Giannetti boasts the highest chip count out of the three Americans at the table.
Matt Giannetti (24.7 million) -- A 26-year-old professional player living in Las Vegas, Giannetti is well-known in poker circles, but mostly a stranger to those on the outside. "It's a lot of validation," Giannetti said. "My friends and family are finally seeing me on TV. My main thing's been cash games, and you don't get too much exposure for that. You tell people you're a poker player and they ask you if you have been on TV, and when you tell them you haven't, they're like, 'Oh, you're not a real poker player.' Tournaments are only half the poker world. Cash is a real part of it."
It's because of his prior success that he's focused on other things besides the money. "Maybe it should be about the money, but it's not," Giannetti insisted. "I'm just playing the game. I'm putting myself in a position where, if I go bust, I go bust. I don't want to look back at the TV screen in a couple of months and say, 'My gut instinct was to do this, but I played it safe to move up in the prize pool.' You only get one chance in your lifetime to do this. It's every poker player's dream. You've got to go for it all."
Phil Collins (23.8 million) -- As much as his play has stood out throughout the main event, former chip leader Collins is going to be remembered for the friends who followed him. A Las Vegas resident, the online pro known as "USCphildo" has the loudest cheering section by far, with the entire entourage yelling "Yeahp!" over again and singing "In the Air Tonight" (a hit by singer Phil Collins) whenever he won a pot.
"Everybody I've seen reacting to it has reacted positively," said Collins, 26. "The dealers are laughing, the floors are laughing, and most of the players at my table are smiling and think it's pretty funny. They're only disappointed they don't have as many friends here. They're like, 'My friends all left.' Well, my friends all live here, so they just keep driving down. I'm probably never going to get this deep in the main event ever again, so I'd better enjoy it while I'm here. And my friends? I mean, when are they ever going to have a best friend get this close? They need to enjoy it, too."

Ben Lamb (20.8 million) -- Considered by many the best player at the table, Lamb's run in the main event put him in the lead for the WSOP Player of the Year race in a year when he's already won a bracelet and made two other final tables. Despite taking home $1.2 million before the main event, he has no doubt about where his interests lie with what's on the line.

"It's the money," said Lamb. "I'm not going to be one of those guys who says the world championship means more than the money. Now, looking at the bracelet, it's going to be really cool if I win that. I'll be able to cherish it even if the money is gone. Fifty years from now, I'll still have the bracelet, and still have this time in my life that I'll really cherish, but $8 million … I can really set myself up for life. I won't need to worry about money for the rest of my life. It's a big weight off someone's shoulders, and I'm only 26 years old."

Part of Lamb's success this year can be traced to a wager he made before the Series that forbade him from drinking during it. Of course, he thought his series would be over by now. Instead, he has four more months to wait. The charismatic Oklahoman, with a reputation for enjoying what life has to offer, is resigned to his fate. "I'm probably going to lose the bet," he smiled. "It's for $2,500 each way, but I got the escrow. $5,000 is a lot of money no matter how much you have just to have a drink, but to have three months of drinks? It's pretty good."

Badih Bounahra (19.7 million) -- Call him the contradiction. In a field full of 20-somethings, "Bob" is 49. In a field of professionals, Bounahra is the amateur. In a field of online-heavy players, Bounahra is strictly a live player. On top of all that, he's the first player from Belize to make the final table at the World Series of Poker.

"I am not a professional player," Bounahra said proudly. "I'm calm and relaxed. [Being an amateur] probably puts more pressure on them, not me. I'm playing for the country of Belize. Everybody knows about it, it's going crazy. It's going to be even better now. It's a very good thing for everybody."

Bounahra, a successful businessman, knows how he'll use the money if he wins, almost as certainly as he knows how it will affect him. "My youngest son's education comes first, then I'll invest some of it. The money is good, the championship is good. All of it is good! But it won't change me. It's not going to change anything in my personality. I'll stay the same."

Pius Heinz (16.4 million) -- Just 22 years old, Heinz has a remarkable attitude toward what's turned into the biggest tournament of his life. He's been saying for days that he's enjoyed immensely the experience of being here, and adds that making the November Nine is a bonus after his strong 2011 WSOP. On Day 8, though, his mood was put to the test.

One of the early chip leaders, Heinz went through a rough stretch that saw him become the small stack. Keeping his focus was a challenge. "Today, there were stretches where I couldn't relax anymore because I lost most of the pots I played," he admitted. "You get frustrated, but at the end of the day, I'm just enjoying being here. I made the November Nine! I feel pretty good, obviously. I wish I had played a little better throughout the day, but that doesn't matter anymore."

Heinz becomes the first German player to reach the November Nine, but admits that in an individual game, what this might mean for his country is merely a nice side benefit. More directly impacted will be his family. "Honestly, I'm not that big a spender," he said. "I always look after my money, that's how I've always been. I might get a nice place to live, and buy my parents something. My sister and brother, too. They have a couple of wishes I can help with."

[+] Enlarge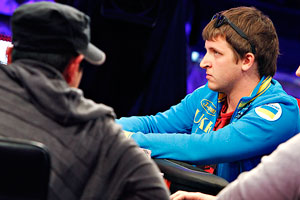 BJ Nemeth/PokerlistingsAnton Makiievskyi can become the youngest WSOP main event champion with a victory in November.

Anton Makiievskyi (13.8 million) -- The youngest player at the final table, the 21-year-old Ukrainian is looking to become the fifth player from that country to win a bracelet in this year's WSOP. "It will mean a lot," he said of making the November Nine. "For my friends, my family and my country. For everybody. I think they will feel great and they will understand how I feel. Though, I don't even understand how I feel right now."

Makiievskyi entered the day with the chip lead, but failed to hold on during the later stages of play. "There was really a lot of pressure," he said after the four-hour bubble. "It was the first time that I really felt pressure. I was really nervous. … I was nervous, but now I'm just happy."

Making the final nine, Makiievskyi expects the next four months to be filled with poker and new opportunities.

Sam Holden (12.3 million) -- It's something of a miracle that Holden has survived this long. He spent most of Days 6 and 7 with a short stack, but patience finally persevered. "I was actually feeling quite relaxed being on the short stack because I'm quite confident in my short-stack play, having a lot of experience from online multitable tournaments," said the 22-year-old native of Canterbury, England. "I found it quite easy, especially in this tournament, to stay patient and pick the right spots. So I didn't put too much pressure on myself."

Holden is enjoying the benefits of that patience and has no issues sharing his joy at making the November Nine. "It means everything. It's the one tournament of the year every poker player hopes to run well in, and I've been fortunate to do so. The November Nine … the gap now between July and November will be such an experience with all the media and everything that will come with it. … It means everything to me. For all the work I've put into my game … it's fantastic!"

Those are the nine. If you haven't been following ESPN's live action, or if you just want to know more about how they got here, you'll see them playing every Tuesday night from July 26 to Nov. 8 on our World Series of Poker broadcasts. There, you'll be given every opportunity to learn all you can before our final table unfolds in November. If what we've seen so far is any indication, it's going to be a remarkable finale.

Gary Wise has contributed to ESPN.com since 2007. He is well-studied in the history of poker and presents a unique tableside view of the goings-on in the poker community.

Google author profile
SPONSORED HEADLINES
MORE POKER HEADLINES
MOST SENT STORIES ON ESPN.COM
World Series of Poker Coverage

ESPN.com's poker team is bringing you all the action from the 2011 World Series of Poker.
Poker Home
STORIES
VIDEO
RESULTS AND SCHEDULE
POKER EDGE PODCAST
CHATS