Commentary
Phil Collins' moment is finally here
Updated:
October 21, 2011, 1:36 PM ET
By
Gary Wise
| Special to ESPN.com
"I can feel it coming in the air tonight, oh Lord
And I've been waiting for this moment for all of my life, oh Lord
Can you feel it coming in the air tonight, oh Lord. Oh Lord."
-- Phil Collins (the musician)

There's a Phil Collins in this year's November Nine, and no, he's not the musician who penned the above words. If you were in the building through the waning days of the main event, those lines indented themselves upon your brain. The connection is obvious and basic, and the poker player's friends latched onto the name and the good tune, blasting it from hand-held technology and belting out the lyrics every time he won a pot. In the midst of the party atmosphere they were helping to forge, though, they may not have stopped long enough to think about how prescient the lyrics were. Those few lines certainly reflect the reality Collins, the player, faces now.
[+] Enlarge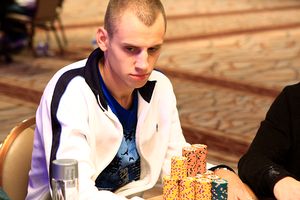 Michael Reed/BluffNovember Niner Phil "USCPhildo" Collins has more than $3 million in online tournament winnings.
"Yes," Collins responded with a smile as the question was asked. "I like Phil Collins' music. I think my name is humorous. I've always liked his music. It's fun; it made it memorable for my friends. It's a huge experience for my friends too. They're all poker players and to watch one of their friends make it to November is really big."
While "In the Air Tonight" is the theme music, friendship is the theme. No other player's support rivaled that of Collins' from Day 4 onward. A Las Vegas native with a charming, confident swagger, the 26-year-old made it to the November Nine with friends in tow, and without them, it may not have been possible.
"It's a little surreal," said Dan O'Brien, one of the carolers and Collins' former roommate. "Tournaments are tournaments are tournaments and you don't differentiate … except for the main event. The money and exposure are so much bigger and it takes on this new life. I've seen it before, but never this close. To have my roommate there is pretty incredible. To see the recognition and the pressure of the money, it's all pretty wild. We have a good crew out here … we're all really excited."
Collins' journey to the November Nine is the story of two comings of age: from online player to live pro and from poker loner to community man. After learning how to play poker in his freshman year at the University of South Carolina, Collins quickly found himself delving into answering the game's myriad questions. As successful as he was, he could only make it so far on his own.
Collins' Inspiration

Collins, who got married Oct. 16, 2010, on the source of his inspiration:
"Mention my wife. She's the most important thing in the world to me. As much as I love poker, there's nothing that could replace her. Without her support, I don't think this would be possible. She knew me before I knew what hold 'em was. She's watched me go from someone who was going to go to law school to someone who passed on law school and she's been incredibly supportive. One of my favorite things about the main event was seeing her face after each day. I could see just how happy she was for me. Every day, she was more excited. She was so nervous for me. Having a little something extra to play for kept me sharp, kept me motivated. I wasn't just playing for me. I was playing for her, our family and our future."
"When I started playing poker, I learned as much as I could," Collins recalled. "I read every book, I would buy every book to get better. 'Super System,' the 'FTP Strategy Guide,' 'Harrington' … I read every book I could. I'm very much self-taught. I reached a high level of success before I ever had help or reached out for help. I finally met other people who I had high-level poker in common with, though. I made a name for myself [as 'USCPhildo'] and then started meeting some people. Christian Harder, Andrew Lichtenberger. … They gave me advice, tips. That was a real turning point in my career from when I went from above-average to understanding how the best minds in the poker world think."
Collins' first meetings with other players came in 2008 at the Turning Stone Casino, and a year later he was moving to Las Vegas. There, he formed relationships with O'Brien, Jason Mercier, Allen Bari, Matt Berkey and Brett Hanks among others that would not only heighten his game but offer him inspiration heading into the main event. During the 2011 WSOP, Mercier and Bari won bracelets, and O'Brien, Berkey and Hanks scored final-table finishes. Things weren't going quite so well for Collins.
"I think that Phil played a lot of events during the WSOP and the whole time, we were all making final tables," Mercier said. "Brent, Danny, Allan, Matt … he was definitely inspired throughout the WSOP. Going into the main event, he knew it was his last shot and he made the most of it."
"I think that when your friends are doing well, you kind of get jealous in a way," said Bari. "Not jealous … motivated. You kind of want to keep up with the group. … Everyone had a big WSOP and until the main event, he hadn't done much. It's just good to have friends who are all doing well. It inspires you to make a big score and keep up with everyone else."
His WSOP may have lacked the cashes, but Collins wasn't disappointed in his play.
"I played maybe 25 events and only cashed one of those," Collins recalled. "I actually built quite a few stacks but kept busting before the money. That's how my whole summer was going. I watched friends like Alan Bari and Jason Mercier go deep and wanted that, but nothing was panning out. I told them, 'Maybe I was saving it for the main event.'"
Collins' 1-for-25 cash rate was a reflection of the difficulties he'd had learning the live game. "USCPhildo" was one of the Internet's most feared players. In live play, though, he was having trouble.

"Live poker's been a difficult transition," Collins admitted. "I reached a high level through online poker, but live poker was a tough transition because there are no casinos in [my native] South Carolina. I started traveling. To Turning Stone, Vegas, but I'd play online for 11 months a year, so I struggled. I was making a lot of poor decisions. I had a backer who'd put me in live, so that allowed me to make the transition. It took a long time to reach the comfort I've had online. When I'm online, I feel like I'm the best player at the table. It took a while for me to get there in a live game."

While the lessons were slow in coming, Collins has taken them to heart. "Online poker makes you play fast because the structure will catch up to you, so it's a good idea to keep pushing with your chip lead. The main event, though, you can be chip leader, not win for 3-4 hours and be fine. Do that online and you'll be below average stack. I think I was really impatient. Playing cash games before the World Series, I really got the flow of playing those hours and not getting hands. Those lulls will happen in live poker. That taught me a lot of patience. I didn't put a lot of pressure on myself in the main event to do well. It was the end of a horrible series for me, so I didn't want to make a big mistake. It kept me focused, kept me from getting ahead of myself. It really helped me play my best."

The proof was there in the standings. Collins was a dominant figure, taking a monster chip lead on Day 6 and parlaying it into a final-table birth. There, he sits fourth in chips. Unlike some of his competition, though, he's in no rush to get to the table.

"Some people have asked what I think about the break," Collins explained. "I think it's phenomenal. It's the biggest moment of my poker career and life and I get to enjoy it for three and a half months. Every day I wake up, I'm still in the main event. It's an awesome feeling. Tournaments are so quick and you don't have a chance to enjoy them, but this way I get to. Even if I go out ninth, I'll have really enjoyed it. From a player standpoint, I think it's great. I love the buildup."

Collins has the patience to go far that he didn't have previously. He has the experience, the peer group and even the theme song he lacked at the beginning of this odyssey. He's a man seemingly on the cusp of greatness with the calm to get there. As the musician alluded to, this is the moment he's waited for all his life. One senses that regardless of how he finishes in November, he's emerged the better for it.

Gary Wise has contributed to ESPN.com since 2007. He is well-studied in the history of poker and presents a unique tableside view of the goings-on in the poker community.

Google author profile
SPONSORED HEADLINES
MORE POKER HEADLINES
MOST SENT STORIES ON ESPN.COM
2011 WSOP Final Table Coverage

ESPN.com's poker team is keeping you up to speed with each of the nine players at the 2011 WSOP main event final table. When action resumes on Nov. 6 there will be 34 minutes and 57 seconds left in Level 36 (blinds: 250,000/500,000 with a 50,000 ante).
November Nine Breakdown
Martin Staszko
Age: 35
Chip position: First, 40,175,000
Seat: 9

Eoghan O'Dea
Age: 26
Chip position: Second, 33,925,000
Seat: 3

Matt Giannetti
Age: 26
Chip position: Third, 24,750,000
Seat: 1

Phil Collins
Age: 26
Chip position: Fourth, 23,875,000
Seat: 4

Ben Lamb
Age: 26
Chip position: Fifth, 20,875,000
Seat: 8

Badih Bounahra
Age: 49
Chip position: Sixth, 19,700,000
Seat: 2

Pius Heinz
Age: 22
Chip position: Seventh, 16,425,000
Seat: 7

Anton Makiievskyi
Age: 21
Chip position: Eighth, 13,825,000
Seat: 5

Sam Holden
Age: 22
Chip position: Ninth, 12,375,000
Seat: 6