Commentary
Humbert wins first Swiss bracelet
With much anticipation, the 2011 World Series of Poker Europe began on Friday at its new home in Cannes, France. The first of seven bracelet events, a 2,500 euro buy-in six-handed no-limit hold 'em event, attracted a surprisingly large field of 360 players, an increase of 47 percent compared to the first event a year ago. Although Phil Hellmuth's run toward an eventual seventh-place finish was the dominant storyline over the final two days, it was Guillaume Humbert earning his first WSOP bracelet and the top prize of 215,999 euros that earned headlines across the world.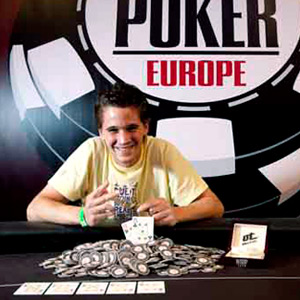 WSOPPlaying in his first live major tournament, Guillaume Humbert became the first player from Switzerland to earn a WSOP bracelet.
Humbert, a 26-year old bartender, became the first player from Switzerland to win a WSOP bracelet. Even more surprising, he was playing in his first live major tournament and managed to secure one of the biggest victories a poker player could ever hope to attain. After playing online, Humbert decided to take a shot against the live game's best and came out ahead.
"I can't believe it," he said after earning his bracelet. "It's amazing. This is my first live tournament. I can't believe this has happened to me."
Entering the final day of play, Humbert held the chip lead over the final 12 with Hellmuth right behind him. The two moved in opposite directions from the start with Hellmuth doubling up the eventual fifth-place finisher Adrien Allain (Hellmuth's 9-9 lost to A-10) while Humbert continue to earn big pots from his opponents. Allain dominated Hellmuth in the majority of their Day 3 confrontations and forced him to a short stack from which he couldn't recover. Marton Czuczor finally eliminated the 11-time champion, who needed a slightly better showing to catch up to Ben Lamb in the Player of the Year race.
Humbert was fourth out of six to start the final table and was fourth out of four after Allain's elimination. He got lucky with a short-stack shove with 7-4 against the A-K of Matan Krakow and that come-from-behind win seemed to get him moving. Shortly after, the two would face off again, but this time, holding the best hand (A-Q), Humbert eliminated Krakow (J-10).
Azusa Maeda eliminated Irish advertising executive Roy Finlay in third and held a sizable chip lead going into heads-up play, but he couldn't hold off Humbert heads-up. Despite falling short of the bracelet, Maeda became the highest Japanese finisher in WSOP history in what was also his first major live tournament cash.
The champion is planning to use some of his prize money towards a future investment, possibly a bar of his own.
Other notable finishers included Casey Kastle (ninth), David Benyamine (12th) and Freddy Deeb (15th).
Below are the complete results of WSOPE Event 1:
Event 1: Six-handed no-limit hold 'em
Buy-in: 2,500 euros
Entries: 360
Prize pool: 864,000 euros
Players in the money: 36
1. Guillaume Humbert (215,999 euros)
2. Azusa Maeda (133,471)
3. Roy Finlay (92,629)
4. Matan Krakow (65,068)
5. Adrien Allain (46,250)
6. Marton Czuczor (33,255)
7. Phil Hellmuth (24,183)
8. Alexander Salabaschew (24,183)
9. Casey Kastle (17,790)
10. Bruno Benveniste (17,790)
11. Anton Wigg (13,228)
12. David Benyamine (13,228)
13. Benjamin Pollak (9,936)
14. Alessandro Speranza (9,936)
15. Freddy Deeb (9,936)
16. Mark Radoja (9,936)
17. Marvin Rettenmaier (9,936)
18. Johan Sundell (9,936)
19. Anatolii Ozhenilok (7,560)
20. Peter Jetten (7,560)
21. Brian Powell (7,560)
22. Tapio Vihakas (7,560)
23. Serge Didisheim (7,560)
24. David Peters (7,560)
25. Sam Chartier (5,789)
26. Tristan Wade (5,789)
27. Jonathan Maisonneuve (5,789)
28. Sylvain Mazza (5,789)
29. Shawn Buchanan (5,789)
30. Laurent Sanchez (5,789)
31. Michael Friedrich (4,536)
32. Edmilson Oliveira (4,536)
33. Todd Terry (4,536)
34. Romain Matteoli (4,536)
35. Flavien Guenan (4,536)
36. Martins Adeniya (4,536)

ESPN.com
Andrew Feldman is ESPN.com's Poker Editor. He is the host of the Poker Edge Podcast and co-host of ESPN Inside Deal. Andrew has covered the poker industry for ESPN since 2004.
SPONSORED HEADLINES
MORE POKER HEADLINES
MOST SENT STORIES ON ESPN.COM