Commentary
Hinrichsen wins record-setting Event 2
In July, Andrew Hinrichsen was making his way toward poker history. The 23-year-old Australian professional poker player was running over the tables in Las Vegas and had his sights set on being a member of the 2011 WSOP November Nine. During the last few hours of Day 7, he faced off with Eoghan O'Dea in a massive pot wher a top-three chip count was at stake. Hinrichsen showed A-K and trailed O'Dea's K-K. As the board ran out, O'Dea made a flush, and Hinrichsen, so close to becoming part of poker history, was history in 23rd place.
"I was really shattered afterwards," he said. "To get there is such an unbelievable result. But I was shattered for weeks. You go so deep, and then …."
Hinrichsen returned to Australia and secured a second-place finish in the ANZPT III. With confidence high, he made his way back to the WSOP felt. He entered Event 2 of the 2011 WSOP Europe and captured his first bracelet in a 1,090 euro buy-in no-limit hold 'em event. He defeated a record-setting field of 771 players, the largest turnout in WSOP Europe history, and earned 148,030 euros for his efforts.
[+] Enlarge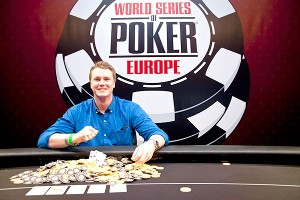 WSOPAndrew Hinrichsen has $723,963 in career tournament earnings.
"It's a significant achievement, for sure," Hinrichsen said after the victory. "I am pretty speechless at the moment, to be honest. I have not even had much time to think about it. These kinds of things are always so unrealistic when you think about it. You just don't think about it much until it actually happens. So, now I guess I will have the next few days to think about this and enjoy it."
The final table offered representatives from five different nations with Italy's Gianluca Speranza holding the lead to enter play and Hinrichsen right behind in second. Those two would battle heads-up for the title, although Hinrichsen started in a big hole, down more than 3-to-1 in chips.
His comeback began and completed quickly.
Within a half hour, Hinrichsen would double through Speranza holding 10-8 to his 5-5, then use preflop aggressive to win a few big pots and finally, outkicked his opponent on the final hand holding A-K to Speranza's K-9 on a king-high board.
"This year has been really amazing," he said. "I had a bit of an up and down year last year. I spent some time away from poker. But this year has been really good for me and I have done really well."
The WSOP announced via Twitter on Tuesday that the average age of cashers at WSOPE was around 32 years old, comprable to what the WSOP typically sees in Las Vegas. However, the average age of the Event 2 final table was an unusually high 36, thanks to pawn broker Tarcisio Bruno (61) and pharmacist Bernard Guigon (63), who finished third and fourth, respectively.
Two notable tournament rounders also made the final table, Roberto Romanello and John Eames. Romanello, champion of EPT Prague and WPT Slovakia, was hoping to become the fifth player to capture poker's triple crown with a victory in Event 2. He fell short of that goal, eliminated by Guigon in fifth place. Eames, one of the UK's brightest young stars, finished in seventh.
Other notable finishers included previous WSOP Europe bracelet winner Erik Cajelais (20th), Vanessa Selbst (32nd), Kevin MacPhee (33rd) and Dan Kelly (39th).
Below are the complete results of WSOPE Event 2:
Event 2: No-limit hold 'em
Buy-in: 1,090 euros
Entries: 771
Prize pool: 740,160 euros
Players in the money: 81
1. Andrew Hinrichsen (148,030 euros)
2. Gianluca Speranza (91,262)
3. Tarcisio Bruno (67,281)
4. Bernard Guigon (50,146)
5. Roberto Romanello (37,874)
6. Eric Baudry (28,977)
7. John Eames (22,449)
8. Nabil Nadjai (17,608)
9. Gregory Lejolivet (13,982)
10. Richard Haile ((11,236)
11. Jean-Pierre Grand (11,236)
12. Julien Varin (11,236)
13. Mendel Benoit (9,141)
14. Ricardo Pereira (9,141)
15. Carlo Savinelli (9,141)
16. Ricky Hale (7,527)
17. Gianluca Cedolia (7,527)
18. William Koks (7,527)
19. Christopher Sly (6,269)
20. Erik Cajelais (6,269)
21. Salman Behbehani (6,269)
22. Nicolas Cabot (5,285)
23. Yann Brosolo (5,285)
24. Jeffrey Ust (5,285)
25. Iain James McDonald (4,508)
26. Norbert Levigne (4,508)
27. James Mitchell (4,508)
28. Riccardo Cantafora (3,886)
29. Gaetan Deneuve (3,886)
30. Yannick Autaa (3,886)
31. Thomas Launay (3,390)
32. Vanessa Selbst (3,390)
33. Kevin MacPhee (3,390)
34. In Albon Pascal (2,990)
35. Chuc Hoang (2,990)
36. Simone Goria (2,990)
37. Martial Blangenwitsch (2,665)
38. Ruben Velasco-Merino (2,665)
39. Dan Kelly (2,665)
40. Daniel Walker (2,665)
41. Dimitri Durand (2,665)
42. Mohamed El Berrak (2,665)
43. Nicolas Chouity (2,665)
44. Toby Lewis (2,665)
45. Jeanphilippe Rohr (2,665)
46. Georges Tohme (2,398)
47. Magnus Persson (2,398)
48. Joseph Cheong (2,398)
49. Nikhael Kvale (2,398)
50. Adam Palethorpe (2,398)
51. Stefan Raffay (2,398)
52. Richard Toth (2,398)
53. Randy Dorfman (2,398)
54. Lars Bonding (2,398)
55. Francois Jardinet (2,183)
56. Brian Roberts (2,183)
57. Remi Marrale (2,183)
58. Alexandre Brivot (2,183)
59. Maxence Dupont (2,183)
60. Mark Shepherd (2,183)
61. Pierre Milan (2,183)
62. Jackson Su (2,183)
63. Jerome Bradpiece (2,183)
64. Raffaele Ugliano (2,006)
65. Yven Lanvin (2,006)
66. Nicolas Jussot (2,006)
67. Gruss Konstantin (2,006)
68. Boban Stefanovic (2,006)
69. Berthe Mickael (2,006)
70. Joffrey Guerry (2,006)
71. Nicolas Errichi (2,006)
72. McLean Karr (2,006)
73. Quentin Ribout (1,843)
74. Matthew Waxman (1,843)
75. Kyle Cheong (1,843)
76. Gregori Vahda (1,843)
77. Jeremy Del Gallo (1,843)
78. Vaino Ville (1,843)
79. Enrique Pappatico (1,843)
80. Aaron Jones (1,843)
81. Cedric Lebrette (1,843)

ESPN.com
Andrew Feldman is ESPN.com's Poker Editor. He is the host of the Poker Edge Podcast and co-host of ESPN Inside Deal. Andrew has covered the poker industry for ESPN since 2004.
SPONSORED HEADLINES
MORE POKER HEADLINES
MOST SENT STORIES ON ESPN.COM