Commentary
Wade wins WSOPE online icon shootout
The final table of the 3,000 euro shootout event at the 2011 World Series of Poker Europe was eerily similar to one during an online major. With online icons Tristan "Cre8ive" Wide, Michael "SirWatts" Watson, Bertrand "ElkY" Grospellier, Richard Toth, Steve "Mr. Tim Caum" O'Dwyer, Emil "whitelime" Patel, John "Texdue" Ambrust, Taylor "ambiguosity" Paur, James "Flushy" Dempsey and Max Silver creating a final table where the oldest player was 32, it was a battle of young players extremely experienced in the format and all looking for WSOP gold.
Beginning with a field of 258, the final 10 players won two shootout rounds, including a three-handed second round, to earn a spot at the final table. Wade was the only man left standing after an eight-hour final table, finally coming through with a WSOP victory after six years, although he made two WSOP final tables earlier this year.
[+] Enlarge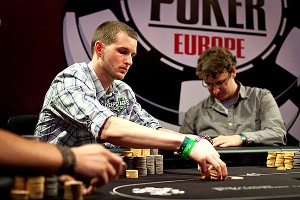 Jonathan Boncek/PokernewsTristan Wade won the 3,000 euro Shootout Event 4 at the 2011 WSOP Europe.
"It is absolutely amazing," Wade said after his victory. "The win really hasn't sunk in yet. It will probably take a while. I have been playing poker for a long time, a little over eight years. I have been to the World Series. I think this was my sixth year. I have been close, but I never really captured a big tournament. So, to win a World Series bracelet means everything."
Wade earned 182,048 euros for the victory, the second-largest cash of his career. At the WSOP in Vegas, Wade finished fourth in the six-handed $10,000 World Championship and seventh in the massive 3,157-player $1,500 no-limit event. Putting those results in perspective allowed him to come into this final table with a clear head.
"That was a tough final table when I finished fourth in the 10,000," he said. "Everyone was a really accomplished player at that final table. So, I could not really be upset getting fourth. I did my best. It just did not go my way. I did have another final table which was a seventh-place finish. That was much more disappointment, because I had some bad luck go against me at the final table. Such is poker. I am a professional, I know how to handle it. Even if it was heads-up on a bad beat, that's just the way it goes. And that is what makes me really appreciate winning this tournament. Because I know you need skill and luck. You can be the best player, but you still have to avoid bad luck going against you and instead get some breaks. That is what happened for me tonight."
The Boynton Beach, Fla., native has earned $747,841 so far in 2011, making it his best year on the live felt. After "Black Friday," Wade decided to play more live events and headed to WSOP Europe for the first time. At age 26, he became the oldest champion of the 2011 WSOPE. He's also earned $1.4 million online and teaches live poker training seminars with DeepStacks. There's a good chance his future courses will be in high demand.
O'Dwyer finished sixth, just days removed from a second-place finish at EPT London. His demise in this event was the start of Wade's run. Sitting with essentially even stacks, the two flipped for the chip lead with Wade holding 9-9 to O'Dwyer's A-K. Wade won the flip, then eliminated O'Dwyer shortly after. He headed to the dinner break with five players left and the bracelet within his grasp.
After the elimination of Grospellier (by Watson, 6-6 defeated K-Q) and Silver (by Wade, K-K defeated 4-4), Watson moved into the lead after turning kings full against Wade. He increased that lead when he eliminated Toth in third (A-K defeated Q-10) and entered heads-up play with a small, but significant edge. The two traded pots and the lead for nearly 90 minutes, but Wade would earn the bracelet after calling Watson's all-in four-bet preflop, holding J-J to Watson's A-5 and watching as the board ran clean (Qd-Qs-4d-Tc-2h). The former WPT champion earned 112,526 euros for second place.
Through three events, attendance at the 2011 WSOP Europe is up 48 percent compared to 2010. This was the first shootout event in WSOP Europe history.
Other players to make the money included November Niner Anton Makiieskyi, Vanessa Selbst and Chad Brown.
Below are the complete results of WSOPE Event 4:
Event 4: No-limit hold 'em shootout
Buy-in: 3,200 euros
Entries: 258
Prize pool: 743,040 euros
Players in the money: 30
1. Tristan Wade (182,048 euros)
2. Michael Watson (112,526)
3. Richard Toth (84,016)
4. Max Silver (63,151)
5. Bertrand Grospellier (47,763)
6. Steve O'Dwyer (36,357)
7. Emil Patel (27,842)
8. Taylor Paur (21,459)
9. James Dempsey (16,637)
10. John Armbrust (12,981)
11. Dylan Wilkerson (6,913)
12. Ryan D'Angelo (6,913)
13. Tobias Reinkemeier (6,913)
14. Adrien Allain (6,913)
15. Jeffrey Hakim (6,913)
16. David Peters (6,913)
17. Terrence Chan (6,913)
18. James Mitchell (6,913)
19. Anton Makiievskyi (6,913)
20. Nikita Nikolaev (6,913)
21. Keven Stammen (6,913)
22. Sean Getzwiller (6,913)
23. Salavatore Bianco (6,913)
24. Chad Brown (6,913)
25. Jose De la Guardia (6,913)
26. Tommy Vedes (6,913)
27. Massenat Pierrot (6,913)
28. Vanessa Selbst (6,913)
29. Kirill Telezhkin (6,913)
30. Freddy Deeb (6,913)

ESPN.com
Andrew Feldman is ESPN.com's Poker Editor. He is the host of the Poker Edge Podcast and co-host of ESPN Inside Deal. Andrew has covered the poker industry for ESPN since 2004.
SPONSORED HEADLINES
MORE POKER HEADLINES
MOST SENT STORIES ON ESPN.COM