Ups and Downs: WSOP predictions
Updated:
May 26, 2012, 10:06 PM ET
By
Bernard Lee
| ESPN.com
Get psyched, poker fans, it's that time of year again. It's time for the seven weeks that all poker players have been waiting for since last July. On May 27, the 43rd World Series of Poker gets underway at the Rio All-Suite Hotel & Casino in Las Vegas, and players from all over the world will battle for one of the 61 newly designed gold bracelets, with the last one (for the main event) being awarded in October.
[+] Enlarge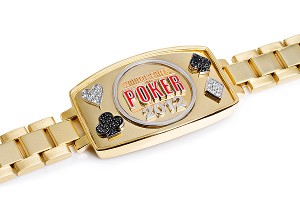 WSOP The WSOP introduced a new bracelet design for 2012, created by Jason of Beverly Hills.
Last year, the WSOP was shrouded in doubt by the then-recent events of Black Friday. Nevertheless, the event shattered record after record, capped by the third-largest WSOP main event in history with 6,865 players. This stellar showing was celebrated, as many in the poker world had predicted disastrous numbers -- some as low as 2,500.
How will the 2012 WSOP fare? We'll find out soon enough, but here are some early predictions about the ups and some downs that lie ahead of the poker world this summer:
UP -- Don't forget to re-enter
Re-entry events have become all the rage in poker. The WSOP Circuit and the Heartland Poker Tour have adopted this format for all their main events, and the returns have been incredible. Even some of the World Poker Tour main events, like the Legends of Poker and Borgata Poker Open, have utilized this format.
After the success of the WSOP Circuit this season, the WSOP decided to include a re-entry bracelet (Event 9) in the 2012 schedule. This event will surely be not only one of the most successful events of the summer, but I believe that it will also be one of the most successful events in WSOP history.
In 2009, the largest non-main event field was the first "WSOP Stimulus Special" event. A $1,000 buy-in, two-day event, this tournament was sold out and had a record 6,012 entrants.
The second- and third-largest non-main event registrations were both $1,000 no-limit hold 'em events: 2010's Event 3 with 4,345 and 2011's Event 8 with 4,178. This year's re-entry event will probably become the second-largest non-main event in WSOP history. However, with a capacity of over 4,700 players per day, Event 9 has an outside chance at breaking the all-time record.
Bold prediction: 5,600 registrants
DOWN: Attendance in low buy-in no-limit hold 'em events will be down
As mentioned above, the WSOP introduced the stimulus event in 2009, an event that still holds the record for the largest non-main event field of 6,012. In 2010 and 2011, the low buy-in no-limit hold 'em events, although not as huge as the initial stimulus, were still very healthy (as seen below with the average field sizes).
Average Field Size
| Buy-in | 2010 | 2011 |
| --- | --- | --- |
| $1,000 no-limit hold 'em | 3,443 | 3,206 |
| $1,500 no-limit hold 'em | 2,507 | 2,805 |
These events have become extremely popular with the weekend warriors, even though the starting stack is relatively low. Many poker players still fly to Las Vegas for a weekend to take a shot at a WSOP bracelet, but with the hangover effects of Black Friday still impacting the entire poker population, I believe that these events' fields will be slightly down this year.
Bold prediction: These events will be down around 5 percent to 8 percent overall
UP: Mixed game tournament attendance will continue to increase
In recent years, the mixed games have seen an upturn in registration as more pro players have been expanding their repertoires by learning to play other games.
Mixed Game Momentum
| Tournament | 2010 | 2011 |
| --- | --- | --- |
| $2,500 2-7 Triple Draw Lowball | 291 | 309 |
| $1,500 2-7 No Limit Lowball | 250 | 275 |
| $1,500 HORSE | 828 | 963 |
| $5,000 pot-limit Omaha eight-or-better | 284 | 352 |
| $1,500 pot-limit Omaha eight-or-better | 847 | 946 |
| $2,500 eight-game mix | 453 | 489 |
| $1,500 pot-limit Omaha eight-or-better | 818 | 925 |
Interestingly, though, one type of mixed game has seen a downturn over the past couple years: Stud games.
Stud Suffering
| Buy-in | 2010 | 2011 |
| --- | --- | --- |
| $1,500 seven-card stud eight-or-better | 644 | 606 |
| $1,500 seven-card stud | 408 | 357 |
| $2,500 razz | 365 | 363 |
In 2007, I mentioned in an ESPN column that, "The 5 p.m. tournaments, which vary among the specialty events such as Omaha, 7 Card Stud, Razz, HORSE and high-low games, have fields that are certainly more manageable. Therefore, if a player wants a more realistic chance at winning a bracelet, one may benefit by learning other poker game variations."
Whether players heeded my advice and/or poker players have begun diversifying their overall games, I believe that these events will continue to increase in 2012.
Bold prediction: Non-hold 'em games overall will increase by 10 percent to 15 percent.
DOWN: $50,000 Players Championship will run out of gas
When Chip Reese won the inaugural championship in 2006, the poker world was pleased to see almost 150 players compete as ESPN documented Reese's historic victory. The next two years maintained solid numbers of entrants with the Chip Reese trophy captured by poker pros Freddy Deeb and Scotty Nguyen, respectively.
However, the number of entrants plummeted in 2009, when the event was not broadcast on ESPN.
Off The HORSE
| 2006 | 2007 | 2008 | 2009 | 2010 | 2011 |
| --- | --- | --- | --- | --- | --- |
| 143 | 148 | 148 | 95 | 116 | 128 |
With the reincarnation of ESPN coverage, the registrants began to climb in 2010 and again in 2011. However, I believe that this year the number of players will be significantly down, as ESPN has replaced the television coverage of the Players' Championship with The Big One for One Drop, $1 million buy-in event. Also, as seen by the dramatic decrease at the WPT Championship (220 to 152 this year), the prospect of a large buy-in event increasing this year does not look promising.
Bold prediction: 105 players
UP: The Big One for One Drop $1 million will max out
I am still in utter amazement that we are even discussing a $1 million buy-in event. Although I just stated that the $50,000 Players' Championship will probably be down compared to 2011, I strongly believe that The Big One for One Drop event will reach its announced cap of 48 players.
Although it seems unthinkable that one person could buy-in for $1 million, there are already 30 players committed to the event that will donate $111,111 to charity for every entry into this historic event. With numerous satellites qualifiers held across the country and the mega satellite scheduled for the night before, the event will probably sell out, which would make the tournament a rousing success not only for poker, but also for those looking to gain access to water around the world.
Bold prediction: 48 players
Down: The Main Event still flourishes, just not as much as last year
Every year, the WSOP main event numbers continue to amaze the poker world and, year after year, the actual turnouts continue to beat projections. Of course, the main event has had down years, such as 2007 (due to the passage of the Unlawful Internet Gambling Enforcement Act), 2009 (a sold-out Day 1D left about 500 players without seats) and 2011 (Black Friday).
The Main Event
| 2005 | 2006 | 2007 | 2008 | 2009 | 2010 | 2011 |
| --- | --- | --- | --- | --- | --- | --- |
| 5,619 | 8,773 | 6,358 | 6,844 | 6,494 | 7,319 | 6,865 |
I know that the popular prediction would be to say that the WSOP main event will have an increase in participation again this summer. Although the United States is barren online, we've seen the game flourish in the rest of the world, and these countries will be sending thousands of players to Las Vegas. However, I think 2012 will underperform. Don't get me wrong: I still believe the overall number will be high, but just not as high as 2011 or the few years before that.
Bold prediction: 6,225 players (which would make it the seventh-largest main event ever)
Good luck to everyone in Las Vegas this summer!
ESPN Poker
Bernard Lee is a columnist for ESPN.com and the co-host of ESPN Inside Deal. Since finishing 13th in the 2005 WSOP Main Event, Lee has earned over $2 million in career earnings, including three poker titles. Along with his contributions to ESPN.com, Bernard is the weekly poker columnist for the Boston Herald and also the host of a weekly poker radio show in Boston, "The Bernard Lee Poker Show".