Leif Force wins mixed heads-up event
The poker world was first introduced to Leif Force in 2006, when he made an incredible run to 11th-place in the WSOP main event. After his elimination, Force was was modest and calm, but downright dejected after missing out on the biggest final table in poker history.
Over the past few years, Force cashed seven more times on the WSOP felt, making his first final table and finishing sixth in the pot-limit Omaha split $5,000 event in 2010. He had come close to WSOP gold in the past, and on Thursday night, he finally was able to wrap his first bracelet around his wrist as he defeated Jason Koon in the $3,000 split no-limit hold 'em/pot-limit Omaha heads-up event.
[+] Enlarge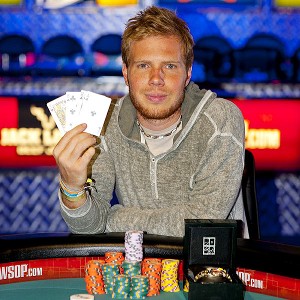 WSOP.com Leif Force won his first WSOP bracelet in Event 3 of the 2012 WSOP.
This was the first time this tournament variation was ever offered at the WSOP, and it featured a rotation in games every 20 minutes. Force, who states outright that he isn't a no-limit hold 'em specialist, was ready to play this event the moment it was announced.
"I actually wasn't going to play it because like most of the heads-up tournaments, I thought it was going to be where you play a full round of hold 'em and then maybe switch to Omaha," Force said to the WSOP. "I didn't really check the structure sheets. Then I looked, and I found out it was 20 minutes, switching back-and-forth, and I booked my ticket right then … I loved the tournament. It was turbo for the most part, which is great because that's how I think Omaha should be. You know, a little gamble here and there."
Force, who said he's given half his poker winnings to his parents, earned $207,708 for the victory, and said that playing poker isn't about the bracelet, or the money, but the competition.
"[The bracelet] really doesn't mean that much," he said. "I'm not in it for just purely the money either. I've never considered myself, like, just to play just to make money, like grind it out, as they would say. I used to play with my entire bank roll. Just like in the World Series in 2006, I put all of my $10,000 on the line. I used to play with every cent I had online. Just like, win or lose, see what happens. I play to win. I'm uber-competitive. Whatever I play, I just want to win. All the other things don't really matter that much."
Winning this event required a victory in nine straight heads-up matches. Koon, Julian Powell, Andy Frankenberger, George Lind, Darren Kramer, Jose-Luis Velador and Chris Brammer were among the opponents that Force defeated on the way to victory.
Koon, 27, earned $128,660 for his runner-up performance. This was his third career six-figure tournament score and his first WSOP final table. Annette Obrestad, Simeon Naydenov, Josh Arieh and Adam Kornuth fell to Koon throughout the tournament.
"Well I gave it my all," Koon said on Twitter. "Was lucky enough to run this deep. Cards didn't fall my way this time. No bracelet this time."
Below are the complete results of Event 3 at the 2012 World Series of Poker:
Event 3: Heads-up no-limit hold 'em/pot-limit Omaha
Buy-in: $3,000
Entries: 317
Prize pool: $870,870
Players in the money: 64

1. Leif Force ($207,708)
2. Jason Koon ($128,660)
3. Simeon Naydenov ($73,655)
4. Julian Powell ($73,655)
5. Greg Merkow ($28,409)
6. Andrew Frankenberger ($28,409)
7. David Benefield ($28,409)
8. Annette Obrestad ($28,409)
9. Scott Davies ($9,644)
10. George Wolff ($9,644)
11. John Racener ($9,644)
12. Sebastion Saffari ($9,644)
13. Josh Arieh ($9,644)
14. David Williams ($9,644)
15. George Lind ($9,644)
16. Mike Sexton ($9,644)
17. Matt Jarvis ($5,144)
18. Yevgeniy Timoshenko ($5,144)
19. Jonathan Clancy ($5,144)
20. Tres Davis ($5,144)
21. David Schnettler ($5,144)
22. Bryce Yockey ($5,144)
23. Trevor Pope ($5,144)
24. Ashkan Razavi ($5,144)
25. Jeremy Ausmus ($5,144)
26. Andrew Pantling ($5,144)
27. Cory Wood ($5,144)
28. Vojtech Ruzicka ($5,144)
29. Sampo Ryyannen ($5,144)
30. Andy Seth ($5,144)
31. Darren Kramer ($5,144)
32. Victor Ramdin ($5,144)
33. Raj Kattamuri ($3,395)
34. Byron Kaverman ($3,395)
35. Justin Smith ($3,395)
36. Thomas Gabriel ($3,395)
37. Guillaume Darcourt ($3,395)
38. Ben Vinson ($3,395)
39. Jarred Solomo ($3,395)
40. Matthew Bucaric ($3,395)
41. Alexander Venovski ($3,395)
42. Jose-Luis Velador ($3,395)
43. Ayaz Mahmood ($3,395)
44. Jim Collopy ($3,395)
45. Max Martinez ($3,395)
46. Joshua Pollock ($3,395)
47. Dimitar Danchev ($3,395)
48. Philippe Boucher ($3,395)
49. Gordon Vayo ($3,395)
50. David Chiu ($3,395)
51. Alan Keating ($3,395)
52. Jared Jaffe ($3,395)
53. Kory Kilpatrick ($3,395)
54. Tim West ($3,395)
55. Justin Bonomo ($3,395)
56. David Emmons ($3,395)
57. Tod Holley ($3,395)
58. Sam Stein ($3,395)
59. Mark Radoja ($3,395)
60. Marcello Marigliano ($3,395)
61. Ryan Franklin ($3,395)
62. Eric Froehlich ($3,395)
63. Adam Kornuth ($3,395)
64. David Nicholson ($3,395)

ESPN.com
Andrew Feldman is ESPN.com's Poker Editor. He is the host of the Poker Edge Podcast and co-host of ESPN Inside Deal. Andrew has covered the poker industry for ESPN since 2004.
SPONSORED HEADLINES
MORE POKER HEADLINES
MOST SENT STORIES ON ESPN.COM
World Series of Poker Coverage

ESPN.com's poker team is bringing you all the action from the 2012 World Series of Poker.
Poker Home
STORIES
RESULTS AND SCHEDULE
POKER EDGE PODCAST
CHATS