Hastings wins heads-up bracelet
There are a few players in the world across from whom you just don't want to sit in a heads-up event. Those players are the cream of the crop and make their living feasting on their opponents at the highest stakes tables online, typically in heads-up formats. They've seen more hands than you could fathom and have every nuance of heads-up play memorized. Brian Hastings is one of these players and this week at the WSOP, he proved that it doesn't matter if it's the real felt or virtual felt, he's going to take your chips.
[+] Enlarge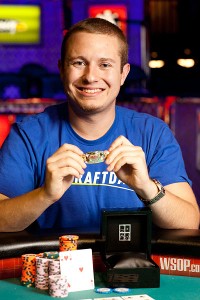 WSOP.com Brian "Stinger" Hastings won the Heads-Up World Championship at the 2012 WSOP.
Hastings won the 152-player $10,000 buy-in heads-up event at the 2012 WSOP. He defeated eight opponents en route to the $371,498 top prize and his first WSOP bracelet. The cash is substantial, but something else caught the attention of the man who often exchanges six- and seven-figure pots.
"I've had much bigger scores than this online," Hastings said to the WSOP. "But there's only one gold bracelet, and this means more than the money to me."
One of those "bigger scores" was a profitable $4.2 million session over Viktor Blom in 2009. Blom, 21, made his WSOP debut in this event, but fell to Tommy Chen in the second round.
Adapting to a new post-Black Friday world, the 23-year-old, originally from Pennsylvania, travels outside the United States to play online poker and keeps sharp in doing so. His focus is primarily cash games, but he has seen his share of success on the tournament felt, including a WPT Regional victory in Florida last year.
Now that he's earned his first piece of WSOP gold, Hastings has turned his attention towards a new goal rest of the Series: winning WSOP player of the year.
His path to the bracelet included matches against Jason Mo, Tommy Chen, Jeffrey Gross, Amritraj Singh, Tommy Vedes, Emil Patel and Jim Rumptz. Hastings had nothing but praise for Mo, who earned $229,722 for second place, his largest career tournament cash.
"He was tough," said Hastings of Mo. "He was one of the toughest opponents I played, for sure. I thought he played a good game."
Other notable finishers include Vanessa Selbst and Antonio Esfandiari (eliminated in the Round of 16) and Andrew Lichtenberger, Darren Elias, Eric Froehlich, Kevin Saul and Tommy Vedes (eliminated in the Round of 32).
Below are the complete results of Event 12 at the 2012 World Series of Poker:
Event 12: Heads-up no-limit hold 'em
Buy-in: $10,000
Entries: 152
Prize pool: $1,428,800
Players in the money: 32

1. Brian Hastings ($371,498)
2. Jason Mo ($229,722)
3. Brock Parker ($130,606)
3. Tommy Chen ($130,606)
5. Chris Moore ($56,380)
5. Jeffrey Gross ($56,380)
5. Andrew Robl ($56,380)
5. Michael Drummond ($56,380)
9. Vanessa Selbst ($20,674)
9. Amritraj Singh ($20,674)
9. Alexander Venovski ($20,674)
9. Paul Volpe ($20,674)
9. Jonathan Jaffe ($20,674)
9. Eevert Kokkonen ($20,674)
9. Douglas Polk ($20,674)
9. Antonio Esfandiari ($20,674)
17. Max Steinberg ($10,966)
17. Darren Elias ($10,966)
17. Richard Lyndaker ($10,966)
17. Chou Chou ($10,966)
17. Mark Radoja ($10,966)
17. Steven Landfish ($10,966)
17. Andrew Lichtenberger ($10,966)
17. Ryan O'Donnell ($10,966)
17. Eric Froehlich ($10,966)
17. Kevin Saul ($10,966)
17. Serkan Kurnaz ($10,966)
17. Tommy Vedes ($10,966)
17. Scott Baumstein ($10,966)
17. Keith Block ($10,966)
17. Igor Yaroshevskyy ($10,966)
17. Chae An ($10,966)

ESPN.com
Andrew Feldman is ESPN.com's Poker Editor. He is the host of the Poker Edge Podcast and co-host of ESPN Inside Deal. Andrew has covered the poker industry for ESPN since 2004.
World Series of Poker Coverage

ESPN.com's poker team is bringing you all the action from the 2012 World Series of Poker.
Poker Home
STORIES
RESULTS AND SCHEDULE
POKER EDGE PODCAST
CHATS