David Arsht, 66, wins limit title
For the first time in four years, there was an increase in attendance in the $1,500 limit hold 'em event, as a field of 730 players created nearly a $1 million prize pool in Event 13. At 66, David "Doc" Arsht didn't consider himself a favorite in the field, but the semi-retired urologist pulled off the upset, beating some of the best players in the game to capture his first WSOP bracelet and $211,921. This was his third career WSOP cash, with his previous best result coming in a $1,500 hold 'em event in 2007 (23rd).
[+] Enlarge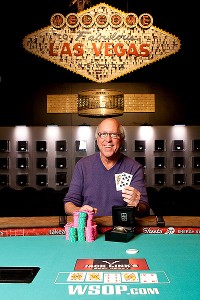 WSOP.comDr. David Arsht won the $1,500 limit hold 'em event at the 2012 WSOP.
"I would have to honestly say I don't think my friends think that I had the capacity to win a WSOP gold bracelet," he said. "Because they play this very fast and aggressive game. They think my game is different from theirs. They think I'm sort of like … slow."
Arsht proved everyone wrong. Limit hold 'em can be a slow game, and it allowed his style to translate perfectly into success. The father of two and husband of 43 years was supported throughout the final table by his family, and to Arsht, that's really all that mattered.
"My wife certainly believed I could do it," he said. "I believed it, my son believed it. My daughter at home believes it. And, I did it."
Arsht started the final table third in chips, trailing the two bigger stacks of Ben Landowski and Glenn Engelbert by just a few big blinds. He moved into the chip lead before the first elimination by taking nearly a third of Englebert's stack, but Al "Sugar Bear" Barbieri earned the top spot after eliminating Lori Kirgan in ninth and Alex Queen in eighth. Queen, one of the East coast's most dominating tournament players, earned $20,370 in his fourth career WSOP cash.
Barbieri and Arsht would continue to exchange the chip lead over the next few eliminations. Arsht knocked out Weiss (who finished seventh) and took most of Ben Landowski's stack before his elimination (for sixth), but then lost most of those chips to Barbieri. With five players remaining, it looked like a two-horse race.
After Englebert went out (for fifth), the excitement stalled during four-handed play. That would all change on one hand. Arsht, Barbieri and Auger got involved in the most critical and dramatic hand of the tournament. Arsht raised, Auger raised all-in and Barbieri called as well, committing all but a few of his chips with the intention of being all-in on the flop. When the cards were revealed, Auger had 6s-6d, Arsht was dominating with 7s-7d and Barbieri had two overcards with Jc-10c. The flop came 6h-4h-2c, putting Auger well ahead. The turn was the 5c, giving Arsht a straight draw and Barbieri and flush draw. With all railbirds standing, the river was the 8d. Arsht made his straight and eliminated two opponents on the same hand.
With a 5:1 chip lead, it didn't take long for Arsht to put away his final opponent, Stephen Hung, and celebrate his incredible accomplishment with his family.
Other notable finishers include Alex Queen (eighth), Jennifer Harman-Traniello (18th), Isaac Haxton (20th) and Eric Buchman (42nd).
Below are the complete results of Event 13 at the 2012 World Series of Poker:
Event 13: Limit hold 'em
Buy-in: $1,500
Entries: 730
Prize pool: $985,500
Players in the money: 81

1. David Arsht ($211,921)
2. Stephen Hung ($130,903)
3. Al Barbieri ($84,388)
4. Donald Auger ($61,820)
5. Glenn Engelbert ($45,953)
6. Ben Landowski ($34,620)
7. Jeff Weiss ($26,401)
8. Alex Queen ($20,370)
9. Lori Kirgan ($15,886)
10. Roland Israel ($12,535)
11. Charles Tucker ($12,535)
12. Jared Woodin ($12,535)
13. Bruce Rosen ($10,111)
14. Chris Swan ($10,111)
15. Leonid Bilokur ($10,111)
16. Ian Johns 8,130)
17. Kevin McGuinness 8,130)
18. Jennifer Harman-Traniello 8,130)
19. Jed Dickerson ($6,652)
20. Isaac Haxton ($6,652)
21. Eric Menser ($6,652)
22. Eric Blair ($6,652)
23. Joshua Biedak ($6,652)
24. Michael Noori ($6,652)
25. Chris Winchester ($6,652)
26. Damian Lyon ($6,652)
27. Alex Freiberg ($6,652)
28. Louis Hillman ($5,469)
29. Truong Nguyen ($5,469)
30. William Baier ($5,469)
31. Daniel Ospina ($5,469)
32. Gerald Morrell ($5,469)
33. Tien Le ($5,469)
34. Robert Perry ($5,469)
35. Humberto Brenes ($5,469)
36. Hope Williams ($5,469)
37. Daniel Ratigan ($4,572)
38. Angie Tran ($4,572)
39. Mike Zholendz ($4,572)
40. Isaac Hagerling ($4,572)
41. Andrew Brongo ($4,572)
42. Eric Buchman ($4,572)
43. Hui Liu ($4,572)
44. David Olson ($4,572)
45. Jaspal Brar ($4,572)
46. Albert Riccobono ($3,833)
47. Sammy Elkassir ($3,833)
48. Kalpesh Raichura ($3,833)
49. Jason Manger ($3,833)
50. Ashly Butler ($3,833)
51. Brett Jungblut ($3,833)
52. Chung Law ($3,833)
53. Dylan Linde ($3,833)
54. Peter Chun ($3,833)
55. Hyung Lee ($3,242)
56. Michael Gillilan ($3,242)
57. Ismael Bojang ($3,242)
58. Arash Yazdanbpanah ($3,242)
59. Daniel Castanos ($3,242)
60. David Gee ($3,242)
61. Emerson Wong ($3,242)
62. Jerry Kane ($3,242)
63. Jeremy Maher ($3,242)
64. Bryce Yockey ($2,769)
65. Matt Sterling ($2,769)
66. Chad Davis ($2,769)
67. John Racener ($2,769)
68. Robert Rasmussen ($2,769)
69. Leo Whitt ($2,769)
70. Florian Ristl ($2,769)
71. Charles Vargas ($2,769)
72. Matthew Schreiber ($2,769)
73. Robert Pacleb ($2,453)
74. Men Nguyen ($2,453)
75. Justin Bonomo ($2,453)
76. LaVonne Joyce ($2,453)
77. Mark Chilton ($2,453)
78. Alan Goehring ($2,453)
79. Robert Quiring ($2,453)
80. Millie Shiu ($2,453)
81. Thomas Munson ($2,453)

ESPN.com
Andrew Feldman is ESPN.com's Poker Editor. He is the host of the Poker Edge Podcast and co-host of ESPN Inside Deal. Andrew has covered the poker industry for ESPN since 2004.
SPONSORED HEADLINES
MORE POKER HEADLINES
MOST SENT STORIES ON ESPN.COM
World Series of Poker Coverage

ESPN.com's poker team is bringing you all the action from the 2012 World Series of Poker.
Poker Home
STORIES
RESULTS AND SCHEDULE
POKER EDGE PODCAST
CHATS