Phil Hellmuth wins 12th bracelet
Captures first non-hold 'em title with win in $2,500 razz event
The conclusion of Events 17 and 18 created one incredible night at the World Series of Poker. On one side of the WSOP's massive footprint at the Rio was Phil Hellmuth, looking for his 12th WSOP bracelet in the $2,500 razz event (No. 18). On the other side was Phil Ivey, looking for his ninth bracelet at the final table of the $10,000 pot-limit hold 'em world championship (17). The two Phils, arguably two of the most recognizable poker players in the world, sought to make history, and together, produced a buzz the WSOP hadn't seen yet this year.
[+] Enlarge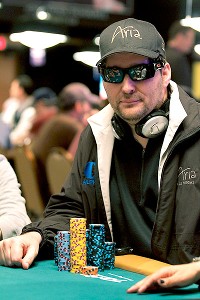 Heather Borowinski/BLUFFAfter three runner-up finishes in 2011, Phil Hellmuth finished the job and won bracelet No. 12 in Event 18 of the 2012 WSOP.
Both Phils made it to heads-up play, but only one of them claimed the top spot. Hellmuth won his bracelet -- his first in a non-hold 'em event.
"I can honestly say that this is the first tournament in my life that I have no idea what the prize money is," he said. "It's all about the bracelet."
After being made aware that he had just won $182,793, Hellmuth responded happily, "That's not bad!"
Coming off an incredible 2011 WSOP that included three runner-up finishes, Hellmuth's success continued at this year's WSOP, with three cashes in the first 15 events. Heading into the final day of the razz event, Hellmuth was third out of the final 18 players, a group that included eight previous WSOP bracelet winners. After the first two eliminations on the day, Hellmuth was the chip leader. He'd share that top spot with Brendan Taylor for most of Day 3, and as the eight-handed final table began, Taylor had a slight edge over the Poker Brat.
Hellmuth's stack dwindled until there were five players remaining. At that point, he repeatedly got the best of Taylor and earned his way into the chip lead, a spot that he wouldn't relinquish from that point on. Taylor went out at the hands of two-time bracelet winner Brandon Cantu in fifth, and after a few hours of four-handed play, Hellmuth extended his lead to own more than half the chips in play. Scott Fischman, making his first Vegas WSOP final table since 2005, finished in fourth and Cantu was eliminated by Hellmuth in third.
Don Zewin, the man he faced heads-up for the bracelet, was no stranger to Hellmuth. In 1989, Hellmuth emerged onto the poker scene by becoming the youngest main event champion. At that final table was Zewin, who finished third. Although he hasn't won a bracelet, Zewin found success on the felt for decades and knew exactly how to approach the match. Hellmuth had nearly a 5-to-1 chip lead to begin heads-up play, but the stacks were nearly even after just a few hands. Zewin had the crowd, and Hellmuth, on edge.
They battled for more than two hours and Hellmuth stated that Zewin was simply playing "terrific razz." Hellmuth played selectively aggressive after fourth street, enabling him to capitalize on missed Zewin draws, and with the bigger stack, he knew Zewin needed to pick his spots and couldn't keep calling him down. He mixed in a substantial amount of trapping with that aggression and it paid off on some key pots. Hellmuth's lead grew, and on the final hand, with the cards flipped up after fourth street, Hellmuth squeezed out a 10 on seventh street to make A-2-4-10-J. Zewin needed to catch an A, 2, 4, 5, 7 or 8, but paired his nine. He looked up at Hellmuth and said, "You win."
Hellmuth, and the crowd, erupted in celebration.
"After three seconds last year and after knocking on the door [days ago] … I've been waiting for this since '07," said Hellmuth. "I'll have to break out some new hats that say 12 on the side."
With bracelet No. 12, Hellmuth extends his lead in the bracelet race over Doyle Brunson and Johnny Chan, who each have 10. He's also the all-time leader in WSOP cashes with 89, 14 more than second-place Men Nguyen.
"I really appreciate all the people here supporting me and just wanting to see this special moment in my life, my 12th bracelet," he said to the crowd. He also promised the crowd autographs and photos to anyone who wanted them. It was a moment he wanted to share with the world. On Twitter, Hellmuth summed up his night with ease: "Hello #12!!"
Other notable finishers in Event 18 included Barry Greenstein (sixth), Scott Clements (18th), Joe Tehan (23rd) and Allen Bari (26th). This was Greenstein's second final table of the 2012 WSOP.
Below are the complete results of Event 18 at the 2012 World Series of Poker:
Event 18: Razz
Buy-in: $2,500
Entries: 309
Prize pool: $702,975
Players in the money: 32

1. Phil Hellmuth ($182,793)
2. Don Zewin ($113,024)
3. Brandon Cantu ($74,269)
4. Scott Fischman ($54,248)
5. Brendan Taylor ($40,167)
6. Barry Greenstein ($30,150)
7. Michael Chow ($22,945)
8. Jeff Mistiff ($17,693)
9. David Rosenau ($13,827)
10. Scott Abrams ($13,827)
11. Calvin Anderson ($10,945)
12. Gerald Ringe ($10,945)
13. Jared Bleznick ($8,780)
14. Jeff Mervis ($8,780)
15. Chris Viox ($7,135)
16. Dan O'Brien ($7,135)
17. Chris Wallace ($5,904)
18. Scott Clements ($5,904)
19. Vladimir Shchmelev ($5,904)
20. JJ Pruitt ($5,904)
21. Jonathan Spinks ($5,904)
22. Ron McMillan ($5,904)
23. Joe Tehan ($5,904)
24. Yarron Bendor ($5,904)
25. Peter Brownstein ($4,885)
26. Allen Bari ($4,885)
27. Sam Grizzle ($4,885)
28. Larry Wright ($4,885)
29. Michael Noori ($4,885)
30. Ted Forrest ($4,885)
31. Simon Kearney ($4,885)
32. Jaime Lezama ($4,885)

ESPN.com
Andrew Feldman is ESPN.com's Poker Editor. He is the host of the Poker Edge Podcast and co-host of ESPN Inside Deal. Andrew has covered the poker industry for ESPN since 2004.
World Series of Poker Coverage

ESPN.com's poker team is bringing you all the action from the 2012 World Series of Poker.
Poker Home
STORIES
RESULTS AND SCHEDULE
POKER EDGE PODCAST
CHATS
MOST SENT STORIES ON ESPN.COM