Frankenberger slays Ivey for No. 2
Ivey finishes second at WSOP for fourth time
Just a few years ago, Andy Frankenberger wasn't part of the poker world. After 14 years on Wall Street, he turned to poker and almost immediately became one of the biggest stars in the game. It's a trend that has followed him throughout his life. He'd find a new passion, learn about it, improve his foundation and find success. When it came to poker, the pattern seemed all too familiar. He came out of nowhere to win the Legends of Poker WPT main event in 2010, and while some players may win a WPT and walk off into the sunset, it was just the beginning for Frankenberger.
[+] Enlarge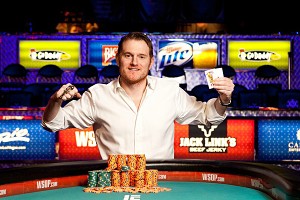 Neil Stoddart for PokerNews/WSOP Andy Frankenberger captured his second bracelet in the pot-limit hold 'em world championship at the 2012 WSOP.
In 2011, Frankenberger was named the Season IX WPT Player of the Year, then captured his first WSOP bracelet. It was an incredible run, and for an encore in 2012, not only would he win his second WSOP bracelet, but he'd beat the world's best player, Phil Ivey, heads-up for the title.
"Playing Ivey heads-up was like a dream," said Frankenberger. "The whole experience was amazing, and winning versus him makes the bracelet twice as sweet."
Frankenberger ran hot at the final table of the $10,000 pot-limit hold 'em world championship, winning three key races along the way. While some may say that those three coin flips justify luck more than anything else, it was how he capped off the victory that will truly define him for years to come.
Despite his accomplishments already, the heads-up confrontation between Frankenberger and Ivey was a David versus Goliath battle. In Ivey's favor were his eight WSOP bracelets, the intimidating stare, the general consensus best player in the world and the support of just about everyone in the crowd watching in the ESPN arena. In Frankenberger's corner was his unpredictability, his consistent success heads-up and his quick rise to poker fame. Regardless of the chip count -- the two started heads-up play essentially even -- Frankenberger was the underdog. It was the ultimate motivation.
"Nothing inspires me more than proving those that root against me wrong," he said. "He is the best in the world and everyone knows it, but that's why I tried to change the game."
Frankenberger came out firing, with many thinking that the only way he'd beat Ivey is with insane aggression that would hopefully avoid a substantial amount of post-flop play. It worked. Ivey let a number of hands go, then perhaps expecting a possible check-raise, couldn't pull the trigger and bet the river on a hand where Frankenberger showed and won with only king-high. Shortly after that, Frankenberger got Ivey to pay off his turned straight (as recapped here) and after that, Ivey, the man who never appears to tilt or show one ounce of emotion, seemed to become unraveled. Moments later, Frankenberger flopped top pair and got Ivey to commit all his chips with an open-ended straight draw. With the turn and river providing Ivey with no miracles, Frankenberger stunned the crowd and became the latest WSOP champion.
Earning $455,899 for first place, the 39-year-old from New York now has more than $2.5 million in tournament earnings since 2010. His bracelet last year may have been worth more in terms of prize money, but this one was a little sweeter.
"This year felt even better," said Frankenberger. "I can't compare [them]. The tournament was so stacked, with so few soft spots."
As for Ivey, this was his fourth runner-up finish on the WSOP felt. He earned $275,559, giving him a total of $2.2 million in earnings on the year. His summer started off slow -- he failed to cash in the first 13 events -- but he has since cashed three times in his past four events. After entering the final day of this event in 11th of the final 17, he dominated most of the day; he just couldn't finish the job.
Other notable finishers include Matt Marafioti (seventh), Hoyt Corkins (ninth), Antonio Esfandiari (12th), Chris Klodnicki (15th) and Bertrand Grospellier (18th).
Below are the complete results of Event 17 at the 2012 World Series of Poker:
Event 17: Pot-limit hold 'em world championship
Buy-in: $10,000
Entries: 179
Prize pool: $1,682,600
Players in the money: 18

1. Andy Frankenberger ($445,899)
2. Phil Ivey ($275,559)
3. Ali Eslami ($199,623)
4. Alexander Venovski ($147,345)
5. Manuel Bevand ($110,731)
6. Shaun Deeb ($84,668)
7. Matt Marafioti ($65,840)
8. Daniel Weinman ($52,059)
9. Hoyt Corkins ($41,829)
10. Ryan Julius ($34,139)
11. Steve Landfish ($34,139)
12. Antonio Esfandiari ($34,139)
13. Jeff Tims ($28,334)
14. Patrick Cronin ($28,334)
15. Chris Klodnicki ($28,334)
16. David Benyamine ($23,876)
17. Cary Katz ($23,876)
18. Bertrand Grospellier ($23,876)

ESPN.com
Andrew Feldman is ESPN.com's Poker Editor. He is the host of the Poker Edge Podcast and co-host of ESPN Inside Deal. Andrew has covered the poker industry for ESPN since 2004.
SPONSORED HEADLINES
MORE POKER HEADLINES
MOST SENT STORIES ON ESPN.COM
World Series of Poker Coverage

ESPN.com's poker team is bringing you all the action from the 2012 World Series of Poker.
Poker Home
STORIES
RESULTS AND SCHEDULE
POKER EDGE PODCAST
CHATS