Friedman wins first bracelet in stud
From now on, Adam Friedman won't be remembered as the player who broke down in front of the cameras after a devastating 43rd-place finish at the 2005 World Series of Poker main event. Instead, Friedman will be remembered as the man who made an incredible heads-up comeback against Todd Brunson to become a champion at the 2012 World Series of Poker. The 30-year-old professional poker player from Las Vegas won Event 15, the $5,000 seven-card stud high-low split eight-or-better world championship, to earn $269,037 and his first WSOP bracelet.
[+] Enlarge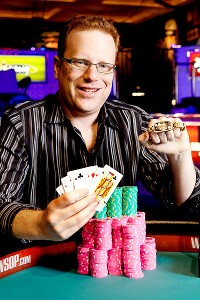 WSOP.comIn his second career WSOP final table appearance, Adam Friedman won his first WSOP bracelet in Event 15.
"I was just fortunate that the cards came my way tonight," said Friedman. "There were other occasions throughout the years where I was chip leader going into the final day, and the cards just basically laughed at me. I mean, it happens from time to time. You know, it took seven years. It could have taken 17 years, or longer, and I'm very happy, at least in some sort of way, to get the monkey off my back."
This was Friedman's second final table in as many years. He finished third in the $1,500 HORSE event in 2011, and instead of getting down on his game, he remained focused on improving it. Playing against Brunson for four hours heads-up well into the middle of the night, he needed everything he could manage to top one of the best stud-eight players in the world.
"Todd's a great player," said Friedman. "He just didn't make a mistake. I caught one pretty fortunate seventh-street card in one hand. Towards probably the last 45 minutes or so, the cards just favored me more than him."
Brunson earned $166,269 for second place and his 33rd career WSOP cash. He also finished seventh at the final table of the $1,500 stud eight event earlier this WSOP.
"Well sorry guys," Brunson said on Twitter. "Came second. Played as good as I could and don't think I would change a single decision. Had a 2-1 chip lead like 5 times."
Friedman was nearly down to the felt a number of times, but the momentum shifted with one key hand nearly two hours into the heads-up match where he made two pair and got maximum value from Brunson, who was leading the betting most of the way. Friedman appeared fresher and more focused later into the night, and made the most out of his big hands.
"Honestly, I was just thinking, 'Don't fall asleep,'" he said. "I just focused and essentially had to match his 'intensity,' so to speak. I really don't like to use that word in poker. I'm just glad the match didn't go on another six hours."
The final table of this event also featured John Monnette, who won Event 10 for his second WSOP bracelet just days before. Monnette finished third and remains among the leaders in the 2012 WSOP Player of the Year race. Phil Ivey finished in seventh at his first final table of 2012.
Other notable finishers include Bryn Kenney (eighth), Phil Hellmuth (15th), Allen Bari (17th), Eli Elezra (19th), Andy Bloch (21st) and Bryan Devonshire (24th).
Below are the complete results of Event 15 at the 2012 World Series of Poker:
Event 15: Seven-card stud high-low split eight-or-better world championship
Buy-in: $5,000
Entries: 212
Prize pool: $996,400
Players in the money: 24

1. Adam Friedman ($269,037)
2. Todd Brunson ($166,269)
3. John Monnette ($109,444)
4. Nikolai Yakovenko ($79,831)
5. Sven Arntzen ($59,395)
6. Zimnan Ziyard ($44,967)
7. Phil Ivey ($34,595)
8. Bryn Kenney ($27,012)
9. Brian Twete ($21,392)
10. Jesse Martin ($21,392)
11. Alexander Krapivinsky ($17,187)
12. Christopher George ($17,187)
13. Nicholas Verkaik ($14,009)
14. Ben Yu ($14,009)
15. Phil Hellmuth ($11,637)
16. Tuan Vo ($11,637)
17. Allen Bari ($9,675)
18. Marco Johnson ($9,675)
19. Eli Elezra ($9,675)
20. John Bunch ($9,675)
21. Andy Bloch ($9,675)
22. Yarron Bendor ($9,675)
23. James Newberry ($9,675)
24. Bryan Devonshire ($9,675)

ESPN.com
Andrew Feldman is ESPN.com's Poker Editor. He is the host of the Poker Edge Podcast and co-host of ESPN Inside Deal. Andrew has covered the poker industry for ESPN since 2004.
World Series of Poker Coverage

ESPN.com's poker team is bringing you all the action from the 2012 World Series of Poker.
Poker Home
STORIES
RESULTS AND SCHEDULE
POKER EDGE PODCAST
CHATS