Randy Ohel wins triple-draw gold
Ohel defeats Benjamin Lazar after six-hour heads-up battle
Benjamin Lazar could feel the bracelet around his wrist. Staring down Randy Ohel and holding a massive 15:1 chip lead heads-up in the $2,500 2-7 triple-draw lowball Event 22, Lazar stood pat after the second draw with Ohel all-in. Both of the players proclaimed they had a 10, meaning a 10 was their highest card, but Ohel's 10-7-6-4-2 proved to be the best hand. This hand was the start of Ohel's not first, not second, but third major comeback during a heads-up confrontation that featured double-digit lead changes. Down to the felt multiple times, Ohel never gave up and after six-hours of major chip swings, he managed to overcome Lazar to earn his first bracelet and the respect of players everywhere. There's a difference between winning a bracelet and earning it. Ohel simply earned this one.
[+] Enlarge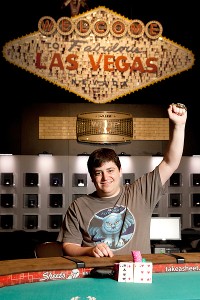 WSOP.comRandy Ohel came back from a 16:1 chip deficit heads-up to win Event 22.
The 26-year-old professional poker player from Las Vegas earned $145,247 for defeating the field of 228 players. It was his fourth career WSOP cash.
"I won it!," said Ohel on Twitter. He then tweeted a picture of his newest piece of jewelry.
Before the start of the final table, the storyline wasn't Ohel or Lazar, but the potential for pros Shawn Buchanan and David Baker to earn their first WSOP bracelets. Both have reached final tables at the WSOP numerous times, but neither has been able to secure a victory. Ohel made sure that this experience for the pair would be no different.
Buchanan began the six-handed final table as the short stack and couldn't improve his position, finishing in sixth at the hands of Lazar. He earned $20,332 in his first cash of the 2012 WSOP and the 30th of his career. Buchanan has finished in the top six at the WSOP a total of six times.
Baker, "The Original" not "Bakes", started the final table as the chip leader, holding a slight edge over three-time bracelet winner Farzad Bonyadi in second. Baker eliminated Bonyadi in fourth, then lost a big pot to Ohel to be reduced to just a few big bets. On his final hand, Baker was all-in against Ohel after the first draw. After he traded one in on the second draw, Ohel pulled two and they showed their hands. Baker had 7-4-3-2 to Ohel's 7-6-5-2 and both players asked for one more card each. Ohel showed a 3, giving him an impressive 7-6-5-3-2. Baker needed some help, but the 4 dealt wasn't what it. Eliminated in third place, Baker earned $59,925, his largest cash since his 17th-place finish in the 2010 WSOP main event.
Ohel's previous best cash came at the L.A. Poker Classic in 2009 where he won the $1,000 buy-in no-limit hold 'em event for $67,325. Since that time, he's had a number of smaller tournament cashes, but nothing like the six-figure score he'll take away from this event.
Triple-draw lowball is a game where each player is dealt five cards and they have three opportunities to draw the best low hand. This version of poker has been played at the WSOP since 1973.
Other notable finishers include Layne Flack (eighth), Josh Arieh (ninth), Nam Le (10th), Barry Greenstein (12th), Bryan Devonshire (13th) and Berry Johnston (17th).
Below are the complete results of Event 22 at the 2012 World Series of Poker:
Event 22: 2-7 Triple-Draw Lowball
Buy-in: $2,500
Entries: 228
Prize pool: $518,700
Players in the money: 24

1. Randy Ohel ($145,247)
2. Benjamin Lazer ($89,714)
3. David Baker ($59,925)
4. Farzad Bonyadi ($40,987)
5. Jason Lavallee ($28,585)
6. Shawn Buchanan ($20,332)
7. Von Altizer ($14,725)
8. Layne Flack ($14,725)
9. Josh Arieh ($10,970)
10. Nam Le ($10,970)
11. Julie Schneider ($8,169)
12. Barry Greenstein ($8,169)
13. Bryan Devonshire ($6,250)
14. Brian Brubaker ($6,250)
15. Daniel Idema ($6,250)
16. Stuart Rutter ($6,250)
17. Berry Johnston ($6,250)
18. Frederick Li ($6,250)
19. Thomas Keller ($4,782)
20. Bryce Yockey ($4,782)
21. Allen Kessler ($4,782)
22. Benjamin Lukas ($4,782)
23. Drew Boyett ($4,782)
24. Alex Balandin ($4,782)

ESPN.com
Andrew Feldman is ESPN.com's Poker Editor. He is the host of the Poker Edge Podcast and co-host of ESPN Inside Deal. Andrew has covered the poker industry for ESPN since 2004.
World Series of Poker Coverage

ESPN.com's poker team is bringing you all the action from the 2012 World Series of Poker.
Poker Home
STORIES
RESULTS AND SCHEDULE
POKER EDGE PODCAST
CHATS
MOST SENT STORIES ON ESPN.COM