Joe Cassidy shines in WSOP win
Defeats Scotty Nguyen and Phil Ivey in final table to win first bracelet
The lineup at the final table of the $5,000 Omaha high-low split eight-or-better world championship could've represented a dream final table that a fan had created. At the final table was the most dominant player in the world in Phil Ivey and a former world champion in Scotty Nguyen. There were two pros whose games are considered truly elite in Joe Cassidy and Mike Matusow. There was Ryan Lenaghan, who entered the spotlight with his deep main-event run in 2011. There were three players who specialized in the game in Bart Hanson, Greg Jamison and Elie Doft, and finally, a veteran looking for his second bracelet in Meng La. No matter what seat you chose, there was a great story of how their career had brought them to this moment in time.
[+] Enlarge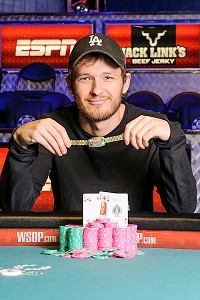 WSOP.comJoe Cassidy has $1.8 million in career tournament earnings.
Of course, even with eight other established players at the table, the focus was always on Ivey. Making his third final table in a period of six days (previously finishing second and seventh), Ivey held the chip lead for most of the final day. With bracelet No. 9 on his mind, not to mention the minds of poker fans everywhere, fans in Vegas headed to the Rio while tens of thousands at home watched the action online at WSOP.com.
"If you're a no-name golfer and it's you and Tiger Woods on the final nine on the fourth day of a major, you don't expect to have everybody cheering for you," said Cassidy. "People are going to go crazy for him, because they know him and he's a loved player.
Although the attention was on Ivey, Cassidy may have had the most motivation to win. After numerous close calls on the tournament felt in the past, he worked his way through the final table to win his first major live tournament and put the minds of those with bracelet bets with Ivey at ease. Cassidy, primarily a cash-game player, earned $294,777, giving him $1.8 million in tournament earnings for his career.
"You know, it's kind of one of those things where I think it means more to people outside of poker," Cassidy said of the bracelet. "Inside of poker, it means a lot, too, but in terms of talking about it, when you say what you do for a living, or talking to your family, they always want to know if you have a gold bracelet. Now I think it kind of validates me outside of poker in a way. I think people already knew I was a good player, and I didn't need to prove that to anyone, but just to have that on the résumé means something that way."
Cassidy held the chip lead entering the final table with Ivey right behind. For most of the night, those two were consistently he top two in chips with a significant divide between their stacks and the competition. The short stacks headed home early: Lenaghan went out first in ninth, then Matusow, Hanson, Doft and Jamison.
Four-handed action was the true turning point at the final table.
Even though La wasn't a real factor given his short stack, he did start the bleeding from Ivey's stack. Cassidy seized the opportunity, and after La's elimination he had the chip lead. In his way of a first bracelet stood two players with a combined 13, and he enjoyed the challenge.
"You know, it's great to play with players like that," he said of his competition. "You learn a lot watching them and seeing some of the little things they do in hands and things that you might not think to do in tournaments. Just a great experience as a poker player. … You think about … how many times they've been there and how much experience they have in those situations. Obviously, [Scotty and Phil are] both winners and they both can get the job done. So it kind of forced me to elevate my play a little bit."
Cassidy entered three-handed play with Ivey slightly behind and Nguyen a more distant third. In what seemed like moments later, Cassidy was the short stack looking up at Nguyen and Ivey. The three players traded pots for hours until Cassidy finally finished off Ivey in third. Ivey's three final tables have been worth a combined $446,200. He is currently ranked No. 1 on the 2012 money list and also No. 1 in the 2012 Player of the Year race.
Heads-up play was delayed until the following day, and Cassidy entered the action with nearly a 4:1 lead. Nguyen never gave up, but he wasn't able to turn the tables throughout the match. Cassidy denied Nguyen any openings and eliminated the five-time bracelet winner with a rivered straight against Nguyen's two pair.
Nguyen earned $182,213, giving him more than $5 million in career WSOP earnings. This was his 41st career cash.
Other notable finishers include Dan Kelly (12th), Brian Hastings (16th) and Alex Dovzhenko (23rd).
Below are the complete results of Event 24 at the 2012 World Series of Poker:
Event 24: Omaha high-low split eight-or-better
Buy-in: $5,000
Entries: 256
Prize pool: $1,203,200
Players in the money: 27

1. Joe Cassidy ($294,777)
2. Scotty Nguyen ($182,213)
3. Phil Ivey ($136,046)
4. Meng La ($102,260)
5. Gregory Jamison ($77,342)
6. Elie Doft ($58,873)
7. Bart Hanson ($45,084)
8. Mike Matusow ($34,748)
9. Ryan Lenaghan ($26,940)
10. Andreas Krause ($21,020)
11. Mike Wattel ($21,020)
12. Dan Kelly ($21,020)
13. Brendan Taylor ($16,544)
14. Robert Stevanovski ($16,544)
15. James Hoeppner ($16,544)
16. Brian Hastings ($13,031)
17. Viacheslav Zhukov ($13,031)
18. Ismael Bojang ($13,031)
19. Jeremy Harkin ($10,348)
20. Frank Russomanno ($10,348)
21. Matthew Wood ($10,348)
22. Stephen Chidwick ($10,348)
23. Alex Dovzhenko ($10,348)
24. Matt Lefkowitz ($10,348)
25. Michael Kleist ($10,348)
26. John Guth ($10,348)
27. Raymond Davis ($10,348)

ESPN.com
Andrew Feldman is ESPN.com's Poker Editor. He is the host of the Poker Edge Podcast and co-host of ESPN Inside Deal. Andrew has covered the poker industry for ESPN since 2004.
World Series of Poker Coverage

ESPN.com's poker team is bringing you all the action from the 2012 World Series of Poker.
Poker Home
STORIES
RESULTS AND SCHEDULE
POKER EDGE PODCAST
CHATS
MOST SENT STORIES ON ESPN.COM