Brian Meinders wins limit shootout
New Jersey poker pro captures his first WSOP bracelet
It's a story told all too often among these bracelet recaps, but it's one of the best stories that could possibly fill this space. It's a story of perseverance, dedication and heartbreak, but in the end, there's redemption and a whole lot of money and fame. Brian Meinders is the latest to share in one of the greatest poker stories around.
Just like so many of his fellow bracelet winners so far in 2012, Meinders won the bracelet in the $1,500 limit hold 'em shootout after a painful second-place finish on the WSOP felt just years ago. He finished second to Dutch Boyd in the $2,500 limit event in 2010, and at his next final table appearance, he wouldn't settle for anything but first. The professional poker player from New Jersey defeated the field of 366 players to win $116,118, his third-best career score.
"It was probably the saddest I've been to win [after winning] $1,000," Meinders joked about his second-place finish. "I didn't realize how much I wanted [the bracelet] until last time, when I came up this short. And I'm happy to have it this time around."
Event 25 was a shootout event, meaning that in order to win, you must defeat all of your opponents at three tables in a single-table tournament format. Meinders had no problem doing so, despite an incredibly tough final table that included Victor Ramdin, two-time bracelet winner Brock Parker, Matthew Schreiber and Ian Johns.
[+] Enlarge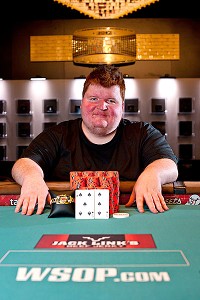 WSOP.comProfessional poker player Brian Meinders has $459,111 in career tournament earnings.
There was a strong divide among the players by the fourth level of the final table. While Christopher Vitch, Meinders, and Darin Thomas were able to build stacks, their opponents struggled and ultimately found a quick demise. Meinders did most of the damage, eliminating Johns (ninth), Sean Rice (eighth), Preston Derden (sixth), Parker (fifth) and Ramdin (fourth). The bracelet-less Ramdin earned $37,897 in his fourth cash of the 2012 WSOP and 31st of his career.
Vitch entered three-handed play as the chip leader and was also the third-place finisher. Meinders did most of the damage to Vitch's stack, and Thomas finished the job after a strange hand that included a five-bet by Thomas with J-2 that committed Vitch's stack (with K-5). The flop brought a two and Thomas was heads-up with Meinders for the bracelet. Vitch went home with $51,861.
Meinders wouldn't let his second heads-up opportunity at the WSOP pass him by. He immediately surged to a 4:1 chip lead, and although Thomas did his best to stay within striking distance, Meinders dominated the action and captured the gold.
Meinders faced three tables and earned three victories. Despite the fewer number of players compared to many other events at the WSOP, winning a shootout is incredibly difficult.
"I'd say that the format necessitates a more complete skill set here, because if you're playing a regular tournament, you only need to play short-handed at the very end of it. You only need to play heads-up at the very end of it," said Meinders. "In order to win a shootout, you need to win three tables. That means you need to play full ring for a while, then you need to play short-handed, and then finally you need to play heads-up successfully. It makes it a lot harder to get lucky at the one part of the game where maybe you're weaker."
For three days, Meinders didn't show any weaknesses, and he'll head back to his regular poker rooms at the Borgata and Parx Casinos with a great story to tell.
Below are the complete results of Event 25 at the 2012 World Series of Poker:
Event 25: Limit hold 'em shootout
Buy-in: $1,500
Entries: 366
Prize pool: $494,100
Players in the money: 50

1. Brian Meinders ($116,118)
2. Darin Thomas ($71,704)
3. Christopher Vitch ($51,861)
4. Victor Ramdin ($37,897)
5. Brock Parker ($27,986)
6. Preston Derden ($20,886)
7. Matthew Schreiber ($15,747)
8. Sean Rice ($11,992)
9. Ian Johns ($9,225)
10. Christopher Hartman ($7,164)
11. Daniel Walker ($3,088)
11. Hooman Nikzad ($3,088)
11. Blake Cahail ($3,088)
11. Millie Shiu ($3,088)
11. Justin Bonomo ($3,088)
11. Brandon Meyers ($3,088)
11. Jason Papastavrou ($3,088)
11. Tom Koral ($3,088)
11. Michael Reed ($3,088)
11. Byron Kaverman ($3,088)
11. Harry Bolger ($3,088)
11. Jim Geary ($3,088)
11. Chris McClung ($3,088)
11. Jerid Zewin ($3,088)
11. Matt Matros ($3,088)
11. Stephanie Nguyen ($3,088)
11. Chad Layne ($3,088)
11. Fabio Khouri ($3,088)
11. Scott Seiver ($3,088)
11. Mike Thorpe ($3,088)
11. Xavier Kyablue ($3,088)
11. Todd Jackson ($3,088)
11. J.J. Liu ($3,088)
11. Joseph Couden ($3,088)
11. Brian Aleksa ($3,088)
11. Jared Mahoney ($3,088)
11. Alexander Keating ($3,088)
11. Robert Albrecht ($3,088)
11. Juijen Chang ($3,088)
11. Jesse Yaginuma ($3,088)
11. Thomas Corrigan ($3,088)
11. Roland Israelashvili ($3,088)
11. Omar Mehmood ($3,088)
11. Jon Spinks ($3,088)
11. Tom Hang ($3,088)
11. Leonid Bilokur ($3,088)
11. Matt Sterling ($3,088)
11. Mike Leah ($3,088)
11. Ari Engel ($3,088)
11. Greg Mueller ($3,088)

ESPN.com
Andrew Feldman is ESPN.com's Poker Editor. He is the host of the Poker Edge Podcast and co-host of ESPN Inside Deal. Andrew has covered the poker industry for ESPN since 2004.
SPONSORED HEADLINES
MORE POKER HEADLINES
MOST SENT STORIES ON ESPN.COM
World Series of Poker Coverage

ESPN.com's poker team is bringing you all the action from the 2012 World Series of Poker.
Poker Home
STORIES
RESULTS AND SCHEDULE
POKER EDGE PODCAST
CHATS