Wright wins, donates to charity
Wright defeats Michael Mizrachi, Erick Lindgren and Brandon Cantu at final table
For 37 years, Larry Wright traveled from his ranch in Texas to the World Series of Poker in Las Vegas. The tournaments didn't bring him there, the cash games did. Wright played in a limited number of bracelet events throughout his career and has been more active than usual in them in 2012. After some recent near cashes, he opted to enter Event 30 in 2012, $1,500 2-7 draw Lowball. After two days of play in a game in which he didn't have the most experience, he was at the final table and up against some true stars of the game. But it wasn't Michael Mizrachi, Andrew Lichtenberger, Brandon Cantu, Rep Porter or Ryan Tepen who claimed the gold bracelet on Father's Day; it was Larry Wright.
[+] Enlarge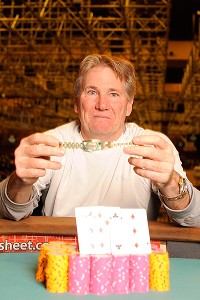 WSOP.comLarry Wright earned $101,975 with his Event 30 victory.
"This event here wasn't that big, but it was a who's who field," said Wright. "I was pretty intimidated at every table. So I just stayed patient and it was almost like it was meant to be that I would win this on Father's Day."
Wright has been playing poker part-time since age 22. He made his first WSOP final table at a pot-limit Omaha high-low split event in 2008 (eighth) and has 10 career WSOP cashes. Wright earned $101,975 with his victory over the field of 285. However, the money isn't going anywhere near Texas.
"The majority of this is going to the Sudan in Africa," he said after his victory. "We have a missionary friend, and we're going to sponsor a couple houses and a water well being built there. I said if I win an event, that's where the money is going."
Supported by a large group of friends and family, Wright entered the seven-handed final table sixth in chips. Tepen (seventh), Porter (sixth) and Lindgren (fifth) fell during the first few hours of play, and during that time, Wright just maintained his ground at the bottom of the chip counts. Mizrachi went from first with six left to out in fourth. Immediately after his elimination, Wright made his move and doubled up on back-to-back hands. He grabbed the chip lead a short time later and simply rolled from that point on. He eliminated Lichtenberger in third and gradually wore down Cantu heads-up before finally pulling a 9-8-7-4-3 to Cantu's Q-10-9-6-3.
Cantu has now finished second and third at the 2012 WSOP. He earned $63,048 for his runner-up performance in Event 30.
Other notable finishers include Bryan Devonshire (ninth), Erik Seidel (13th) and Jennifer Harman (19th).
Below are the complete results of Event 30 at the 2012 World Series of Poker:
Event 30: 2-7 draw lowball
Buy-in: $1,500
Entries: 285
Prize pool: $384,750
Players in the money: 35

1. Larry Wright ($101,975)
2. Brandon Cantu ($63,048)
3. Andrew Lichtenberger ($41,445)
4. Michael Mizrachi ($28,198)
5. Erick Lindgren ($19,676)
6. Rep Porter ($14,078)
7. Ryan Tepen ($10,318)
8. John Phan ($7,748)
9. Bryan Devonshire ($5,955)
10. Stuart Rutter ($5,955)
11. Konstantin Puchkov ($5,955)
12. Brian Brubaker ($4,682)
13. Erik Seidel ($4,682)
14. Michael Benvenuti ($4,682)
15. Jesse Martin ($3,762)
16. Michael Smith ($3,762)
17. Bradley Libson ($3,762)
18. Richard Castro ($3,762)
19. Jennifer Harman ($3,762)
20. Hasan Habib ($3,762)
21. Shunjiro Uchida ($3,762)
22. Charalampos Lappas ($3,124)
23. Mark Johns ($3,124)
24. Dario Alioto ($3,124)
25. Scott Fischman ($3,124)
26. Leo Margets ($3,124)
27. Steven Hansen ($3,124)
28. Aaron Steury ($3,124)
29. Anton Makiievskyi ($2,593)
30. Chris Swan ($2,593)
31. Bryan Micon ($2,593)
32. Galen Hall ($2,593)
33. David Sklansky ($2,593)
34. Mark Trombley ($2,593)
35. Philippe Narboni ($2,593)

ESPN.com
Andrew Feldman is ESPN.com's Poker Editor. He is the host of the Poker Edge Podcast and co-host of ESPN Inside Deal. Andrew has covered the poker industry for ESPN since 2004.
World Series of Poker Coverage

ESPN.com's poker team is bringing you all the action from the 2012 World Series of Poker.
Poker Home
STORIES
RESULTS AND SCHEDULE
POKER EDGE PODCAST
CHATS