'Boom!' Tryba wins first bracelet
Phil Ivey makes fifth final table of 2012 WSOP, but finishes eighth
How would you like to win the final hand that awarded you your first WSOP bracelet? Would you want the sweat of being all-in preflop in a race situation against a guy like Phil Hellmuth and river the card you needed? Would you want to make the right call against a bluffing Daniel Negreanu for all of the chips? Or would you prefer your opponent move all-in on the river with the nut straight while you held the unbeatable straight flush? For tournament veteran Chris Tryba, the last highly unlikely hypothetical became his reality Wednesday night as he captured the Event 35, $2,500 mixed hold 'em, bracelet. Tryba hit a straight flush on the river, and his opponent, bracelet winner Erik Cajelais, moved all-in. Tryba gave a smile to the rail, screamed "Straight flush, baby!" and it was all over. After years of dedication on the live and virtual felt, Tryba earned his first WSOP bracelet and $210,107.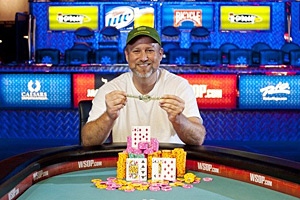 PokerNews/WSOP.comChris "indariva" Tryba captured his first WSOP bracelet in Event 35.
"I was looking over at my buddy and I knew (Cajelais) was going to raise," Tryba said of the final hand. "I was looking at him, and I knew he wasn't looking at me. I was like, 'This is it. It's all going in right here, and I know he can't beat me. This is awesome. This is unbelievable that this is going to happen.'
"Erik played great. They all played great. It was an unbelievable final table. I just had to keep on keepin' on. Sometimes it went well, sometimes it went poorly. I just ended up really good. … It feels really good. … It's some validation."
Tryba has made some changes in his life of late, including losing more than 60 pounds thanks to a strict juice regimen. He wanted to become healthier; he wanted to be remembered; he wanted a bracelet. Before Event 35, Tryba managed two other cashes,10th and 17th, in two seven-card stud variations after being among the chip leaders in both once the field hit the money. The final results frustrated him. He then found himself in a bit of a rut, prompting him to say on his blog on June 18, "After some early NEAR success, I've hit the ice zone. … Its times like this I find myself in constant struggle."
Just a few hours after posting these remarks, he registered for Event 35, and as he posts to all his friends in the poker world on Twitter, he would try and "booooom it!" The event featured a mixed hold 'em format, and every 30 minutes the game rotates from limit hold 'em to no-limit hold 'em. After two days of play, the field of 393 was down to nine, but only one player was receiving the majority of attention.
Tryba entered the final table fifth in chips, but just like in Events 15, 17, 24 and 32, the focus wasn't on the eventual champion, but the man who many consider the best poker player in the world, Phil Ivey. The spectators cheered louder for Ivey during introductions than anyone else, and many believed that this fifth final table this WSOP would lead to his ninth bracelet. Ivey got off to a great start, but he took a brutal beat with 8-8 against the 6-2 of Samuel Goldbuff (all-in preflop) and was eliminated shortly after in eighth place. Ivey earned $21,699 from this finish, giving him a total of $572,933 in winnings at the 2012 WSOP.
With Ivey out of the picture, the table seemed to open up a bit. Goldbuff eliminated Brent Wheeler in seventh, then donated the majority chips to Tryba in a big limit hand and was out next in sixth. Salman Behbehani won a race in no-limit (6-6) against Event 21 champion Michael Gathy (Q-J) to eliminate him in fifth, and as the game changed to limit hold 'em, Tryba capitalized on his strength to build his stack.
Cajelais knocked out Joep van den Bijgaart in fourth, and a half-hour later, Tryba rivered trips to end Behbehani's tournament hopes in third. Cajelais had been heads-up for the bracelet before, emerging victorious with his first bracelet in 2009 after finishing second in a pot-limit Omaha event in 2007. Tryba was making his third final table appearance but had never finished higher than seventh on the WSOP felt. Given the way both had played, it seemed the match would last for a while … not one hand.
Cajelais, facing a 2:1 deficit to begin heads-up play, raised to start the action in no-limit, and Tryba called. The flop was Qd-9c-4s. Tryba checked, Cajelais bet and Tryba quickly called. The turn was the Jd and the action remained the same; Tryba checked, Cajelais bet, Tryba called. The river brought the 8d, completing all kinds of draws. To Cajelais' surprise, Tryba led out.
"I led into him and I was hoping he was just going to let loose," said Tryba, recalling the hand. "I was really hoping he had a big enough hand to come over the top. If I check-raise him, it looks way stronger and he might get away from the king-high straight he had. He had a really big hand too. You can't really fault Erik for getting all his chips in there. It's just crazy that I had a straight flush. I could have a flush, I could have a full house, but when I led, it probably looked a lot weaker, and I was really hoping he would take the bait. It's the only time this whole tournament I led into a river like that.
"It was just the right move at the right time. I think the reason why I exploded like I did was because I was sitting there for three minutes trying not to show anything and hoping he's going to light it up. When he lit it up, I just exploded. It felt great, man."
The Canadian Cajelais earned $129,766. He has $2.7 million in career tournament earnings.
Hours after the win, Tryba, also known as "indariva" online, posted on PartTimePoker, "Tears in my eyes … amazin! Wow!" Supported by forums and Twitter, the victory is the culmination of his life as a player without the big win. The next stage of his career begins now, but besides the boost in bankroll, he doesn't plan on changing much. He'll continue to mouth off to his opponents to try and get under their skin while keeping the game fun. He'll continue to grind, looking for his next "one time." He'll continue to wear a plain white t-shirt and John Deere hat to all of the events he plays, but now, if he wants to, he can cap off his attire with something truly special to put around his wrist.
Other notable finishers include James Dempsey (11th), Andre Akkari (15th), Shannon Shorr (16th) and Huck Seed (19th)
Below are the complete results of Event 35 at the 2012 World Series of Poker:
Event 35: Mixed hold 'em
Buy-in: $2,500
Entries: 393
Prize pool: $894,075
Players in the money: 45

1. Chris Tryba ($210,107)
2. Erik Cajelais ($129,766)
3. Salman Behbehani ($93,842)
4. Joep van den Bijgaart ($68,576)
5. Michael Gathy ($50,640)
6. Samuel Golbuff ($37,793)
7. Brent Wheeler ($28,494)
8. Phil Ivey ($21,699)
9. Michael Foti ($16,692)
10. Jeremy Ausmus ($12,964)
11. James Dempsey ($12,964)
12. Anton Kunikeyev ($12,964)
13. Simon Lam ($10,219)
14. John MacDonald ($10,219)
15. Andre Akkari ($10,219)
16. Shannon Shorr ($8,056)
17. Michael Scarborough ($8,056)
18. Robert Ferdinand ($8,056)
19. Huck Seed ($6,437)
20. Konstantin Puchkov ($6,437)
21. Randy Jacks ($6,437)
22. Michael Malm ($6,437)
23. Ian Johns ($6,437)
24. Stan Jablonski ($6,437)
25. Joshua Chait ($6,437)
26. Erle Mankin ($6,437)
27. Debra Wilson ($6,437)
28. Richard Brodie ($5,195)
29. Steven Goldberg ($5,195)
30. David Williams ($5,195)
31. Guang Lu ($5,195)
32. Leonid Bilokur ($5,195)
33. David Baker ($5,195)
34. Nicholas Derke ($5,195)
35. Andrey Zaichenko ($5,195)
36. Randy Lew ($5,195)
37. Timothy Sullivan ($4,229)
38. Jeff Lisandro ($4,229)
39. John Sidoni ($4,229)
40. Giancarlo Antonetti ($4,229)
41. Richard Hoffmaster ($4,229)
42. Ted Jivkov ($4,229)
43. Gabriel Nassif ($4,229)
44. Timothy Kane ($4,229)
45. Dan Harrington ($4,229)

ESPN.com
Andrew Feldman is ESPN.com's Poker Editor. He is the host of the Poker Edge Podcast and co-host of ESPN Inside Deal. Andrew has covered the poker industry for ESPN since 2004.
SPONSORED HEADLINES
MORE POKER HEADLINES
MOST SENT STORIES ON ESPN.COM
World Series of Poker Coverage

ESPN.com's poker team is bringing you all the action from the 2012 World Series of Poker.
Poker Home
STORIES
RESULTS AND SCHEDULE
POKER EDGE PODCAST
CHATS