David Baker wins eight-game mix
Similar names in the poker world often cause havoc for the media. For instance, if I were to start traveling the poker tour, reporters would need to differentiate between the British Andrew Feldman and yours truly. While the situation with my name isn't likely to become a reality, the David Baker challenge already exists today. Just days ago, David "Bakes" Baker, won his second bracelet in the $10,000 HORSE event. At that time, "Bakes" was the only David Baker with a bracelet and although both players have recorded consistent success over the past few years, differentiating the two was at least a little bit easier by referencing that one major difference.
Well, not anymore.
"The Original" David Baker won his first bracelet in the $2,500 eight-game mixed Event 37, defeating one of his good friends, two-time bracelet winner Greg Mueller, heads-up for the title. Baker, a professional poker player Katy, Tex., had waited a long time for this moment after numerous deep runs at the WSOP, including his third third-place finish in Event 22 a week ago. This victory, worth $271,312, was his third cash of the 2012 WSOP and his 28th since 2006.
[+] Enlarge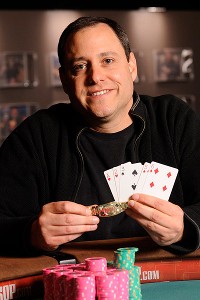 WSOP.comDavid Baker captured his first bracelet in Event 37 of the 2012 WSOP.
"It feels amazing," Baker said after his win. "I've always known that if I just kept getting there and kept giving myself shots that I would run well late in the tournament, and that's basically what happened. I got short in this one, actually I had a lot of chips starting at the final table, and things didn't really go my way kind of midway through the final table. I think my experience really helped when I got short."
The eight-game mixed event includes a rotation of hold 'em, Omaha high-low split, razz, seven-card stud, seven-card stud high-low split, 2-7 triple draw lowball, pot-limit Omaha, and no-limit hold 'em.
Throughout his career, Baker had secured cashes in just about all of these variations. The well-rounded pro outlasted the field of 477, and while many say heads-up play is perhaps the toughest portion, it was even tougher this time around with Mueller staring him down on the other side of the table.
The final day of the event started with 27 of the most skilled players in the world. Barry Greenstein, Jeff Madsen, Jennifer Harman, Scott Seiver and Freddy Deeb all failed to make the eight-handed final table and as the cameras started rolling for WSOP.com's live stream, it was already late in the day in Vegas. 2011 bracelet winner Chris Viox went out in eighth at the hands of 1998 bracelet winner Donnacha O'Dea in seven-card stud high-low round. Mueller eliminated Christopher McHugh moments later and moved into the lead that he'd hold for nearly a day.
O'Dea eliminated 2010 bracelet winner Kostantin Puchkov in sixth (in the 2-7 round). The cash was Puchkov's seventh of the 2012 WSOP and first final table of the year. Kevin Calenzo made his move at this time and knocked out O'Dea in fifth in the stud round. Mueller continued running over the table and finished off Joseph Couden in fourth.
Calenzo put up a fight, but the 2012 WSOP Circuit Las Vegas champion couldn't avoid the wrath of Mueller who continued to run hot. After 475 eliminations, it was down to two good friends to fight it out for the bracelet. Mueller held a massive lead, but Baker didn't give up. After a few levels of heads-up play, the action was halted for the night and the two would return the following day to crown a champion. Mueller still held the chip lead with 2.6 million to Baker's 925,000.
"Heads up with one of my best friends in poker @GregFBT. He's got me crushed in chips," said Baker on Twitter. "It's a day like this that gets us up everyday to flock to the Rio 45 straight days. Pumped, focused, and ready to give it my all!"
"I feel the exact same! [Good] luck Davey!," responded Mueller.
When asked if it was easier or harder to play against Mueller, Baker explained both sides of the coin. "Easier," he said to ESPN.com. "I know his game well and if I lose, he wins, so all is good. Harder, because he plays really well."
As both players returned to the felt, the friendship was put aside as both focused on personal preservation. Baker had a game plan and followed through, doubling up early and drawing well from there.
"I really felt that if I could just win a couple pots early that I would have a really good chance of taking it home," said Baker. "I had a lot of people who don't really understand the dynamics of how fast things can change say, 'How are you going to overcome such a big lead?' I basically looked at it as I had 900,000, and so one of two things had to happen: Either he had to win 900,000 first to bust me, or I had 900,000 and I had the cheap lead. So, whoever had the 900,000 first was going to be a favorite to get it. That was my first goal, just win 900,000 before he did, and I did. Then I caught some good cards, and I definitely got better cards than him in the last 30 minutes. He was kind of hamstrung by his hands and I had some real good opportunities and I finally ran good."'
As well as Baker ran, Mueller was feeling the pain of a cold deck. After a pivotal razz hand where Baker made a A-2-4-5-8 to Mueller's A-4-5-7-8, he closed out the tournament with exhilaration. Mueller, dejected, shook Baker's hand and left the final table area. As the customary winner's photo was being completed, Mueller returned, but not as a competitor, but a friend.
He and Baker embraced and celebrated. According to Nolan Dalla of the WSOP, "Mueller explained that he simply wanted to 'be there' for his friend. He wanted to share a special once-in-a-lifetime moment of triumph for someone special. He put aside his own pain and disappointment, never showing the least bit of regret about what had happened just moments earlier. Mueller went on to describe that he thought it was important to demonstrate that even though he'd lost, he was glad his friend had won. That victory was a special moment to be shared together."
"Big congrats to good friend @audavidb on his first WSOP bracelet," said Mueller on Twitter. "He always comes to play, never gives up, no matter what! Well deserved bud!"
Mueller will have to wait for another opportunity to win his third, but when he has that opportunity, it's clear that unless Baker is at the table with him, he'll be on the rail watching.
"The Original" finally earned the bracelet he's been waiting for and now, the challenge is once again on the media who will have to find a new way to differentiate the two tremendous talents that bear the same name.
Other notable finishers include Scott Seiver (15th), Jennifer Harman (16th), Freddy Deeb (19th), Barry Greenstein (21st) and Jeff Lisandro (48th).
Below are the complete results of Event 37 at the 2012 World Series of Poker:
Event 37: Eight-game mix
Buy-in: $2,500
Entries: 477
Prize pool: $1,085,175
Players in the money: 48

1. David Baker ($271,312)
2. Greg Mueller ($167,637)
3. Kevin Calenzo ($106,564)
4. Joseph Couden ($76,841)
5. Donnacha O'Dea ($56,277)
6. Konstantin Puchkov ($41,844)
7. Christopher McHugh ($31,578)
8. Chris Viox ($24,188)
9. Mikal Blomlie ($18,795)
10. Stephen Su ($18,795)
11. Rep Porter ($14,823)
12. Johannes Holstege ($14,823)
13. Matt Hawrilenko ($11,850)
14. Michael Chow ($11,850)
15. Scott Seiver ($9,603)
16. Jennifer Harman ($9,603)
17. Calvin Anderson ($7,900)
18. Matthew Rasco ($7,900)
19. Freddy Deeb ($7,900)
20. Jerrod Ankenman ($7,900)
21. Barry Greenstein ($7,900)
22. Tim Burt ($7,900)
23. Steve Sung ($7,900)
24. Chris McClung ($7,900)
25. Steve Zolotow ($6,587)
26. Jeff Madsen ($6,587)
27. Cory Zeidman ($6,587)
28. Daniel Idema ($6,587)
29. Gavin Griffin ($6,587)
30. Brandon Shack-Harris ($6,587)
31. Jean Gaspard ($6,587)
32. Scott Abrams ($6,587)
33. Max Pescatori ($5,599)
34. Kyle Bowker ($5,599)
35. Mark Gregorich ($5,599)
36. John D'Agostino ($5,599)
37. Bruno Fitoussi ($5,599)
38. Omar Mehmood ($5,599)
39. Noah Schwartz ($5,599)
40. Ylon Schwartz ($5,599)
41. Tom Koral ($4,763)
42. Chris Bjorin ($4,763)
43. Daniel McGrew ($4,763)
44. Francesco Barbaro ($4,763)
45. Peter Mavro ($4,763)
46. W Staufeneger ($4,763)
47. Tyson Marks ($4,763)
48. Jeff Lisandro ($4,763)

ESPN.com
Andrew Feldman is ESPN.com's Poker Editor. He is the host of the Poker Edge Podcast and co-host of ESPN Inside Deal. Andrew has covered the poker industry for ESPN since 2004.
World Series of Poker Coverage

ESPN.com's poker team is bringing you all the action from the 2012 World Series of Poker.
Poker Home
STORIES
RESULTS AND SCHEDULE
POKER EDGE PODCAST
CHATS