Bardah finds balance and bracelet
"In this poker world there's a lot of scum and a lot of things you've got to dodge. I just got a heart of gold and a good name, so I have a lot of people that are friends of mine. I formed a big team of friends; almost like a poker family." -- Ronnie Bardah
On Saturday, June 23, that massive poker family showed up at the Rio to support Ronnie Bardah at the final table of the $2,500 six-handed limit hold 'em event. Bardah's journey over the past few years spans well beyond the typical poker story that involves recovering from leaks and bad bankroll management. Instead, Bardah battled through health issues that forced him to take a new approach to his life and when the 29-year-old held up the bracelet on Saturday night, it was time for the "family" to embrace his efforts and celebrate.
Bardah defeated the field of 302 in Event 40 to win the $182,088 top prize. This was the Brockton, Mass., native's first WSOP final table and third WSOP cash. Bardah was relieved to get his hands on the bracelet after playing professionally for the past nine years.
[+] Enlarge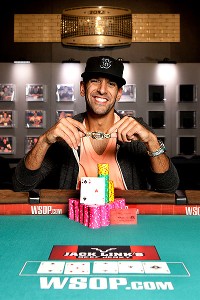 WSOP.comRonnie Bardah won his first WSOP bracelet in Event 40 of the 2012 WSOP.
"Nothing against the WPT or the EPTs or the APPTs or the Heartland Poker Tours -- those are all great tours and everything. This is just the highest step," Bardah said to the WSOP. "Especially in Vegas, to win a bracelet, there's no asterisk next to it. The structures are great. You're playing with the best in the world. Everybody makes it out to the WSOP. … The best limit players in the world are playing."
Televised poker fans might remember Bardah from his appearances during ESPN's broadcast of the 2010 WSOP main event, and it was during that tournament that Bardah's life changed forever. The night before the final day of play in July, Bardah wasn't resting, presumably like the rest of his competition, but instead, he was in the emergency room fighting symptoms of an undetermined illness.
"I went into the emergency room with something," he said. "If I told you things that were going on -- I was infected by the evils. I had a flu at first. When the flu went away, I had numbness on my face on one side. And I thought it was something bad, but it kept going for months and months. It kept triggering everywhere. My face was going numb, my lips, my hands. I would have heart palpitations. They thought I had anxiety, all this other stuff, and they could never diagnose me. … I was really feeling like I was dying for about a year and a half."
Determined to feel better and baffled by the lack of a diagnosis, Bardah made efforts to live a healthier lifestyle. He moved to Thailand where he pursued Muay Thai which helped him find balance in his life. For the last "seven or eight months," Bardah has been symptom-free and he returned to Las Vegas this summer ready to go. He failed to cash in his first event, but his second event of the year resulted in the professional life-changing moment he'd been waiting for.
"I pick and choose tournaments to play. It is expensive," said Bardah. "The times I do play, I feel fresh and ready to go. Balance is the key. When you have balance in your life, when you're playing poker everything's pretty much clear."
Bardah displayed that balance throughout the Event 40 final table, where he began second in chips behind Vincent Gironda. Gironda knocked out Hans Minocha in sixth and Bardah knocked out Sorel Mizzi in fifth and Brent Wheeler in fourth. This was Mizzi's 21st career WSOP cash and Wheeler's second final table of the 2012 Series.
Marco Johnson eliminated Gironda in third and held a small chip lead over Bardah to start heads-up play. For 50 minutes, Bardah won the key confrontations and on the final hand, Bardah avoided Johnson's flush draw to capture the Event 40 title. Johnson, earning $112,525, has the unfortunate honor of being a two-time WSOP runner-up.
The crowd swarmed Bardah as he sat behind a pile of chips and his new bracelet. After a tumultuous two years, his recovery culminated with a victory that was applauded by many in the poker community. Bardah had found the balance he was searching for and through his determination, has earned his place in poker history.
Other notable finishers include Chad Brown (ninth), Maria Ho (11th) and Dan Shak (21st).
Below are the complete results of Event 40 at the 2012 World Series of Poker:
Event 40: Six-handed limit hold 'em
Buy-in: $2,500
Entries: 302
Prize pool: $687,050
Players in the money: 36

1. Ronnie Bardah ($182,088)
2. Marco Johnson ($112,525)
3. Vincent Gironda ($73,040)
4. Brent Wheeler ($48,828)
5. Sorel Mizzi ($33,541)
6. Hans Minocha ($23,648)
7. Terrence Chan ($17,107)
8. Rep Porter ($17,107)
9. Chad Brown ($12,682)
10. Joep van den Bijgaart ($12,682)
11. Maria Ho ($9,362)
12. Jacob Petersen ($9,362)
13. Yosuke Sekiya ($7,495)
14. Harrison Wilder ($7,495)
15. Michael Senter ($7,495)
16. Christopher Roth ($7,495)
17. Richard Alsup ($7,495)
18. Michael Parizon ($7,495)
19. Steven Kelly ($5,970)
20. Zach Clark ($5,970)
21. Dan Shak ($5,970)
22. Richard Pyne ($5,970)
23. Jon Turner ($5,970)
24. Jeffrey Jerome ($5,970)
25. Brad Libson ($4,912)
26. Michael Reed ($4,912)
27. Ryan D'Angelo ($4,912)
28. Steven Werdehoff ($4,912)
29. Ayman Qutami ($4,912)
30. Jeff Lisandro ($4,912)
31. John Hennigan ($4,046)
32. Shane Douglas ($4,046)
33. Benjamin Lazer ($4,046)
34. Jason Manger ($4,046)
35. Scott Seiver ($4,046)
36. Richard Lewis ($4,046)

ESPN.com
Andrew Feldman is ESPN.com's Poker Editor. He is the host of the Poker Edge Podcast and co-host of ESPN Inside Deal. Andrew has covered the poker industry for ESPN since 2004.
World Series of Poker Coverage

ESPN.com's poker team is bringing you all the action from the 2012 World Series of Poker.
Poker Home
STORIES
RESULTS AND SCHEDULE
POKER EDGE PODCAST
CHATS
MOST SENT STORIES ON ESPN.COM