Kihara wins Japan's first bracelet
In the 43-year history of the World Series of Poker, hundreds of thousands of poker players from around the world have competed for a chance to make history. Most of these players fail to even make the money, but every once in a while, a champion emerges that can truly change the way the world sees the game. Naoya Kihara won the $5,000 six-handed pot-limit Omaha Event 34 to not only capture his first WSOP bracelet, but also to earn the honor of being the first Japanese champion in WSOP history. The 30-year-old Kihara earned $512,029 by outlasting the field of 419 and defeating Chris De Maci heads-up for the bracelet.
[+] Enlarge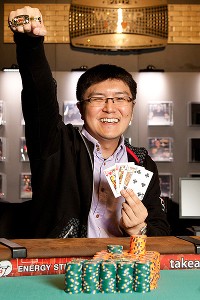 WSOP.comNaoya Kihara, 30, earned $512,029 for his victory in Event 34.
Kihara felt that personally, winning the bracelet could result in him earning a sponsorship opportunity with an online poker site. On a broader scale, his victory could change the appetite for poker in Japan and perhaps, spark a boom for the game.
"Poker is getting popular in Japan," he said. "A lot of people joined online poker and then improved their skills. … A second, third and fourth bracelet winner should appear."
"Nkenyo" began playing online poker thanks to a friend who let him shadow his action in order to teach him the game. He's played in a total of seven WSOP events, including the 2011 main event where he finished 653rd for $19,359. Kihara has limited tournament poker experiences, but believes the massive payout will allow him to travel and play more on tour.
Kihara admitted afterward that pot-limit Omaha wasn't his strongest game and that he ran well at the right times. A couple of those times occurred during the final table, where he encountered 2008 bracelet winner Davidi Kitai. The Belgian pro held the chip lead to start the final table, but Kihara seemed to dominate his most-decorated foe.
Tommy Le was eliminated by De Maci in sixth creating a five-handed atmosphere where all five were separated by only 16 big blinds. It truly was anyone's game until Kihara got the best of Kitai one last time. After a flop of 9h-8s-4d, Kitai was all-in with Ad-Ac-Jd-10d (a pair of aces and a straight draw) against Kihara's Qd-Jc-10s-9c (straight draw). The turn gave both players a jack-high straight, but a river 10 gave Kihara a queen-high straight and eliminated one of the toughest players in the game. Kitai earned $92,064 for his fifth-place finish.
Destiny was calling as Kihara eliminated Hans Winzeler in fourth and Daniel Hindin in third. De Maci was up against a massive chip deficit heads-up and didn't fare any better. De Maci has 10 WSOP cashes in his career and earned $316,308 for second place.
"I really got lucky, and lucky, and lucky again," said Kihara. "Every flip I won, so because of that, I ran so nice. And then I got the bracelet."
The thing is that luck isn't recorded in the history books. Kihara owns the first Japanese bracelet and is now the newest ambassador for the game in his country. If he really is lucky, then his Event 34 victory will result in something far more tangible than a bracelet -- a Chris Moneymaker-like boom for Japan.
Other notable finishers included Joseph Cheong (ninth), Kevin MacPhee (11th), David Benyamine (14th) and Tom Marchese (23rd).
Below are the complete results of Event 34 at the 2012 World Series of Poker:
Event 34: No-limit hold 'em
Buy-in: $5,000
Entries: 419
Prize pool: $1,969,300
Players in the money: 42

1. Naoya Kihara ($512,029)
2. Chris De Maci ($316,308)
3. Daniel Hindin ($203,369)
4. Hans Winzeler ($134,857)
5. Davidi Kitai ($92,064)
6. Tommy Le ($64,671)
7. Scott Bohlman ($46,692)
8. Jason Dewitt ($46,692)
9. Joseph Cheong ($34,620)
10. Dimitar Danchev ($34,620)
11. Kevin MacPhee ($26,349)
12. Sebastian Bastian ($26,349)
13. David Colin ($20,579)
14. David Benyamine ($20,579)
15. Jonas Entin ($20,579)
16. Bahram Zohri ($20,579)
17. Andrew Watson ($20,579)
18. Michael Fosco ($20,579)
19. Ilan Boujenah ($16,463)
20. Adam Junglen ($16,463)
21. Jon Hoellein ($16,463)
22. Brent Roberts ($16,463)
23. Tom Marchese ($16,463)
24. Don Nguyen ($16,463)
25. Joe Monro ($13,509)
26. Dan Shak ($13,509)
27. Shaun Deeb ($13,509)
28. Dermot Blain ($13,509)
29. Pascal Leyo ($13,509)
30. Ryan Lenaghan ($13,509)
31. Adam Kornuth ($11,481)
32. Sam Chartier ($11,481)
33. Jan Collado ($11,481)
34. Elton Beebe ($11,481)
35. Padraig Parkinson ($11,481)
36. Brock Parker ($11,481)
37. Edmilson Oliveira ($9,748)
38. Aubin Cazals ($9,748)
39. Antony Lellouche ($9,748)
40. Dario Alioto ($9,748)
41. Lasell King ($9,748)
42. Toan Trinh ($9,748)

ESPN.com
Andrew Feldman is ESPN.com's Poker Editor. He is the host of the Poker Edge Podcast and co-host of ESPN Inside Deal. Andrew has covered the poker industry for ESPN since 2004.
World Series of Poker Coverage

ESPN.com's poker team is bringing you all the action from the 2012 World Series of Poker.
Poker Home
STORIES
RESULTS AND SCHEDULE
POKER EDGE PODCAST
CHATS
MOST SENT STORIES ON ESPN.COM