Craig McCorkell wins $3,000 shootout
Antonio Esfandiari was completely dominating the final table in Event 36, the $3,000 no-limit hold 'em shootout. The bracelet winner was making his fifth cash of the 2012 WSOP, and the large rail that was in attendance basically had awarded him his second bracelet with three players to go. He had nearly 80 percent of the chips in play and it seemed that Craig McCorkell and Jeremiah Fitzpatrick were simply trying to move up the pay scale with $76,648 being the difference between second- and third-place prize money. Esfandiari's smiles then turned to shock as he was bad beat, stunned and eliminated in third.
The elimination of Esfandiari opened the door for a first-time champion and the British rail was thrilled as the 26-year-old McCorkell came back during heads-up play to win the title and $368,593. It was a pleasant change for McCorkell, who has rebounded from an 0-for-12 2011 WSOP with three cashes so far in 2012.
McCorkell defeated his first two starting tables in the shootout and took his seat at the final table surrounded by a loud, intoxicated crowd that to McCorkell, changed the game.
[+] Enlarge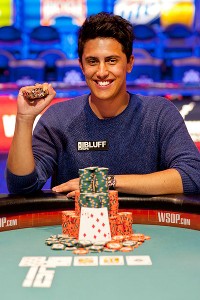 WSOP.comCraig McCorkell earned a career best $368,593 for his victory in Event 36 of the 2012 WSOP.
"There was an incident with a couple of people getting kicked out of here, but whatever," said McCorkell to the WSOP. "There was not one single person at the final, when we were 10-handed, complaining about the noise or anything. Everyone was enjoying it. It was good banter between everyone. There was nothing bad going on. It was really good. It added to the atmosphere of the final, for sure."
For the most of the final table, it was Jonathan Lane supporters enjoying the atmosphere the most. He eliminated the first five players -- Sardor Gaziev, Joe Tehan, Thiago Nishijima, Roberto Romanello and Alessandro Longobardi -- and was constantly looking to play big pots against his opponents. Meanwhile, McCorkell and Fitzpatrick essentially owned a spot at the bottom of the chip counts for most of the action, playing relatively conservative as they waited for a chance to pounce. Esfandiari played at his own pace and was keeping up with Lane in the chips when the two chip leaders clashed in a massive cooler.
After a flop of 7-8-9, Lane and Esfandiari found themselves in a raising war until the majority of the chips in play found their way to the center of the table. Esfandiari held J-10 for the flopped nuts while Lane held the sucker straight with 5-6. Esfandiari had 3.6 out of the 5.2 million chips in play and began to be the table bully. McCorkell and Fitzpatrick had stacks less than 18 big blinds and Esfandiari kept the pressure on until finally, there was a call. McCorkell doubled through Esfandiari with A-4 to Esfandiari's K-J. It was a small double, but nonetheless, very significant.
Fitzpatrick doubled through McCorkell and those additional chips would be the ones to damage Esfandiari's hopes of another win. Fitzpatrick was all-in for 1.7 million and, holding 7-7, was crushed by Esfandiari's 9-9. A seven hit the flop and Esfandiari was in major trouble with just over10 big blinds. On the next hand, McCorkell moved all-in with A-K and was called by the trailing A-J of Esfandiari. His hand held and "The Magician" was devastated.
The next hand ended Esfandiari's misery. He moved all-in with K-9 and was called by McCorkell's K-10. The board ran J-8-3-6-A and Esfandiari was out in third for $151,613.
Fitzpatrick held the edge to start heads-up play, but McCorkell, a pro for the past four years, wouldn't be denied. His aggressive postflop betting resulted in him earning the chip lead and ultimately, winning a key hand with 8-8 against A-8 all-in preflop essentially finished the job. He won his first bracelet, besting three shootout tables, and gave the British poker contingent something to cheer about.
"Anything could happen three-handed. And I had a good chance," said McCorkell, who then turned his sights on the future. "[I'm] just going to play every single event left and just try to get another bracelet."
Other notables who made it to the second shootout round include Justin Bonomo, Kevin Saul, Ryan D'Angelo, Jean-Robert Bellande, Melanie Weisner and Steve Billirakis.
Below are the complete results of Event 36 at the 2012 World Series of Poker:
Event 36: No-limit hold 'em
Buy-in: $3,000
Entries: 587
Prize pool: $1,602,510
Players in the money: 60

1. Craig McCorkell ($368,593)
2. Jeremiah Fitzpatrick ($228,261)
3. Antonio Esfandiari ($151,613)
4. Jonathan Lane ($112,512)
5. Athanasios Polychronopoulos ($84,436)
6. Alessandro Longobardi ($63,988)
7. Roberto Romanello ($48,924)
8. Thiago Nishijima ($37,707)
9. Joe Tehan ($29,277)
10. Sardor Gaziev ($22,899)
11. Mickey Petersen ($9,086)
11. Justin Conley ($9,086)
11. Nicolas Levi ($9,086)
11. James Akenhead ($9,086)
11. Robert Georato ($9,086)
11. Mikhail Glushankov ($9,086)
11. Matthew Schwarmann ($9,086)
11. Justin Bonomo ($9,086)
11. Jason Koon ($9,086)
11. Kevin Saul ($9,086)
11. Ryan D'Angelo ($9,086)
11. Chance Kornuth ($9,086)
11. Hiren Patel ($9,086)
11. Daniel Witcher ($9,086)
11. Evan Teitelbaum ($9,086)
11. Fernando Brito ($9,086)
11. Justin Zaki ($9,086)
11. Matt Jarvis ($9,086)
11. Niall Farrell ($9,086)
11. Marc Ladouceur ($9,086)
11. David Baker ($9,086)
11. Jarred Solomon ($9,086)
11. David Inselberg ($9,086)
11. Christian Harder ($9,086)
11. Heather Sue Mercer ($9,086)
11. Bradley Helm ($9,086)
11. Victor Shuchleis ($9,086)
11. Paul Kemp ($9,086)
11. Marko Neumann ($9,086)
11. Michael Dwyer ($9,086)
11. Kyle Julius ($9,086)
11. Hung Tran ($9,086)
11. Nick Grippo ($9,086)
11. Jeff Frerichs ($9,086)
11. Huy Nguyen ($9,086)
11. Steven Kerr ($9,086)
11. Marco Liesy ($9,086)
11. Jonathan Tamayo ($9,086)
11. Jonathan Driscoll ($9,086)
11. Gordon Vayo ($9,086)
11. Steve Billirakis ($9,086)
11. Melanie Weisner ($9,086)
11. Jean-Robert Bellande ($9,086)
11. Robert Stevanovski ($9,086)
11. Darren Rabinowitz ($9,086)
11. Marco Hernandez ($9,086)
11. Dmitry Vitkind ($9,086)
11. Alexander Nudin ($9,086)
11. John Nelson ($9,086)
11. Max Silver ($9,086)

ESPN.com
Andrew Feldman is ESPN.com's Poker Editor. He is the host of the Poker Edge Podcast and co-host of ESPN Inside Deal. Andrew has covered the poker industry for ESPN since 2004.
World Series of Poker Coverage

ESPN.com's poker team is bringing you all the action from the 2012 World Series of Poker.
Poker Home
STORIES
RESULTS AND SCHEDULE
POKER EDGE PODCAST
CHATS