Vanessa Selbst wins second bracelet
Defeats field of 421 in six-handed 10-game mixed event
Vanessa Selbst's background is unique. While working her way through Yale Law School, Selbst, already a World Series of Poker bracelet holder, continued to dominate the poker scene and captured some major titles. She won the Partouche Poker Tour main event in 2010 and won back-to-back NAPT Mohegan main events in 2010 and 2011. Her prosperity continued as she landed an endorsement deal with PokerStars and continued to prove that she was a master of multi-tasking by completing her education and dominating her opponents at the same time.
The one recent challenge for Selbst was the WSOP, and that was partially a result of having a full-time job up until 2010. Since her first bracelet victory in 2008, she made four cashes from 2009 to 2011, with her playing a relatively full schedule in 2011. The 2012 WSOP has been a completely different story. In her first event of the Series, Selbst finished fourth. She cashed two more times over the past few weeks and appeared destined for another deep run. It came in Event 52, as she defeated one of the toughest fields all summer to win her second bracelet in the $2,500 six-handed 10-game mixed event.
[+] Enlarge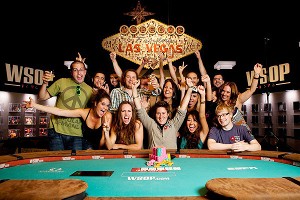 WSOP.comVanessa Selbst and friends celebrate after her victory in Event 52 of the 2012 WSOP.
"I'm so happy, I have no words for once in my life," Selbst said to PokerNews after her victory. "Normally when I bulldoze a table, it's in like big bet events when I could bully people, this one I just ran like god. … I just hit every hand. It's a pretty surreal experience."
Before Allyn Jaffrey Shulman's victory in the Seniors event, Selbst was the last woman to capture WSOP gold in an open event. If you consider that the Seniors event was a restricted-entry event, only open to players 50 and up, Selbst now owns the last two bracelets given that criteria.
"Thanks to everyone for the support and congratulations," Selbst said on Twitter. "I am so happy right now and having such amazing friends & fans means the world to me!"
As she referred to above, when Selbst wins, she really does run over her competition. The final table of this event was no different. After the field of 421 was reduced to six, Selbst had nearly twice the stack of her nearest competition, Michael Saltzburg. She eliminated Mike Gorodinsky in sixth in Omaha, Thomas Chambers fifth in razz and Chris Bjorin fourth in limit hold 'em in a span of 45 minutes. With three players left, she had approximately a 9-to-1 lead over Saltzburg and a 19-to-1 lead over Tommy Hang. It just wasn't even close. Hang fell to Saltzberg in third in seven-card stud and after a half hour, Saltzburg accepted his fate in second and Selbst earned the $244,259 for first place.
Selbst is second on the women's all-time money list and 59th overall with $5.3 million in career tournament winnings. She is currently fifth in ESPN.com's poker rankings and became the sixth woman to win two WSOP bracelets, joining Jennifer Harman, Barbara Enright, Nani Dollison, Susie Isaacs and Starla Brodie in that elite group.
Other notable finishers included Scott Clements (eighth), Bryn Kenney (11th), James Mackey (16th) and Brett Richey (25th).
Below are the complete results of Event 52 at the 2012 World Series of Poker:
Event 52: Six-handed 10-game mix (no-limit hold 'em, razz, limit hold 'em, badugi, seven-card stud, 2-7 draw lowball, Omaha high-low split, pot-limit Omaha, 2-7 triple draw lowball and seven card stud high-low split eight-or-better)
Buy-in: $2,500
Entries: 421
Prize pool: $957,775
Players in the money: 48

1. Vanessa Selbst ($244,259)
2. Michael Saltzburg ($150,849)
3. Tommy Hang ($97,884)
4. Chris Bjorin ($64,649)
5. Thomas Chambers ($43,099)
6. Mike Gorodinsky ($30,169)
7. Julien Renard ($21,645)
8. Scott Clements ($21,645)
9. Gabriel Nassif ($16,186)
10. Matthew Ashton ($16,186)
11. Bryn Kenney ($12,259)
12. Brian Saltus ($12,259)
13. Vincent van der Fluit ($9,481)
14. Mike Wattel ($9,481)
15. Allen Chang ($9,481)
16. James Mackey ($9,481)
17. Lee Goldman ($9,481)
18. Todd Bui ($9,481)
19. Can Kim Hua ($7,614)
20. Peter Ippolito ($7,614)
21. Christopher Wallace ($7,614)
22. Fu Wong ($7,614)
23. Steve Chanthabouasy ($7,614)
24. Richard Ashby ($7,614)
25. Brett Richey ($6,321)
26. Marco Traniello ($6,321)
27. Julien Dipace ($6,321)
28. Eric Wasserson ($6,321)
29. Jeffrey King ($6,321)
30. Damon Sandor ($6,321)
31. Noah Boeken ($5,363)
32. Dustin Bierma ($5,363)
33. Matthew Smith ($5,363)
34. Rudolf Schwartz ($5,363)
35. Jeff Madsen ($5,363)
36. Christopher George ($5,363)
37. Mikhail Semin ($4,693)
38. Dariusz Paszkiewicz ($4,693)
39. Dan O'Brien ($4,693)
40. Gordon Lamb ($4,693)
41. Duc Nguyen ($4,693)
42. Bryan Micon ($4,693)
43. Mike Matusow ($4,309)
44. Maria Ho ($4,309)
45. Christopher McHugh ($4,309)
46. Vladimir Shchemelev ($4,309)
47. Yehuda Buchalter ($4,309)
48. Andrey Pateychuk ($4,309)

ESPN.com
Andrew Feldman is ESPN.com's Poker Editor. He is the host of the Poker Edge Podcast and co-host of ESPN Inside Deal. Andrew has covered the poker industry for ESPN since 2004.
SPONSORED HEADLINES
MORE POKER HEADLINES
MOST SENT STORIES ON ESPN.COM
World Series of Poker Coverage

ESPN.com's poker team is bringing you all the action from the 2012 World Series of Poker.
Poker Home
STORIES
RESULTS AND SCHEDULE
POKER EDGE PODCAST
CHATS