Eriquezzo wins National Championship
Updated:
July 20, 2012, 3:23 PM ET
By
Gary Wise
| Special To ESPN.com
As World Series of Poker tournaments go, the National Championship stands alone, first as the only event of the summer in which competitors must surpass a strict list of qualifying criteria in order to play and second, as the only event of the summer that is rake free. One hundred WSOP Circuit qualifiers who earned a free entry are joined by the best and brightest stars on the WSOP felt and this year, the National Championship offer a 157-player field that included some of the most recognizable names in poker.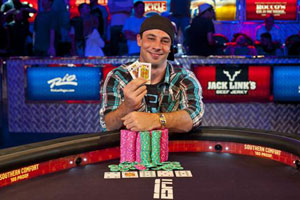 WSOP.comRyan Eriquezzo defeated the field of 157 to win the 2012 national championship.
While the tournament started before the 2012 main event, the final table was held during Day 2B. When the dust cleared, it was WSOP Circuit Caesar's Atlantic City main event champion Ryan Eriquezzo who emerged victorious. Eriquezzo, 27, won $416,051 to go with his first World Series of Poker bracelet.
"It's the ultimate dream, a world series bracelet," said Eriquezzo. "There is nothing better and I can say for the rest of my life I'm a bracelet winner. I've worked hard at it for a long time, and it's just so gratifying and so fulfilling."
Amongst the other notable names at the final table were Matt Keikoan (fourth), David Baker (sixth), Sam Stein (seventh) and Amanda Musumeci (eighth). Despite the star-laden final table, the heads-up match between Eriquezzo and Stone featured two Circuit qualifiers. Even after eliminating Huy Nguyen in third, Eriquezzo began heads-up at slightly less than even, but an early double (Eriquezzo's Q-Q held up against Stone's Ad-7s all-in preflop) gave the Connecticut native an almost-3:1 advantage that he never relinquished. On the final hand, Eriquezzo held Ks-Jh to Stone's Qh-Jd and as the board ran 4c-Qc-10c-5d-9c, Eriquezzo earned the straight and the championship.
Eriquezzo qualified for this event by winning the WSOP Circuit main event in Atlantic City in March. All WSOP Circuit main event champions earned an automatic bid, as well as players who earned the most leaderboard points during each stop on the Circuit. There were also 64 players who earned a seat by having the most points throughout the entire 2011-12 WSOP Circuit. Also, the top 100 players on the WSOP world rankings could buy into the event for $10,000.
Below are the complete results of the 2012 WSOP National Championship:
WSOP National Championship
Buy-in: Freeroll/$10,000
Entries: 157
Prize pool: $1,570,000
Players in the money: 18

1. Ryan Eriquezzo ($416,051)
2. Nikolas Stone ($257,119)
3. Huy Nguyen ($186,265)
4. Matt Keikoan ($137,485)
5. Yung Hwang ($103,322)
6. David Baker ($79,002)
7. Sam Stein ($61,434)
8. Amanda Musumeci ($48,576)
9. Justin Gardenhire ($39,030)
10. David Peters ($31,855)
11. Drazen Ilich ($31,855)
12. Mark Bonsack ($31,855)
13. Eugene Katchalov ($26,439)
14. Brian Rast ($26,439)
15. Nick Binger ($26,439)
16. Hao Le ($22,278)
17. Jonathan Sorscher ($22,278)
18. Allen Kessler ($22,278)

Gary Wise has contributed to ESPN.com since 2007. He is well-studied in the history of poker and presents a unique tableside view of the goings-on in the poker community.
Google author profile
World Series of Poker Coverage

ESPN.com's poker team is bringing you all the action from the 2012 World Series of Poker.
Poker Home
STORIES
RESULTS AND SCHEDULE
POKER EDGE PODCAST
CHATS
MOST SENT STORIES ON ESPN.COM