Merson defined by addiction
Updated:
September 5, 2012, 12:36 AM ET
By
Gary Wise
| Special to ESPN.com
Editor's note: Greg Merson's main event journey will be featured on this week's episodes of the WSOP on ESPN, Wednesday at 8 p.m. ET.
I didn't particularly want to write about drugs and addiction when I set out to write about World Series of Poker final table competitor Greg Merson. So much that had been written about him had focused on those topics, and there was so much else to write about: the 7 million hands he's played online in the last decade, his 2012 bracelet win, his lead in the WSOP player of the year race and how the talk of no-names dominating the main event final table role call slighted that accomplishment and the mutual success of he and backer Anthony Gregg. Merson has so much positive going for him that dwelling on something so negative didn't make a whole lot of sense to me. That was, until I spoke to the man.
Merson's addiction defines him, and that's the way he likes it. "When I started getting press on Day 5 or 6, I never talked about the drug problem, but when ESPN sat me down for a feature on Day 6, they asked me a question where I'd have had to beat around the bush instead of talking about my drug addiction," Merson recalled to ESPN.com. "I decided to trust them. I think they do a good job talking about people's struggles, and it was therapy for me. I was able to get it off my chest to millions of people. It felt good."
[+] Enlarge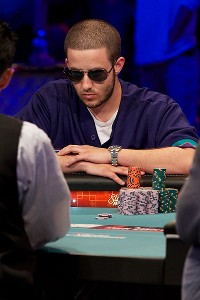 Heather Borowinski/Bluff MagazineGreg Merson leads the 2012 WSOP Player of the Year race after reaching the main event final table.
This wasn't the epiphany for Merson, but as final a healing step as one could take in the endless battle against addiction. There is no cure, but Merson feels like owning his issues, coming to grips with the addictive aspects of his personality and, finally, turning what he calls one of his addictions into triumph, has him on the road to health.
A 24-year-old professional player splitting time between his native Laurel, Md., and Toronto (where he can legally play online), Merson's addictive personality goes back to his childhood.
"When I started doing one-on-one counseling, I kind of traced back why I'm addicted to drugs," he recalled. "Why I have those issues. At a young age, I was always super-addicted to sugar, then collecting baseball cards, ran the NCAA pool starting in eighth grade and ran it every single year. That's early-stage addictive behavior. I just have a really addictive personality. I'm just an all-or-nothing type of person. As soon as I got addicted to poker and drugs -- well, drugs, then poker -- I didn't care about school, because I was addicted to getting high. School just didn't matter compared to that. Poker seems like so much more of a complex thing.
"Poker got me out of that funk," he continued. "It filled that void. Playing poker was a rush that replaced the cocaine rush … it filled that drug void. I would go to meetings, play poker and stay out of trouble. I treated it like a job."
When he finally started getting cleaned up, poker provided Merson incentive. Where at first poker was a way of paying for his habit, as his passion for the game grew, Greg realized his habit was eating into his bankroll. That realization helped him get clean in 2007, right around the time he met Tony Gregg and Christian Harder. He soon moved into Gregg's house.
"I think, when I lived with him, he was clean most of the time, which was good," Harder recalled. "He just loves poker. From 2007-2010, he probably played as many hands online as anyone in the world. He's a huge grinder and such a huge worker. When he wasn't playing, he was watching me or Tony or our other roommates. He's just always been a hard worker, and that helped him a lot."
"We all started moving up the ranks together; it was really good for our careers," Merson said. "We lived together for a year. Tony got in over his head and we all moved out … there was too much pressure on him he didn't expect to have. I understood his decision. There were no grudges. We continued to get closer over the years."
While the living arrangement changed, Merson's relationship with poker didn't. He continued to play at a torrid pace, some 80 hours a week playing 24 tables a day, almost exclusively at short-hand no-limit hold 'em cash games. He piled up hands, experience and money. He achieved SuperNova Elite status on PokerStars multiple times, signifying he was one of the most prolific players in the world. He was relentless, and it seemed nothing could stop him.
Addiction did.
In 2011, after some four years of sobriety, Merson convinced himself he was ready for one-time drug use. The result was a relapse that sent him spiraling in both poker and life. Recognizing the problem hadn't dissipated, he again set down the road to recovery, settling into poker again, this time with backing from Gregg. With the cash games Merson was accustomed to running tighter and dryer than usual this year, he spent more time playing in tournaments. That twist of fate has him holding the lead in the player of the year race heading into WSOP Europe, his bracelet win, his main event final table, a final table bubble in Event 28 and two other cashes.
"I'm surprised at the multiple deep runs," Harder insisted. "He obviously just had a ridiculous WSOP, but I'm not surprised at the tournaments he did well in -- a lot of short-hand tournaments. I'm sure that confidence from winning helped him play better in the main. Short-handed is about all he's done for the last five years. He's definitely one of the best short-handed players in the world."

"I had never been backed, except online in 2007 before I turned pro," said Merson. "I've never been backed since then, and I'd backed a lot of people. When I relapsed last year, I lost a lot of money. I could have stayed on my own, but the swings are so huge and I still have the horses, so it didn't make sense to not be backed. Tony backed me for the summer, though I wasn't expecting to play tournaments. I just felt more comfortable playing high stakes backed. You grind so hard online, but in a live game, you can lose a month's income in one session. I didn't enjoy that. So, I won [Event 57], staked by him. I could have bought myself into the main, but I liked the comfort, so I got a better deal for the main event."

"I'm lucky that I've never been too involved in backing," Gregg said. "I've only done it for a few close friends and usually for lower stakes. [This is] far and away the best deal I've been a part of."

That's an understatement. While percentages have been kept quiet, it's safe to guess that Gregg's benefit has at least bordered on the seven-figure mark. With the sharp incline of main event payouts, the rain may well pour.

Since the WSOP, Merson has been focused on living cleanly and fighting his demons with healthy behavior and some semblance of balance in his life.

"My hours per week have gone down over the years," Merson says of that balance. "I was playing 80 hours a week in '08. Now it's like a normal job, 30-50 hours a week on average. I do yoga, I have a personal trainer, I go to sporting events, just keep busy. I never let myself get bored. If I do, my mind can wonder, and that's a scary thing sometimes. I've been blogging for a website I'm going to launch. Things have been really busy. The first five months of this year were the crucial period. My brain has been trained from all this treatment, therapy and meetings. I'm reading and studying on this stuff, constantly reminding myself of what I need in certain situations. If I'm in a [bad] mood, I'll surround myself with friends, get in the hot tub, be as healthy as I can. I've lost 22 pounds this year, but if I need a pizza to replace using drugs, I will. I'm still addicted to sugar, but if I'm having one of those days, I gorge on candy a bit."

That's all well and good, but I couldn't help but wonder about the pressure he'll face at the final table. That pressure, that kind of attention, can drive an addict into hiding, back to old habits.

"I thrive under that pressure," Merson said. "The thing I've been worried about the most with my recovery is that when I reach a certain financial or social status in poker, I might have that slip in my mind where I feel like I can weaken my intensity, my focus, give myself the window for that 'one time' mentality. I've told my friends and family that getting clean wasn't about money. That's what it was when I was 18. This time, it was about being a better person, having people who are important to me, building relationships. How much money did I have? I didn't care. Well, I cared, but not like I used to. Getting clean this time was about a better life experience. I'm not worried about sobriety moving forward. I think it'll always be my number one priority. As long as it is, I'll be fine."

His friends are equally confident in his abilities to follow through on his efforts to stay clean.

"His self-control really amazes me when we're in some of the situations we're in, out at a club, or when a bunch of people are playing online with drugs present that some people are using recreationally," Gregg said. "He has that history, and you'd think he'd want to be removed from situations like that so he's not tempted. He can confront them. I envy that self-control. It's ridiculously impressive to me. I can't imagine doing that myself."

Merson has trained himself tirelessly in a game where you can only make the best decision. It's something he hasn't always done in life, but he's working toward doing that with a vigilance that's evident from the moment one starts talking with him. There's an intensity about him that leaves one wondering whether he'll make it, but with good friends looking out and poker to pour his energy into, there's definite hope that he will. While he continues that fight, he'll be waging another battle at the final table, where supreme confidence, 7 million hands of experience and the ongoing urge to fill the drug abuse void will be his weapons of choice.

Gary Wise has contributed to ESPN.com since 2007. He is well-studied in the history of poker and presents a unique tableside view of the goings-on in the poker community.

Google author profile