Esfandiari makes it a double
Takes over lead in WSOP Player of the Year race with second bracelet of '12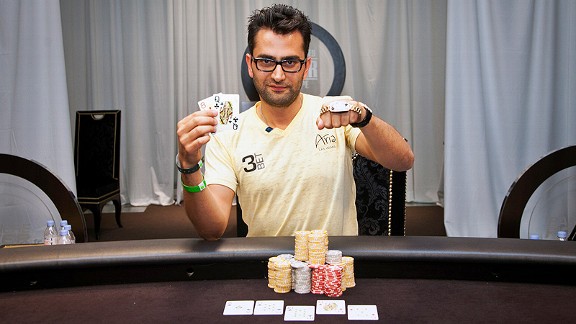 WSOP.comAntonio Esfandiari won his third WSOP bracelet in Event 2 of the 2012 World Series of Poker Europe.
Antonio Esfandiari is a man of firsts. He's currently first on the all-time money list thanks to being the first player to win a $1 million buy-in event at the World Series of Poker. He was one of the first poker celebrities due to his exposure on the World Poker Tour, and he's probably the first player to open up a tanning salon with his poker winnings. After his victory in WSOP Europe Event 2, he's also the first player in 2012 to win two bracelets.
After Esfandiari won the Big One for One Drop earlier this year, the 33-year-old professional poker player from Las Vegas felt that he was simply on top of the world. He'd captured the largest prize in the history of the game, $18 million, and his second WSOP bracelet on live television across the world. On that day in July, Esfandiari put on a show to remember and poker fans admired The Magician's dedication and efforts to improve his game and, more importantly, his life. To the surprise of few, it didn't take long for Esfandiari to find the winner's circle once again.
Esfandiari outlasted a tough field in the 1,100 euro re-entry Event 2 at the 2012 WSOP Europe to capture his third career WSOP bracelet and 126,207 euros in prize money. The 626-entry field featured many of the game's best players and as Esfandiari navigated his way to the top once again, he became the third player to win both a WSOP and WSOP Europe event.
"Tonight's WSOPE bracelet victory in the 1K [no-limit] tournament was incredible," said Esfandiari on Twitter. "[I thought] I used up my [one-time]."
In addition to the bracelet and the cash, Esfandiari also grabbed the lead in the 2012 World Series of Poker Player of the Year race. Esfandiari jumped John Monnette, Phil Ivey and former leader (and member of the WSOP main event final table) Greg Merson with the victory. Merson will need to finish fourth or better to re-take the lead if no other movement takes place at WSOP Europe. With five more events, plus the main event final table, still to be played out, the chase for that title is far from over.
Esfandiari's run to the Player of the Year lead includes the two bracelets, a third-place finish in Event 36, a 501st-place finish in the main event and four other cashes.
According to the WSOP, Esfandiari entered the final table as the chip leader with a nearly 20-big blind lead over Antonin Teisseire, his closest competition. McLean Karr doubled through Esfandiari with eight to go to give him the top spot for a bit, but Salvatore Bonavena emerged as the man to beat with seven left after his elimination of Jamel Haddad gave him top honors.
France's Remi Bollengier looked to become the first Frenchman to win a bracelet on home soil as he moved into the top three after he eliminated Ashly Butler in seventh. Esfandiari then knocked out Karr (A-8 defeated Q-10) in sixth, which gave him the momentum to become aggressive and take the chip lead with five to go. Bollengier eliminated Valentin Detoc (fifth) and Teisseire (fourth) and watched as Esfandiari take out Salvatore Bonavena in third to create the heads-up battle many expected after watching the table play out.
Esfandiari had a slight edge over Bollengier to start heads-up play and padded his lead during most of the hour-long match. Esfandiari's experience allowed him to trap his opponent and entice a tournament-ending call on a A-10-8-Q-5 board (with Q-8) to eliminate Bollengier (holding Q-7).
Last year's re-entry event, won by Andrew Hinrichsen featured 771 entries.
Other notable finishers included John Monnette (23rd), Dominik Nitsche (34th) and Tristan Wade (43rd). Monnette is currently in the top five of the Player of the Year Race and could've taken the lead if he had made the final table and Esfandiari had not.
Below are the complete results of WSOPE Event 2:
Event 2: Re-entry no-limit hold 'em
Buy-in: 1,100 euros
Entries: 626
Prize pool: 600,960 euros
Players in the money: 63
1. Antonio Esfandiari (126,207 euros)
2. Remi Bollengier (78,059)
3. Salvatore Bonavena (57,079)
4. Antonin Teisseire (42,356)
5. Valentin Detoc (31,869)
6. McLean Karr (24,309)
7. Ashly Butler (18,798)
8. Jamel Haddad (14,736)
9. Florian Ciuro (11,707)
10. Anthony Pons (9,423)
11. Igor Kalinicenko (9,423)
12. Joe Kuether (9,423)
13. W.J. Vincent (7,680)
14. Amaury Detoc (7,680)
15. Casey Kastle (7,680)
16. Andrey Gulyy (6,340)
17. Henri Chapuis (6,340)
18. Serge Ekert (6,340)
19. Guy Pariente (5,300)
20. Marc Bariller (5,300)
21. Sylvain Gibert (5,300)
22. Emil Eriksson (4,489)
23. John Monnette (4,489)
24. Ugo Jaskula (4,489)
25. Gil George (3,846)
26. Vic Gupta (3,846)
27. Erik Cajelais (3,846)
28. Frederic Penel (3,335)
29. Gianluca Cedolia (3,335)
30. Rodolphe Dethiere (3,335)
31. Anthony Russo (2,933)
32. Julien Dolay (2,933)
33. Duncan Mouche (2,933)
34. Dominik Nitsche (2,608)
35. Daniel Weinman (2,608)
36. Etienne Syren (2,608)
37. Yuan Lanvin (2,344)
38. Della Tommasina (2,344)
39. Roger Hairabedian (2,344)
40. Tarcisio Bruno (2,344)
41. Jean-Pierre Grand Moursel (2,344)
42. Sandy Cedric Denis (2,344)
43. Tristan Wade (2,344)
44. Antonino Venneri (2,344)
45. Olivier Paris (2,344)
46. Douglas Gray (2,133)
47. Marvin Rettenmaier (2,133)
48. Jasper Vanvlasselaer (2,133)
49. William Esmingeaud (2,133)
50. Dobromir Nikov (2,133)
51. Bertrand Hernandez (2,133)
52. Nicolas Peronnet (2,133)
53. Jens Thomsen (2,133)
54. Clement Franck (2,133)
55. Julien LaMaison (1,965)
56. Renaud Blangiardi (1,965)
57. Pascal Leyo (1,965)
58. Dries Goyens (1,965)
59. Christophe Schutze (1,965)
60. Michel Pomaret (1,965)
61. Marco Sportanova (1,965)
62. Randolph Lanosga (1,965)
63. Damien Vidal (1,965)

ESPN.com
Andrew Feldman is ESPN.com's Poker Editor. He is the host of the Poker Edge Podcast and co-host of ESPN Inside Deal. Andrew has covered the poker industry for ESPN since 2004.
SPONSORED HEADLINES
MORE POKER HEADLINES
MOST SENT STORIES ON ESPN.COM