Negreanu wins APAC main event
Second final table for Negreanu in Melbourne nets fifth WSOP bracelet
Editor's note: A replay of Daniel Negreanu's victory is available on ESPN3.
It appeared to be the end of a strong run in the WSOP Asia Pacific main event for Daniel Negreanu. In control for most of the final table, Negreanu, the slight chip leader over opponent George Tsatsis during four-handed play, moved all-in after Tsatsis bet the turn on a Q-J-J-4 board. Tstasis called, flipped over J-9, and Negreanu showed a moment of devastation as he tabled his A-Q. As Negreanu began to count out the stack of chips he would be sending across the table to Tsatsis, the dealer placed a queen on the river and essentially handed Negreanu the tournament win, 1,038,825 Australian dollars ($1,081,416) and his fifth WSOP bracelet.
[+] Enlarge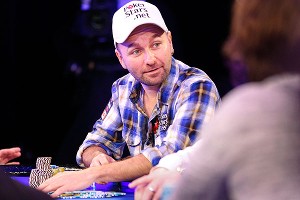 Shannon Morris/WSOP/Crown CasinoDaniel Negreanu earned AU$1 million and his fifth WSOP bracelet in the APAC main event.
Negreanu's victory over the field of 405 was his first bracelet win since 2008 and his first seven-figure score since the 2011 PokerStars Caribbean Adventure Super High Roller. It was his second final table of the five-event tournament series in Melbourne, making him the early leader in the 2013 WSOP Player of the Year race.
"I won!!!!!!!!!!!! YES! Very happy right now," Negreanu tweeted. "Thanks to all my friends and family for giving me the confidence I needed! So happy!!!!"
The concluding event of the first WSOP APAC offered a star-studded final table that featured not only Negreanu, but German pro Benny Spindler (EPT, UIKPT and EPT title holder), 2012 WSOP main event fourth-place finisher Russell Thomas and Hong Kong's high stakes icon, Winfred Yu. The remaining four players at the final table were trying to keep the bracelet in Australia and, by doing so, earn each of their first major score.
Spindler entered the final table with the lead and a history of final table success. His bullying tactics worked during the first few orbits, but then Negreanu was able to win a big pot from him and move into the lead that he'd never relinquish. The eliminations started quickly after Negreanu's ascension to the top. Thomas hoped for a better finish than his last main event final table, but the American pro couldn't get lucky with his A-10 against Tsatsis' A-J and fell in eighth. Thomas has had a strong 2013 campaign thus far with a victory in the Sunday Million on PokerStars, a cash in Event 1 of APAC and now, the APAC main event final table. He earned AU$82,721.
After a short lull, the action picked up with two eliminations in back-to-back hands. After the first of his many double-ups during the final table, Yu eliminated Mikel Habb in seventh, winning a race with A-Q over Habb's 10-10. Kahle Burns made a questionable call with K-J against Spindler (A-10) to send the German home in sixth and, with five players left, Negreanu was securely in the lead with nearly double the stack of Tsatsis, his closest opponent.
Burns enjoyed his time at the final table, but his tournament inexperience showed as the lengthy final table continued. Once short-stacked, Burns moved all-in with Q-J and couldn't overcome Negreanu's A-K. The Australian cash gamer was the youngest member of the final table and earned a career-best AU$201,994.
With four players left, the final table broadcast officially became the Winfred Yu show. The short stack for almost the entire time during four-handed play, Yu managed to double up time after time just to barely stay afloat. After Tsatsis' elimination in fourth, Yu doubled up again, giving him a total of eight consecutive wins when all his chips were in the center. On his quest for number nine, Yu's Ad-Kh failed to hold against Negreanu, who flopped a flush with J-9. Yu earned AU$423,225, his second-largest tournament cash of his career.
Holding an 10:1 chip lead, Negreanu faced off against local Daniel Marton, who openly admitted during heads-up to Negreanu that this was a life-changing moment. After only a few hands, Marton called all-in with Qs-Js and was up against Negreanu's Ad-8s. The flop came 10-5-9, giving Marton a big draw. After an innocuous turn 2, a river 8 awarded Marton the double up. Negreanu wasn't fazed by the exchange of chips and adjusted his play to once again retain the 10:1 edge. The chips went in a second time with Negreanu holding A-8 and way ahead of Marton who sheepishly flipped over 8-4. An ace showed in the door and Negreanu was pleased … until a 7 and 5 followed. The six on the turn gave Marton a straight, but a nine on the river chopped the pot and the two went back to the grind. The third time Marton was all-in, both players held the same hand for another chopped pot.
Marton reduced Negreanu's lead to 5:1, but after 12 hours at the felt, Negreanu finished the job as his 2-2 held against Marton's A-7 after a K-J-6-10-4 board.
"This is just relief," Negreanu said after his victory.
Other notable finishers included Antonio Esfandiari (ninth), Raymond Rahme (17th), Joseph Cheong (32nd), Jeffrey Lisandro (35th) and Erik Seidel (39th).
Below are the complete results of WSOP-APAC Event main event:
Event 5: Main Event
Buy-in: 10,000 Australian Dollars
Entries: 405
Prize pool: AU$3,847,500
Players in the money: 40
1. Daniel Negreanu ($1,038,825)
2. Daniel Marton ($637,911)
3. Winfred Yu ($423,225)
4. George Tsatsis ($284,715)
5. Kahle Burns ($201,994)
6. Benny Spindler ($146,205)
7. Mikel Habb ($107,730)
8. Russell Thomas ($82,721)
9. Antonio Esfandiari ($65,408)
10. Jordan Westmorland ($65,408)
11. Tino Lechich ($51,941)
12. Joel Feldman ($51,941)
13. Michael Pedley ($39,245)
14. Raj Ramakrishnan ($39,245)
15. Yasar Gueden ($31,549)
16. Eddie Tran ($31,549)
17. Raymond Rahme ($25,778)
18. Chane Kampanatsanyakorn ($25,778)
19. Mark Betts ($25,778)
20. Matt Rolfe ($25,778)
21. Michael Weiss ($25,778)
22. Tom Watkins ($25,778)
23. Khylon Hanegraf ($25,778)
24. Todd Terry ($25,778)
25. Michael Turnley ($22,316)
26. Balleur Gaetan ($22,316)
27. Oliver Gill ($22,316)
28. Tan Seet Pin Calvin ($22,316)
29. Martin Dimitrov ($22,316)
30. Kevin Song ($22,316)
31. Minh Nguyen ($22,316)
32. Joseph Cheong ($22,316)
33. Mitch Carle ($20,392)
34. Omeed Nikdin ($20,392)
35. Jeff Lisandro ($20,392)
36. Derek Cheung ($20,392)
37. Sherrie Krampel ($20,392)
38. Daniel Koninger ($20,392)
39. Erik Seidel ($20,392)
40. Binh Nguyen ($20,392)

ESPN.com
Andrew Feldman is ESPN.com's Poker Editor. He is the host of the Poker Edge Podcast and co-host of ESPN Inside Deal. Andrew has covered the poker industry for ESPN since 2004.