Beauprez tops strong six-handed field
2009 WSOP main event champion Joe Cada finishes fourth
Editor's note: A replay of this final table can be found on demand at ESPN3.com.
At a final table that saw the chips fly early on, John Beauprez wanted no part of it. While Eric Blair, Mike Mustafa and Manig Loeser let the chips fly, Beauprez remained patient and carefully waited for the right spots to outlast his opponents and capture the $1,500 six-handed no-limit hold 'em Event 4 bracelet. His strategy worked as the 28-year-old business owner and professional poker player from Boulder, Colo., earned $324,764 for the win after a lengthy heads-up battle against Loeser.
[+] Enlarge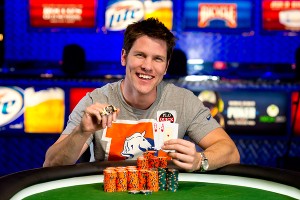 WSOP.comJohn Beauprez, creator of PLO Quick Pro, captured his first WSOP bracelet in Event 4.
"[The bracelet is] everything. It's what every poker player grinds for," said Beauprez to the WSOP after his victory. "I've had this dream of playing heads-up for a gold bracelet a thousand times, but nothing matches the actual experience. It happens really fast and the whole time you are there, it really feels like a dream. You just don't wake up. It doesn't get much better than that."
Beauprez had three previous WSOP cashes, highlighted by a 58th-place finish in the 2012 main event. He founded the online poker training site PLO Quick Pro and was supported by a number of the players who endorse the site, including 2011 WSOP Player of the Year Ben Lamb.
The final day of play began with seven players and Mike Mustafa in control. Beauprez's ascension began immediately on Sunday with his eliminations of Zohar Spivack (J-J over A-J) and bracelet winner Kevin Stammen (A-A over 2-2).
Mustafa's fall came quick at the hands of Eric Blair. The West Hartford, Conn., native went from the short stack to the chip leader in a hurry after winning two coin flips (K-Q over 8-8 and A-K over 10-10), and finished off Mustafa as he won a four-way pot that was checked down. Mustafa earned $56,499 in his fifth WSOP cash. He's made the money in the main event three times over the past six years.
Now armed as the big stack, Blair remained aggressive and was essentially two cards away from running away with the title. In a hand that commentator Russell Thomas believed played itself, Blair called Loeser's six-bet all-in with A-Q and was racing with Loeser's 7-7. The flop brought a queen (Q-10-6) and Blair's rail celebrated. As soon as the cheers quieted, the dealer placed a 7 on the turn and gave the German star the pot.
With four left, Loeser positioned himself as table captain with added aggression. Blair remained determined and chipped away at his deficit with a number of all-in shoves while 2009 WSOP main event champion Joe Cada simply couldn't find the right spot to get engaged. Involved in a blind-versus-blind battle, Loeser called Cada's all-in and had the only remaining bracelet winner dominated with Ad-9d to Ac-7h. The flop brought all diamonds and Cada, making his second WSOP final table in the past two years, was eliminated in fourth. Call it the "Champions Curse" or whatever you'd like, but Carlos Mortensen is the only player who has won the WSOP main event this century to have won another bracelet after. Mortensen's followed up his 2001 main event victory with a win the $5,000 limit hold 'em event in 2003.
With Cada out of the way, the bullseye reappeared on the short-stacked Blair. He doubled through Loeser (A-8 over A-6) and was clawing his way back towards second when his comeback was abruptly ended by Beauprez. After a J-9-3 flop, Beauprez bet out and Blair moved all-in holding J-8. Beauprez called instantly, showed A-J and watched as the innocuous turn and river sent Blair home in third. Blair has found great success live and online and now he can add a WSOP final table to his resume.
Beauprez and Loeser began the epic heads-up match with essentially even stacks. A back-and-forth battle ensued with Loeser taking the lead, then relinquishing it to Blair … and again and again. After hitting a flush draw with his tournament life on the line, Beauprez expanded his lead until he had a 2.5-to-1 edge. On the final hand, he called Loeser's all-in with A-8 and was behind as Loeser tabled A-K. An eight-high flop gave Beauprez the lead and the title.
"I'm going to start a college fund for some family," said Beauprez. "I have some nieces I'm very close to. When I was in bed last night I was thinking -- what am I going to do with all the money? I decided I'll start a college fund for my nieces."
This was Loeser's largest live tournament cash.
Other notable finishers include Grant Hinkle (16th), Matt Salsberg (21st), Calvin Anderson (26th) and 2010 WSOP main event champion Jonathan Duhamel (44th).
Below are the complete results of Event 4 at the 2013 World Series of Poker:
Event 4: Six-handed no-limit hold 'em
Buy-in: $1,500
Entries: 1,069
Prize pool: $1,443,150
Players in the money: 108

1. John Beauprez ($324,764)
2. Manig Loeser ($200,698)
3. Eric Blair ($127,300)
4. Joe Cada ($83,558)
5. Mike Mustafa ($56,499)
6. Keven Stammen ($39,325)
7. Zohar Spivack ($28,155)
8. Ami Alibay ($28,155)
9. Fabien Marguerite ($20,709)
10. Rex Clinkscales ($20,709)
11. Greg Hobson ($15,643)
12. Sandor Molnar ($15,643)
13. Ryan Schmidt ($12,122)
14. Gnatenko Oleksander ($12,122)
15. Ryan Schmidt ($12,122)
16. Grant Hinkle ($12,122)
17. Matthew Plecki ($12,122)
18. Ville Sissonen ($12,122)
19. Tayfun Akbasli ($9,640)
20. Jesse Yaginuma ($9,640)
21. Matt Salsberg ($9,640)
22. Larry Jaffee ($9,640)
23. Martin Malone ($9,640)
24. Zach Clark ($9,640)
25. Matthew Silva ($7,850)
26. Calvin Anderson ($7,850)
27. Thomas Mou ($7,850)
28. Lee Gaines ($7,850)
29. William Chao ($7,850)
30. Yevgeniy Timoshenko ($7,850)
31. Randall Christing ($6,551)
32. Christopher Danek ($6,551)
33. Allen Pock ($6,551)
34. Stewart Newman ($6,551)
35. David Chase ($6,551)
36. Maurice Hawkins ($6,551)
37. Nate Jeo ($5,599)
38. Evan McNiff ($5,599)
39. Scott Oreilly ($5,599)
40. Shannon Shorr ($5,599)
41. Mark Smith ($5,599)
42. Justin Conley ($5,599)
43. Sean Stevens ($4,892)
44. Jonathan Duhamel ($4,892)
45. Larry Ormson ($4,892)
46. Nicholas Baker ($4,892)
47. Adolfo Masliah ($4,892)
48. Jason Hill ($4,892)
49. Andrew Mcnamee ($4,372)
50. Nicholas Abourisk ($4,372)
51. Adalberto Orrigo ($4,372)
52. Michelle Gawlik ($4,372)
53. James Price ($4,372)
54. Bradley Neumeier ($4,372)
55. Seth Fischer ($3,997)
56. Michael Marquez ($3,997)
57. Ronald Bell ($3,997)
58. Evan Michelson ($3,997)
59. Craig McCorkell ($3,997)
60. Larry Weatherington ($3,997)
61. Oliver Fink ($3,680)
62. Jarred Solomon ($3,680)
63. Bryan Piccioli ($3,680)
64. Todd Terry ($3,680)
65. Jon Turner ($3,680)
66. Jacobo Garza Ibarrola ($3,680)
67. Elden Arios ($3,391)
68. Gordon Vayo ($3,391)
69. Benjamin Margolis ($3,391)
70. Humberto Brenes ($3,391)
71. Sadan Turker ($3,391)
72. Joshua Gottesman ($3,391)
73. Andrew Dean ($3,391)
74. Scott Zakheim ($3,391)
75. Vince Spina ($3,391)
76. Stephanie Belk ($3,391)
77. Alexander Queen ($3,391)
78. Vito Planeta ($3,391)
79. Niall Farrell ($3,117)
80. Jeffrey Campbell ($3,117)
81. Joseph Opie ($3,117)
82. Ting Ho ($3,117)
83. Matthew Parry ($3,117)
84. Ryan Martinez ($3,117)
85. Jeremiah Vinsant ($3,117)
86. William Soffin ($3,117)
87. Ozzy Sheikh ($3,117)
88. Assaad Younes ($3,117)
89. James Czarnecki ($3,117)
90. Ron Lane ($3,117)
91. Nicholas Coats ($2,871)
92. Jason Wheeler ($2,871)
93. Miguel Proulx ($2,871)
94. Steve Zolotow ($2,871)
95. Stephen Bartlett ($2,871)
96. Russell Thomas ($2,871)
97. Jonathan Cole ($2,871)
98. Jacob Bazeley ($2,871)
99. Scott Hall ($2,871)
100. Robert Salaburu ($2,871)
101. Andreas Hoivold ($2,871)
102. Tam Truong ($2,871)
103. Brandon Shane ($2,871)
104. Lev Ryzhikov ($2,871)
105. James Agate ($2,871)
106. Sachin Bhargava ($2,871)
107. Wei Chang ($2,871)
108. John Roveto ($2,871)

ESPN.com
Andrew Feldman is ESPN.com's Poker Editor. He is the host of the Poker Edge Podcast and co-host of ESPN Inside Deal. Andrew has covered the poker industry for ESPN since 2004.
SPONSORED HEADLINES
MORE POKER HEADLINES
MOST SENT STORIES ON ESPN.COM