Three-outer leads Hagerling to win
Editor's note: A replay of this final table can be found on demand at ESPN3.com.
For the no-limit hold 'em specialists, the Mixed Max event is the one they want to win. The event features a unique structure where no-limit hold 'em is always the game, but depending on the day, players face off at either a nine-handed table (Day 1), six-handed table (Day 2 until the final 32) or in a heads-up match. Isaac Hagerling isn't a no-limit hold 'em specialist, but instead spends his effort at the high-stakes pot-limit Omaha games in Los Angeles. His live tournament experience is limited, but on Monday, his 26th birthday, he topped former bracelet winner Max Steinberg heads-up to win his first bracelet.
[+] Enlarge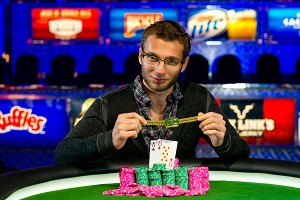 WSOP.comIsaac Hagerling topped the field of 593 in the Mixed Max event.
"I'm excited to win," said Hagerling to the WSOP. "I've played a lot of grueling matches, so I'm really tried. I'm just happy to have gotten here unscathed."
Hagerling's path to the finals included heads-up victories over Markus Gonsalves, Nick Binger, Yevgeniy Timoshenko and 2012's fifth-place finisher in the main event, Jeremy Ausmus. His match against Steinberg was drama-filled and ultimately depended on one single card late in the match.
According to the WSOP, both players traded pots early with Steinberg opening up a small edge. Hagerling turned the tables and was up nearly 4:1 before Steinberg rebounded to take the lead once again.
On the 73rd hand of play, Hagerling opened, Steinberg three-bet and Hagerling called. The flop of K-7-3 resulted in a quick bet by Steinberg and call by Hagerling. After a 5 on the turn, Steinberg checked and Hagerling bet nearly two-thirds of the pot. Steinberg responded by moving all-in. Hagerling tanked, then finally called with K-10 and was in big trouble against Steinberg's A-K. With one card to come, Steinberg was anticipating the celebration of his second career bracelet … then a 10 on the river left him in despair and nearly felted.
Visibly emotionally drained, Steinberg maintained his composure as best he could and managed to double up a few times. He reduced the approximately 50:1 deficit to only 4:1, but couldn't come from behind at the right moment and was finally eliminated holding A-6 to Hagerling's A-8.
Steinberg earned $231,501 for his runner-up finish. This was his second final table of the Series and the second time this year he finished second for a bracelet as he was also the runner-up in the 2012-13 WSOP Circuit National Championship. He defeated Jason Koon, Brandon Cantu, Ariel Celestino and David James to earn his bid to the finals.
Hagerling's top previous WSOP finish was a 40th-place result in the $1,500 limit hold 'em event last year.
Other notable finishers included Martin Staszko (43rd), Erick Lindgren (45th), Daniel Negreanu (49th) and Jason Mercier (63rd).
Below are the complete results of Event 27 at the 2013 World Series of Poker:
Event 27: Mixed Max
Buy-in: $3,000
Entries: 593
Prize pool: $1,618,890
Players in the money: 68

1. Isaac Hagerling ($372,387)
2. Max Steinberg ($231,501)
3. Jeremy Ausmus ($132,748)
4. Jason Koon ($132,748)
5. Yevgeniy Timoshenko ($51,561)
6. Dan Healey ($51,561)
7. Chris Johnson ($51,561)
8. Brandon Cantu ($51,561)
9. Nick Binger ($18,657)
10. Mike Watson ($18,657)
11. Ognjen Sekularac ($18,657)
12. Ariel Celestino ($18,657)
13. Yorane Kerignard ($18,657)
14. Daniel Buzgon ($18,657)
15. Dario Sammartino ($18,657)
16. Justin Conley ($18,657)
17. Taylor Paur ($10,360)
18. Barry Lang ($10,360)
19. Gnatenko Oleksander ($10,360)
20. Pedro Fernandez ($10,360)
21. Dominik Nitsche ($10,360)
22. Mazin Khoury ($10,360)
23. Paul Lieu ($10,360)
24. Frank Rusnak ($10,360)
25. Joshua Hillock ($10,360)
26. Matt Waxman ($10,360)
27. Alexander Lakhov ($10,360)
28. Govert Metaal ($10,360)
29. Giacomo Fundaro ($10,360)
30. David James ($10,360)
31. Markus Gonsalves ($10,360)
32. Massimo Mosele ($10,360)
33. Sean Jazayeri ($8,742)
34. Cristiano Guerra ($8,742)
35. Mark Rose ($8,742)
36. Thomas Fuller ($8,742)
37. Eddy Sabat ($8,742)
38. Joshua Templeton ($8,742)
39. Charles Ritchie ($7,446)
40. Vojtech Ruzicka ($7,446)
41. Matt Salsberg ($7,446)
42. Tom Alner ($7,446)
43. Martin Staszko ($7,446)
44. Iakov Onuchin ($7,446)
45. Erick Lindgren ($6,475)
46. Ana Marquez ($6,475)
47. Andre Akkari ($6,475)
48. James Mackey ($6,475)
49. Daniel Negreanu ($6,475)
50. Michael McNeil ($6,475)
51. Chris Moorman ($5,666)
52. Dan O'Brien ($5,666)
53. Matt Marafioti ($5,666)
54. Tony Cousineau ($5,666)
55. Richard Anthony ($5,666)
56. Tommy Vedes ($5,666)
57. Brandon Hall ($5,018)
58. Dimitar Danchev ($5,018)
59. Kyle White ($5,018)
60. Luke Staudenmaier ($5,018)
61. Michael Rocco ($5,018)
62. Alex Lindop ($5,018)
63. Jason Mercier ($4,694)
64. Brent Hanks ($4,694)
65. Tommy Chen ($4,694)
66. Alexander Kuzmin ($4,694)
67. Mayu Roca ($4,694)
68. Artem Metalidi ($4,694)

ESPN.com
Andrew Feldman is ESPN.com's Poker Editor. He is the host of the Poker Edge Podcast and co-host of ESPN Inside Deal. Andrew has covered the poker industry for ESPN since 2004.
SPONSORED HEADLINES
MORE POKER HEADLINES
MOST SENT STORIES ON ESPN.COM