Schneider sweeps HORSE events
Schneider extends the streak of double bracelet winners at the WSOP to 14 years
For the second time in seven years, Tom Schneider became a two-time champion at the World Series of Poker. Just a week after Schneider won his third career bracelet in the $1,500 HORSE event, he completed the HORSE sweep at this year's Series by taking down the $5,000 buy-in event. His fourth bracelet came with $318,955, and he's well on his way to becoming the first repeat WSOP Player of the Year since the award's inception in 2004. He's currently second in that race behind WSOP-APAC main event champion Daniel Negreanu.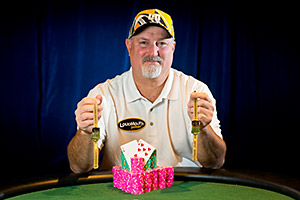 WSOP.comTom Schneider earned his second bracelet of the 2013 World Series of Poker in HORSE Event 29.
"I'm exhausted to be honest," said Schneider to the WSOP after his win. "Of course, I am so thankful to win and be here, but this was a very tough tournament. They guys I was up against in this event. They were all really great players."
Many of the players at the final table were very familiar foes for Schneider, especially fourth-place finisher Viatcheslav Ortynskiy, who made the final table of the first HORSE event that Schneider won as well. Ortynskiy finished third in that event. Greg Mueller (third), Chris Klodnicki (fifth) and Adam Friedman (sixth) also notched their second final tables of the Series in this event. Five of the final eight players at the final table had previously won a bracelet.
The Poker Edge
ESPN.com's Andrew Feldman gets an update from WSOP.com's Jess Welman and speaks Tom Schneider, who has already won two bracelets in 2013.
The success isn't new for Schneider and he credits keeping a dedication to activities away from the table as equally as important as his hunger for competition on the felt.
"I think poker is an interesting and fun game, but there's so much more to life and things to experience other than sitting at a poker table," he said. "I hate to see young kids when they have commitments outside of poker and they abandon them. … There's so many other things in life you need to pay attention to."
Schneider has six cashes through the first 31 events of the Series. He also made the money six times in 2012.
"Yeah. When the WSOP is going on, there's no rest for the weary," said Schneider. "You have to get going."
After saying that, Schneider jumped into the next available event, the $2,500 Razz, and proceeded to make Day 2.
Other notable finishers include Brett Richey (11th), David Bach (16th) and Dan Kelly (17th, his eighth cash of the 2013 WSOP).
Below are the complete results of Event 29 at the 2013 World Series of Poker:
Event 29: HORSE
Buy-in: $5,000
Entries: 261
Prize pool: $1,226,700
Players in the money: 32

1. Tom Schneider ($318,955)
2. Benjamin Scholl ($197,228)
3. Greg Mueller ($129,600)
4. Viatcheslav Ortynskiy ($94,664)
5. Chris Klodnicki ($70,093)
6. Adam Friedman ($52,613)
7. David Benyamine ($40,039)
8. Konstantin Puchkov ($30,846)
9. Alex Dovzhenko ($24,129)
10. Craig Mckinnon ($24,129)
11. Brett Richey ($19,099)
12. Tom Koral ($19,099)
13. Marcel Luske ($15,321)
14. David Moskowitz ($15,321)
15. Scott Bohlman ($12,451)
16. David Bach ($12,451)
17. Dan Kelly ($10,304)
18. George Rechnitzer ($10,304)
19. Alexander Kuzmin ($10,304)
20. Jared Jaffe ($10,304)
21. Rick Schwartz ($10,304)
22. Eric Wasserson ($10,304)
23. Steve Sung ($10,304)
24. Todd Brunson ($10,304)
25. Sabyl Landrum ($8,525)
26. Thomas Hammers ($8,525)
27. Miriam Morton ($8,525)
28. Gus Hansen ($8,525)
29. Peter Brownstein ($8,525)
30. Eli Elezra ($8,525)
31. Max Pescatori ($8,525)
32. Hernan Salazar ($8,525)

ESPN.com
Andrew Feldman is ESPN.com's Poker Editor. He is the host of the Poker Edge Podcast and co-host of ESPN Inside Deal. Andrew has covered the poker industry for ESPN since 2004.
SPONSORED HEADLINES
MORE POKER HEADLINES
MOST SENT STORIES ON ESPN.COM