Jeff Madsen wins third bracelet
Another former Player of the Year wins a bracelet in 2013
Editor's note: A replay of this final table can be found on demand at ESPN3.com.
The story was all about Jeff Madsen at the 2006 World Series of Poker. The 21-year-old made headlines across the world with his double bracelet effort and firmly placed himself in the poker spotlight at a time when the game was at its zenith. Madsen's four cashes that year featured the aforementioned wins and twin third-place finishes, plus prize money exceeding $1.2 million. He was drafted in fantasy leagues the following years, followed by the poker media like a hawk and had his success elsewhere, but when it came to the WSOP, the past six years have been filled with nothing but close calls. On Friday night in Las Vegas, Madsen ended that trend with a defining victory in the pot-limit Omaha Event 35. He earned his third WSOP bracelet and $384,420.
[+] Enlarge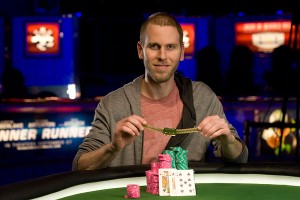 Eddie Malluk/WSOPJeff Madsen returned to the WSOP's winner's circle for the first time since 2006.
"I'm thrilled to win," said Madsen to the WSOP. "Hey, it's been a long time. What can I say? I didn't think it would take this long, but it did. … Sure, I wanted to win [sooner], but I've been working to improve my game and if anything, now I am a better player. I never really looked at it as a drought. I mean, I did have lots of cashes and winnings since then."
Madsen defeated the field of 640 and topped a final table that included Omaha expert Scott Clements for the victory. He's the latest former Player of the Year to find gold in '13, following in the footsteps of Daniel Negreanu (APAC main event champion), Tom Schneider (two bracelets already this year) and Erick Lindgren (Event 32 champion). Three other Players of the Year -- Frank Kassela, Jeff Lisandro and Allen Cunningham -- have made final tables, while Ben Lamb and reigning Player of the Year Greg Merson are the only ones since the establishment of the award in 2004 to have not yet succeeded this summer.
The 28-year-old entered the final day with the chip lead over the remaining 16 players and maintained the top spot to the start of the official final table. William Black busted 2010 bracelet winner Jason DeWitt in ninth and Madsen took out Joni Jouhkimainen, then Black out in seventh to own a dominating lead with six to go. Clements was Madsen's closest competitor and the two got involved in a massive pot that pushed Madsen over the three million chip mark with only 5.6 million chips in play.
Douglas Corning eliminated Ryan Chapman in sixth and Clements in fifth to firmly grasp second place. Clements earned $84,424 in his second final table and third cash of the Series. This pay day pushed him over $2 million in earnings at the WSOP since 2005.
Madsen busted Danny Hannawa in fourth and Corning eliminated Michal Maryska in third to even the stacks to start heads-up play. Madsen pounced on Corning immediately and denied the Portland, Ore. native his first bracelet in quick fashion. On the 37th-hand, Corning opened and Madsen three-bet. After Corning called, the flop came Kh-10h-2c and Madsen opened the action with a pot-size bet. Corning quickly moved all-in and Madsen called. Corning was ahead at this point with two pair (A-K-9-2), but Madsen had the draw with A-K-J-9. A 7 on the turn gave Madsen more outs and the J on the river sealed the deal by giving Madsen a better two pair and the title.
"I feel ecstatic," he said. "I feel I played a really good tournament. It was a long time coming. I mean, I won my first gold bracelet back in 2006. It's not easy to win these and I am fortunate to win here tonight."
Notable finishers include Mike Sexton (16th), Jonathan Duhamel (24th) and Phil Hellmuth (26th). Tom Schneider also cashed in this event, but remains in second behind Daniel Negreanu for the 2013 Player of the Year lead.
Below are the complete results of Event 35 at the 2013 World Series of Poker:
Event 35: Pot-limit Omaha
Buy-in: $3,000
Entries: 640
Prize pool: $1,747,200
Players in the money: 72

1. Jeff Madsen ($384,420)
2. Douglas Corning ($237,374)
3. Michal Maryska ($154,312)
4. Danny Hannawa ($113,340)
5. Scott Clements ($84,424)
6. Ryan Chapman ($63,702)
7. William Black ($48,624)
8. Joni Jouhkimainen ($37,529)
9. Jason DeWitt ($29,265)
10. Isaac Hagerling ($23,010)
11. Anthony Zinno ($23,010)
12. Ali Lareybi ($23,010)
13. Ashton Griffin ($18,380)
14. Yuri Perez ($18,380)
15. Brian Alioa ($18,380)
16. Mike Sexton ($14,693)
17. Jarred Solomon ($14,693)
18. Christian Harder ($14,693)
19. Steven Loube ($11,915)
20. Elie Payan ($11,915)
21. Giuseppe Pantaleo ($11,915)
22. Brent Johnson ($11,915)
23. Will Failla ($11,915)
24. Jonathan Duhamel ($11,915)
25. Philippe Boucher ($11,915)
26. Phil Hellmuth ($11,915)
27. Glen Altham ($11,915)
28. Joshua Ladines ($9,784)
29. Steve Sung ($9,784)
30. Andrey Pateychuk ($9,784)
31. Jared Bleznick ($9,784)
32. Duke Miller ($9,784)
33. Mel Randolph ($9,784)
34. Eduardo Marra ($9,784)
35. Raul Paez ($9,784)
36. Jason Rosenberg ($9,784)
37. Romik Vartzar ($8,124)
38. Jonathan Lane ($8,124)
39. Grzegorz Derkowski ($8,124)
40. Leonardo Moura ($8,124)
41. Leonardo Cavarge ($8,124)
42. Timo Pfutzenreuter ($8,124)
43. Sergey Pevzner ($8,124)
44. Michael Schneider ($8,124)
45. Kevin Iacofano ($8,124)
46. John Holley ($6,814)
47. Steve Landfish ($6,814)
48. Jan-Peter Jachtmann ($6,814)
49. Magnus Martin ($6,814)
50. Tom West ($6,814)
51. Jamieson Pickering ($6,814)
52. Padraig Parkinson ($6,814)
53. Camilo Posada Fernandez ($6,814)
54. Colin Burton ($6,814)
55. Attilio Donato ($5,765)
56. Adam Feldman ($5,765)
57. Jaspal Brar ($5,765)
58. Josh Arieh ($5,765)
59. Veerachai Vongxaiburana ($5,765)
60. Tom Schneider ($5,765)
61. Patrick Ruth ($5,765)
62. Christophe Lachave ($5,765)
63. Nicolas Faure ($5,765)
64. Sebastian Ruiz ($4,927)
65. Jared Hamby ($4,927)
66. Arthur Walker ($4,927)
67. Thomas Giorgi ($4,927)
68. AP Phahurat ($4,927)
69. Scott Davies ($4,927)
70. Mohammad Zanjani ($4,927)
71. Yue Zhu ($4,927)
72. Hien Truong ($4,927)

ESPN.com
Andrew Feldman is ESPN.com's Poker Editor. He is the host of the Poker Edge Podcast and co-host of ESPN Inside Deal. Andrew has covered the poker industry for ESPN since 2004.