Ausmus wins WSOPE PLO bracelet
2012 Octo-Niner defeats Juha Helppi to win Event 4
The poker spotlight may be fleeting, but for Jeremy Ausmus, it isn't going anywhere. Since his run during the 2012 WSOP, where he notched nine cashes and a fifth-place finish in the main event, Ausmus has traveled the world and found himself running deep, time after time. To say he's been on a good run is simply an understatement, and for someone who puts such an emphasis on his cash-game abilities, it's even more impressive.
At WSOP Asia-Pacific, Ausmus finished fifth in an event and in Vegas, he finished third. In the final installment of the 2013 WSOP calendar, WSOP Europe, Ausmus made another final table, but this time, outlasted his final opponents and captured his first title. While he claimed pot-limit Omaha isn't his best game, he defeated the field of 184 to earn 70,324 euros (US$95,054) and solidify the international stardom that he earned just a short time ago.
[+] Enlarge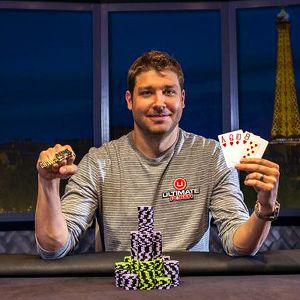 WSOP.comJeremy Ausmus earned his WSOP victory in Event 4 of the 2013 WSOP Europe.
"It is a huge deal in this industry to have the bracelet," he said. "It is all about the bracelet, it is funny. I'm really, really glad to have a bracelet. I feel like I've done some things besides just make the [main event] final table. Some guys you just never hear from again and I think I've left my mark and now even more so."
The modest husband and father of two needed to play his best as he faced off against one of the toughest final tables we've seen this year. Jason Mercier, Juha Helppi, Jan Jachtmann, Martin Koslov, Michael Schwartz, Jonathan Little, Yohann Aube and Ryan Chapman all stood in his way, but the patient pro battled as he went from big stack to short stack and ultimately denied Helppi the gold after a lengthy heads-up match.
Ausmus now has $3.5 million in career tournament earnings and 10 WSOP cashes in 2013.
"I want to thank everyone so much for all the kind words," Ausmus said on Twitter. "Feels so great to have so many people supporting and rooting me on!"
Helppi had the lead during heads-up play for most of the effort, but once the stacks were essentially evened, all it took was a few hands to crown a champ. After a 10s-10h-4s flop, all the chips went in the middle with Ausmus holding Ah-Qh-10d-8h and Helppi holding As-10c-7h-2d. The turn 8 hit Ausmus, giving him a full house and Helppi needed an ace on the river for a chop. The Finnish pro watched dejectedly as the three was placed on felt, giving him his second runner-up finish in his WSOP career. Helppi also finished third in a WSOP event earlier this year.
Mercier's fourth-place finish was his seventh WSOP cash and first WSOP final table of 2013.
Other notable finishers include Dan Kelly (11th), Tommy Vedes (13th), Mohsin Charania (14th) and Fabrice Soulier (17th).
Below are the complete results of WSOPE Event 4:
Event 4: Pot-limit Omaha
Buy-in: 1,650 euros
Entries: 184
Prize pool: 270,480 euros
Players in the money: 21
1. Jeremy Ausmus (70,324 euros)
2. Juha Helppi (43,441)
3. Jan-Peter Jachtmann (31,367)
4. Jason Mercier (23,036)
5. Martin Kozlov (17,210)
6. Michael Schwartz (13,077)
7. Jonathan Little (10,102)
8. Yohann Aube (7,933)
9. Ryan Chapman (6,335)
10. Claude Marbleu (5,131)
11. Dan Kelly (5,131)
12. Philippe Jouveau (5,131)
13. Tommy Vedes (4,225)
14. Mohsin Charania (4,225)
15. Casey Kastle (4,225)
16. Benjamin Souriau (3,532)
17. Fabrice Soulier (3,532)
18. Sylvain Esposito (3,532)
19. Gjergj Sinishtaj (2,997)
20. Stanislav Parkhomenko (2,997)
21. Max Pescatori (2,997)
ESPN.com
Andrew Feldman is ESPN.com's Poker Editor. He is the host of the Poker Edge Podcast and co-host of ESPN Inside Deal. Andrew has covered the poker industry for ESPN since 2004.
SPONSORED HEADLINES
MORE POKER HEADLINES
MOST SENT STORIES ON ESPN.COM