Category archive:

Casey Mears
November, 12, 2009
11/12/09
5:09
PM ET
AVONDALE, Ariz. -- Maybe you haven't noticed, but Richard Childress Racing is improving. And Sunday's race could gauge just how far RCR has come.
Everyone at RCR is disappointed about the organization's lackluster results in 2009, no victories this season and failing to place a driver in the Chase for the first time.
But things are looking up. The Dickies 500 at Texas Motor Speedway last weekend was the first time in more than a year that RCR had three drivers finish in the top 10 on the same day.
[+] Enlarge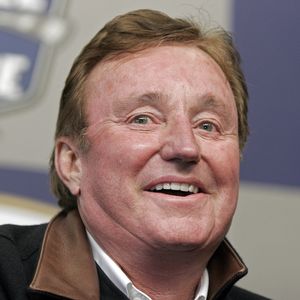 AP Photo/Bob JordanRichard Childress has been scrambling to put his Sprint Cup teams on more competitive footing.
Fuel strategy played a part in how things sorted out at the end, but the Childress boys ran well all day.
Kevin Harvick's fifth-place showing was his best finish in the last two months. Clint Bowyer was seventh, his fourth top-10 in the eight Chase races. And Jeff Burton finished ninth in his backup car after wrecking the primary car in practice two days earlier.
"What a heck of a run by our team," Burton said after the race. "These guys fought hard after we had to load up our primary No. 31 Chevy. Todd [Berrier, crew chief] did a great job dialing in our backup for the race."
The TMS event was the first time RCR had three top-10s in a race since the Dover fall event last year. The cars are more competitive and the guys on the pit box are making smart decisions at key moments.
"Our car was tight all day," Bowyer said after the TMS race. "But Shane [Wilson, crew chief] made a call to short pit for fuel in order to make it to the end. The cards fell in our favor and it was another good result."
The four RCR drivers, including Casey Mears, have posted 11 top-10s in the eight Chase races. At least one RCR driver has finished in the top 10 in each of the last five races.
But this weekend is a big test. RCR was awful at Phoenix in April. Burton was the only RCR drivers to finish on the lead lap, and he was 15th. Mears ended up 20th, Bowyer was 26th and Harvick was 30th.
"Yeah, that's when we knew we needed to start doing some work on our cars," Harvick said earlier this week. "What made it really evident was that we actually ran 30th.
"It wasn't like something happened to put us back there, like contact with another car or brushing the wall. Then I could see us running back there."
It was only the eighth race of the season, but Harvick and everyone else at RCR knew they had serious problems, and those problems weren't solvable overnight.
A week later, Childress announced that Harvick and Mears were swapping crews. It was the first of many changes that have transpired this season for the RCR teams.
Harvick says he's leaving after his contract expires next year. RCR may go back to three cars next season because Jack Daniel's is leaving as the sponsor of the No. 07 Chevy, so Mears probably is out of a ride.
But the last few weeks have been encouraging for the RCR folks. The results have improved dramatically and all signs point to a possible resurgence in 2010.
June, 19, 2009
06/19/09
5:15
PM ET
SONOMA, Calif. -- What's wrong with
Richard Childress
Racing?
It's a question I get on every chat, and in e-mails I receive almost daily. Fans want to know what the heck is going on at RCR.
Of course, if the RCR folks knew the answer to that question, they would fix it. But Jeff Burton gave some detailed insight about the problem Friday.
"The brunt of it is we didn't do a good job this past winter," Burton said. "We didn't prepare well, and now we're behind. We all have different problems, but fundamentally, you look at the speed chart on most Fridays and we're not in the top 10."
Burton said it isn't a horsepower issue.
"On the engine side, we're making enough power," he said. "But we don't go through the corner as well as the competition because we have less handling. That's the problem."
The first step in correcting a problem is understanding what the problem is. So can RCR get it corrected soon?
"There is no magic wand to wave to make it all better," Burton said. "But we are not in panic mode. It's important in this situation not to panic by trying to play Pin the Tail on the Donkey. Everyone is working hard to get better. You just immediately get on it and address it."
Burton is the only RCR driver in the top 12 (barely) entering the Toyota/SaveMart 350 this weekend. Burton is 12th, only three points ahead of David Reutimann.
Clint Bowyer ranks 16th, and Casey Mears is 21st. But the real shocker is Kevin Harvick in 23rd.
"Kevin is concerned, the same as we all are about where we're at," Burton said. "But Kevin has handled it in a positive manner. Everybody is on pins and needles. Our sponsors know we should be better, and Richard knows we should be better. It's been disappointing."
All three drivers who were at RCR last year are worse off than they were one year ago. Burton ranked second in the standings last June. Harvick was 10th, Bowyer 12th.
Whatever handling issues RCR has had on the ovals this season, it might be a non-factor this weekend on the Sonoma road course. Bowyer finished fourth here last year. Harvick was second in 2007, one spot ahead of Burton.
"It's a little bit of a stressful weekend because it's so easy to make a mistake here," Burton said. "You have a bunch of different agendas out there. Some people here race only a couple of times a year, so they have nothing to lose.
"For us, you have to measure the risk. My strategy is to survive it."
Come to think of it, that's the overall strategy at RCR for the moment.