What did we learn from France? Not much
July, 25, 2010
07/25/10
1:37
PM ET
INDIANAPOLIS -- Brian France really should run for office. He is the all-time master of talking at length and saying nothing.
The NASCAR chairman had an 18-minute Q-and-A with reporters Sunday morning to address the issues of the day but, as usual, offered very little new information.
He walked in and said he was happy to answer any questions. Actually, he was happy to respond to any questions. Answering them? Not so much.
[+] Enlarge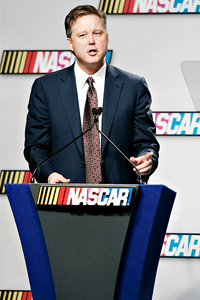 Jason Smith/Getty ImagesNASCAR chairman Brian France met the media Sunday at Indy -- but revealed little.
Schedule changes next season, which everyone not living on Uranus already knows are coming, was one topic.
"All the requests are in," France said. "They all have lot of effects. When anything moves around on the Cup schedule, it has consequences for that part of the schedule. We are digesting that to make sure the schedule is done correctly.
"We're in the final throes of that. I sense we are close to wrapping that up in a week or two and will have some pretty impactful changes to the schedule that will be good for NASCAR fans."
Translation: He isn't saying which races are going where, but fans probably will find out in August. And we all already know Kansas will get a second race, probably from Fontana, Calif., but NASCAR isn't ready to admit it.
France did bring up Kentucky Speedway.
"Kentucky is talking about hosting a Cup event," France said, stating the obvious. "It's a worthy market to discuss, but it has implications to Michigan and here at Indianapolis from a geographic standpoint."
Translation: NASCAR has to listen to all the complaining from Michigan and Indy track officials about Kentucky taking away some of their fan support. So the key is to find a date for Kentucky that isn't too close to a race at Michigan or Indy.
Next topic: possible Chase changes.
"We are going to make changes to the Chase that we think would serve us well for many, many years," France said. "We look at these things annually and looked hard at it last year but didn't feel the timing was right.
"We want to do something that enhances winning, enhances the championship and gives us more of a playoff feel."
So, are you saying NASCAR has decided to go to an elimination system?
"We haven't made a decision," he said. "Not changing the Chase is definitely a viable option."
Huh? Which is it?
"Whatever we do it will be with the industry having lots of chances to weigh in," he said. "Anything we do requires a lot of input. I will be at some focus groups on the 11th of August to hear from some fans myself."
Translation: First NASCAR has to sell this idea, so no announcement is coming soon. But expect to see some type of knockout system for the 2011 Chase.
"We haven't always seen the results we would like," France said about the Chase. "But it's certainly better than the total consistency model that was in place for so many years."
Translation: NASCAR isn't going back to a champion based on the full-season points system.
France also brought up four-time champion Jimmie Johnson.
"I don't know if there's anything we could present to Jimmie Johnson that he would think is as good as what we have now," France said. "I don't blame him, by the way. The truth is it won't be that different. Every formula we've run, Jimmie would be the champ anyway."
Then why do it?
"We try to look at how to do things for the long run of the sport," France said. "A lot of those things are different today. Things aren't as easy as they've been in the past. You don't necessarily do anything you feel like. Things have to be thought out. We want to review the things we think we can improve on, the Chase being one."
Translation: NASCAR needs to do something to spice things up at the end of the season, but it has to explore all options.
Yes, we know that. But please, give us something a little more specific.
"The only changes we would consider are ones that make winning at a given moment more important than today," France said. "It would mean certain races in the Chase you have to win or do very well to move on.
"It's not that different. The truth is there are a lot of people eliminated from the Chase, not necessarily mathematically, by the fifth race in. If you're way, way behind, you're probably eliminated at that point. If we formalize that a little bit with a transfer event, that will be amazing."
Translation: If NASCAR goes to a 15-driver Chase, the bottom five guys will be gone at the halfway point.
So what's the real goal here?
"Every commissioner would say they want great playoff events, Game 7s, NCAA tournament final or Super Bowl," France said. "They want an action-packed close game with great storylines. We're no different. We'll sort it out and get to where we need to be."
Translation: NASCAR wants to go the final race with the championship on the line between several drivers to get fans fired up.
And, finally, what about Carl Edwards' being fined and docked Nationwide points for deliberately wrecking Brad Keselowski again?
"Carl went too far," France said. "We think some contact, especially late in the race, is part of NASCAR, but there are limits to that. You can't just send somebody around, especially intentionally. But this is the big leagues, and you're going to have contact."
Translation: None needed. That's a clear and substantive answer.
Now can we go back to those other subjects to find out something we didn't already know?