Category archive:

Richard Petty
April, 12, 2014
04/12/14
12:38
PM ET
DARLINGTON, S.C. -- This makes the 40th year I have come here covering races. Never have I seen anyone drive old Darlington Raceway better than Chase Elliott did Friday night.
Not David Pearson, the all-time winner here with 10 victories; not Dale Earnhardt with nine; not Jeff Gordon with seven; not Bobby Allison nor Bill Elliott (Chase's father) nor Darrell Waltrip nor Cale Yarborough, the five-time winners here.
Electrifying. Breathtaking. Dumbfounding. All those words are inadequate for the sight of the 18-year-old from Dawsonville, Ga., putting a race car breezily, easily into places you're not supposed to be able to go on this track, and not just getting away with it but making it look effortless.
There are two kinds of NASCAR ovals: Darlington and all the rest. This by consensus is the toughest place the drivers go all year. Every yard of the 1.366 miles is an adventure. The two sets of corners might as well be two different tracks. The small end is a sudden turnaround at high speed, and the large end is deceptively sweeping with a wall that juts out to bite you for the slightest bobble.
The laps I've seen here number somewhere north of 25,000. And I'm not sure I've seen any driven as well as Chase Elliott's last lap to win the Nationwide race Friday night.
He passed Elliott Sadler on the high side, where there isn't room, yet somehow made that Camaro slither unscathed between Sadler's car and the jutting wall with which the Lady in Black, so typically, tried to snatch him.
He deftly danced right through, and took the checkered flag, and in the aftermath the Lady herself seemed somehow smitten, awed, empty, swooning, star-struck at the dark-haired youth who'd swirled and twirled her around so, on an April night when he was missing his senior prom in the Atlanta suburbs.
But the last lap was just the capper, after he'd driven from fifth to second in the first of the final two laps after the final restart. Throughout the race he sometimes made easy work of Kyle Busch and Kevin Harvick and Joey Logano.
At one point late, he got into a fender-banging duel with the driver who until just the other day had been NASCAR's prodigy of prodigies, bright hope of bright hopes, Kyle Larson. They slammed and banged and got each other sideways, but Elliott, cool as his father ever was, let Larson go and waited for another time. Larson continued to get near or into trouble with others. Elliott just sailed on.
Only three weeks ago, when Larson won spectacularly over Harvick, Busch, et al. in California, he shot to the fore of the future of NASCAR.
Already Larson has been passed, now that Elliott has scored a dramatic first career Nationwide win at Texas a week ago, and a vastly more dramatic second straight here.
And here's the kicker: Elliott had never driven a lap here before Thursday -- didn't even remember the last time he'd been here, as a little boy, with his father.
Just last week I'd sat with him over in Dawsonville, working on a feature story that will run next week, and asked how he might prepare for this place. Maybe watch some video of Kyle Busch running here, he said, because Rowdy of all people seemed to have this place figured out best.
It was Rowdy he was running down when the final caution came out Friday night. It was Rowdy he passed easily on the way to the white flag, after Chase's crew had given him a lousy pit stop that got him out sixth.
As Chase exited the pits, his crew chief, Greg Ives, grasped his head with both hands in dismay at how they'd let the youth down.
Oh, well. Nobody could come here the first time and master this place. Surely, now, nobody could drive right through the pack after a terrible pit stop to win, let alone make it look effortless.
Nobody. Until Chase Elliott.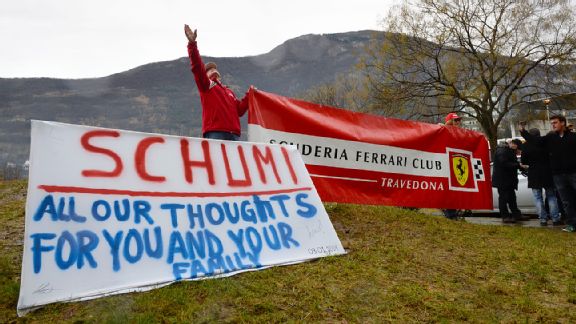 Philippe Desmazes/AFP/Getty ImagesMichael Schumacher fans wish him well soon after the skiing accident that put him in a coma Dec. 29.
I stand reminded once again that there is a fate worse than death. I have seen people suffer it too often. The memory is a gloom unlike any other.
John F. Burns, London bureau chief of The New York Times, has in my mind produced the most profound body of work on the tragedy of Michael Schumacher.
This week, Burns went to Grenoble, France, where Schumacher has lain in coma since his injury in a skiing accident Dec. 29.
The indication was that Burns was the only journalist, or one of a handful at most, still there.
"The hubbub of jostling reporters and television crews," he wrote, "is a memory now …"
This in an Alpine city that was mobbed by media for weeks after the winningest driver in Formula One history -- 91 Grand Prix wins and seven world championships -- was brought there.
The theme I gleaned from the Times story is that Schumacher is slipping from the mind of the world, slipping toward the ranks of the forgotten comatose.
I've been there. Not to Grenoble, but there.
I went to Madison, Fla., while an obscure driver named Don Williams was setting the terrible record for living in coma after a NASCAR crash -- 10 years and three months. I went to his funeral in 1989.
I went to San Antonio while another NASCAR driver, Rick Baldwin, surpassed Williams' awful milestone, surviving in coma for two days short of 11 years, until 1997. I saw his two daughters grow up, from little girls into lovely women, during the time their father was "going for the Guinness Book of World Records for taking a nap -- for sleeping," as one of them put it, bravely but tearfully, to her friends at school.
Another NASCAR driver, Bruce Jacobi, lay in coma for nearly four years after a crash at Daytona in 1983. Butch Lindley, champion of NASCAR's National Sportsman Series, now the Nationwide Series, in 1977-78, lived comatose for five years after a crash in a non-NASCAR race in 1985.
Pattie Petty, Richard's daughter-in-law, accepts comatose kids at her and husband Kyle's Victory Junction camp in North Carolina. Seeing them, Pattie once told me, reminds her to be thankful that their son, Adam Petty, killed at New Hampshire Motor Speedway in 2000, was taken from them immediately rather than lingering in what neurosurgeons call persistent vegetative state for months or years or decades.
[+] Enlarge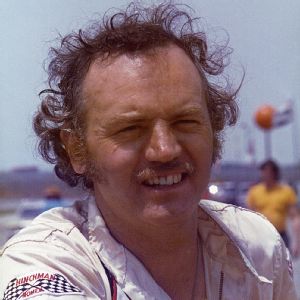 ISC Images & Archives/Getty ImagesBruce Jacobi, who raced in NASCAR, USAC Sprint Cars and Indy car, lay in a coma for nearly four years after suffering extensive injuries in one of the qualifying races for the 1983 Daytona 500.
If not for Victory Junction, these kids would be forgotten by all but their mothers -- some fathers, unable to deal with the burden, just up and walk out on the families.
Another friend, Dr. Jerry Punch, the ESPN reporter, once told me of the terrible conflict of intellect and emotions all good trauma docs face often.
To paraphrase Jerry, when a patient is brought in, critical from a highway accident or other trauma, every bit of a doctor's training compels him to save this person whatever it takes -- this, even though you know that, if the person survives, he or she will be comatose, an awful burden on a family, perhaps for years.
But you save the person. Period.
"There's just too much we can do to keep you alive once you get in here," the neurosurgeon who initially treated Don Williams at Halifax Medical Center in Daytona Beach once told me.
Doctors at University Hospital Center in Grenoble could do vastly -- perhaps exponentially -- more for Schumacher than the docs at Halifax could do for Williams in 1979. Schumacher was put into a medically induced coma, a technique I first learned of in 1994 when Karl Wendlinger, a former teammate of Schumacher's on the Mercedes Junior team when they were rising through the ranks, was placed in an artificial coma after a crash in Monaco.
When the heavy sedation was removed, Wendlinger woke up. Schumacher hasn't, as far as we know, with his family and manager remaining silent about his condition and asking to be let alone. Burns quotes one neuroscientist as saying "it's too early to say somebody is in a persistent vegetative state."
Burns' movement around Grenoble was respectful and unobtrusive, and his phrasing was delicate, sensitive -- "what is known seems increasingly dispiriting …"
The irony of Schumacher's injury is not lost on anyone who knew him, or even of him -- those countless risks taken in racing cars, only to be felled while on vacation in a skiing accident, apparently at moderate speed.
So what I write here is not an indictment of motor racing. It is a lament over one of the worst words in the English language, and the worst and longest nightmare in all the human condition: coma.
February, 20, 2014
02/20/14
5:41
PM ET
DAYTONA BEACH, Fla. -- We're still concerned about Tony Stewart's mending leg, but clearly his mouth is back to 100 percent -- running wide open, set up real loose, so that the rear end is hanging out.
So Smoke wants to set up a match race between Richard Petty and Danica Patrick, does he? And let me get this straight: Should Danica win, "If I were her, I'd take [the checkered flag] over there and cram it up his [you know].
"But that's just me."
Petty is 76 years old, Stewart is 42 and Danica is 31. I have no idea how such a match race, preposterous at face value, would turn out. But as for the aforementioned celebratory gesture, I somehow doubt Stewart would succeed at such an endeavor. (I'm certain Danica has far too much class even to say such a thing, let alone try it.)
[+] Enlarge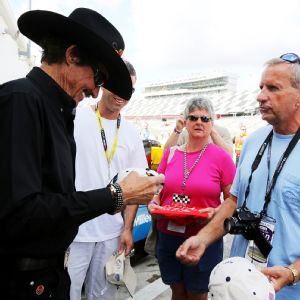 Jerry Markland/Getty ImagesTony Stewart dissed one of NASCAR's hallowed figures: seven-time Cup champion Richard Petty.
But that's beside the point, which is ...
A school of piranhas doing business as the current NASCAR media corps has already picked Richard Petty's carcass clean. They've been all atwitter -- pun absolutely intended -- since, at some trade show in Canada, he was quoted as saying Danica could win a race only if "everybody else stayed home."
Petty went too far. Think of it this way: Even when Danica finishes, say, 30th in a race, she still has outrun 13 drivers. So she would have won if only 29 drivers stayed home.
When she finished eighth in the Daytona 500 last year, she outran 35 drivers, and might have won had only seven drivers stayed home. Hell, she might have won had none of them stayed home, if, while running third going into the last lap, she'd caught the breaks of the aerodynamic pushes and pulls of the draft.
Petty exaggerated. I can't count the number of times I've heard NASCAR drivers, including Stewart -- especially Stewart -- exaggerate things. E.g., his "We're going to kill each other" several years back after he won a preliminary race during Speedweeks and didn't like the way the bump drafting was going.
Stewart paid a price in the media frenzy then, and Petty has paid it lately.
Not even piranhas feed on bones once the carcass is picked. But here comes Stewart to chum the water, and the mania continues, on into the outer reaches of the absurd.
Stewart's mouth has a history of twisting the knife once it's in. He had to get personally professional, or professionally personal, disparaging Petty's career when, yes, at times, it was claimed the King had superior cars.
But don't tell David Pearson or Cale Yarborough or Bobby Allison that. They all beat him, and when he beat them, he had to work at it.
Speaking of feeding, Stewart has fed -- and well -- off a sport Richard Petty made. There are legions of fans because, at the roots of NASCAR popularity, Richard Petty would sit for hours after races, signing autographs and talking with the people.
I was there while Petty was building the foundations of this stuff. He never brushed off the media, young or old, from ABC Sports to small newspapers. He took a lot of time with us. He gave elaborate, respectful answers to our often asinine questions.
Stewart is a very popular driver. But he didn't build this sport. He truly is standing on the shoulders of titans.
One of them, the tallest of them all, is Richard Petty.
I understand fully that Stewart meant to defend his employee, his driver, and by extension, her sponsor.
But one stab would have been enough. To twist the knife, and twist, and twist, was beyond disrespectful to a man highly responsible for where Stewart and his team are today.
Petty went too far. Stewart went far beyond too far.