Take note, NASCAR: F1 gets it right
March, 17, 2009
03/17/09
5:33
PM ET
My proposal for revising NASCAR's points system has been radically simple for decades now: One win, one point. Period. End of discussion.
In making that suggestion I have been smirked at, ignored, argued with, admonished to be reasonable, laughed at …
But today I stand vindicated at last by the great news from Paris. Formula One has done it.
[+] Enlarge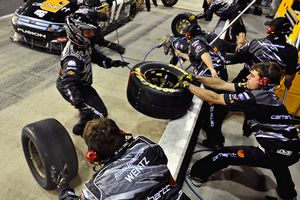 AP Photo/Eric ReedMatt Kenseth and crew still would have a title under the new F1 championship system, just not the one they have now.
Effective immediately, this season, the world driving championship will be determined by number of wins.
That'll set F1 on its ear, all right, since by the new rules, the enormously popular Briton Lewis Hamilton would not have won the 2008 championship. He'd have lost to Felipe Massa, six wins to five.
F1 will determine only its champion by wins, and keep its current points system to break ties and determine runner-up season positions.
But it's fascinating to examine how different NASCAR would have looked thus far in this millennium under a win-only system.
Carl Edwards, who in all fairness was the most consistently strong Cup driver over the entire course of last season, would have won the championship with nine wins, to Kyle Busch's eight and Jimmie Johnson's seven.
Johnson, the 2007 champion, would have won the title anyway, with 10 wins to Jeff Gordon's six.
From there back, things really would have been topsy-turvy in the Cup series:
Kasey Kahne, who finished eighth in points in 2006, would have won the championship with six wins, to the three-way tie at five of Tony Stewart, Kevin Harvick and Johnson.
In '05, Tony Stewart and Greg Biffle finished 1-2 for the title. That would have been reversed in a win-only system, with Biffle's six to Stewart's five.
In '04, Kurt Busch, who won by points, would have finished fourth on wins with three. Johnson would have been champion with eight wins, followed by Dale Earnhardt Jr. with six -- and this would be remembered as Junior's biggest "almost" year -- and Jeff Gordon with five.
Best of all in the minds of a lot of fans, NASCAR might never have had reason to initiate the Chase.
In 2003, the last year of the season-long points system, Matt Kenseth won the championship with only one win, apparently spurring NASCAR to action. By one-win, one-point, Ryan Newman would have been champion with eight victories rather than finishing sixth in points.
But don't feel bad for Kenseth, who'd have won the championship a year earlier, in '02, with his league-leading five wins, rather than finishing a sharply contrasted eighth in points. Actual champ Tony Stewart would have finished in a three-way tie for third with three wins, behind Kurt Busch with four.
In '01, Jeff Gordon would have won either way with his six victories.
But in 2000, Stewart, who finished sixth in points, would have been champion with six wins. Actual champion Bobby Labonte would have tied for second with Jeff Burton and Rusty Wallace at four.
Maybe today, in world motor racing, will be remembered as The St. Patrick's Day Revolution.
And here I thought Bernie Ecclestone had lost his iron grip on F1. The diminutive czar pushed his idea right through the Federation Internationale de l'Automibile (FIA), after the London newspapers had reported all winter that he had virtually no chance of getting his way this time.
I'm by no means holding my breath for NASCAR to change. But at least now, when I am smirked at, ignored, argued with, admonished to be reasonable, laughed at … I'll have the most popular form of motorsport in the world, Formula One, to cite as proof of my sanity.