Fuel injection: It's better late than never
February, 11, 2011
02/11/11
4:22
PM ET
DAYTONA BEACH, Fla. -- NASCAR technology moved well into the 20th century Friday.
I know, I know. We're in the 21st century. But with NASCAR engine technology, you take whatever progress you can get.
The current formula is, after all, in its 38th year. Soon after it was introduced in 1974, its obsolescence began. By the mid '70s, fuel injection rapidly began replacing carburetors in production cars. By the '80s, injection was dominant.
[+] Enlarge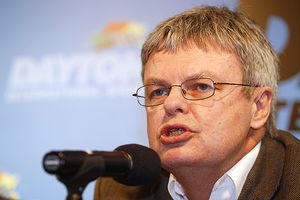 Todd Warshaw/Getty Images for NASCARPeter van Manen of McLaren Electronic Systems says the fuel injection units on Sprint Cup cars will be tamper-proof.
So Friday, only a quarter-century or so late, NASCAR announced that in 2012, Cup cars will use fuel injection in place of carburetors, and introduced the suppliers.
Britain's McLaren Electronic Systems will supply the hardware, and Freescale Semiconductor of Austin, Texas, will provide the control-unit technology.
NASCAR's resistance over the decades to injection was largely because it feared cheating, difficult to police, with sophisticated electronics.
Now, "We are confident, with McLaren and Freescale, that these systems will be bulletproof," said Robin Pemberton, NASCAR's vice president of competition. "They'll be cheat-proof."
How so?
"The units just won't run unless they have authorized NASCAR code," said Peter van Manen, managing director of McLaren Electronic Systems. "They would just sit there. So it is impossible to tamper with these units without opening the lock. And as soon as you open the lock, it is completely visible."
That old bugaboo resolved, there was still some disappointment Friday. Seems we'll all be stuck with restrictor plates at Daytona and Talladega for the foreseeable future.
How can that be, with fuel injection? Because this won't be the ultra-modern direct fuel injection, in which the injectors squirt the fuel directly into the combustion chambers.
This is age-proven "port" fuel injection, in which the injectors spray the fuel into the intake manifold. There's still a throttle body that controls air flow, so there's still a place for a plate.
"The plates are the easiest and most economical way [to reduce power on the big tracks] because you govern the airflow," Pemberton said. "So the part that the air flows through will be basically the same."
Elimination of the plates, although still a ways off, is likely in the long run. Pemberton acknowledged the weariness of teams and fans alike with the simple aluminum plates: "We know. We understand that.
"But right now, there's 32 other races that we run that are unrestricted, and it's very important for us to concentrate on that and get these things right," Pemberton continued.
"It's important not to try to do everything all at the beginning of one season," said van Mannen, whose boss, McLaren chieftain Ron Dennis, had made elimination of restrictor plates a major selling point on a trip to the United States last summer.
Teams will begin testing with fuel injection this season, but there'll be no races with the system until it is required for the full 2012 season. The Nationwide and Truck series will still use carburetors for the foreseeable future.
In the Cup series, there'll be little discernible difference to fans, Pemberton promised. The competition will be "greater than or equal to" the current racing, he said.
The only thing fans are likely to notice is the reduction of billowing fire from tailpipes as cars enter the corners of some tracks. The fire is a burnoff of wasted fuel with the carburetion system, and that will be greatly reduced with fuel injection.
The best part is that, at long last, NASCAR's "stock" cars will be catching up to real stock cars -- production passenger cars -- in fueling technology.
As Lou Lutostanski, Freescale's vice president of sales and marketing, put it, "For NASCAR fans, what gets them there [to the tracks] is going to be running there."
That'll be so for the first time in a quarter-century-plus. It's about time.